Latino Promise and HACER Programs Selected as 2022 Example of Excelencia
Read the Diverse Education article
FDU joins three other programs honored for their role in advancing Latino student success
WASHINGTON, D.C. (September 30, 2022) – Excelencia in Education announced four programs from around the country as the 2022 Examples of Excelencia. The four examples stand out for their evidence-based efforts to advance Latino student success in higher education and in the workforce from among 93 submissions, and 20 finalists. The four programs are based in Puerto Rico, New Jersey, Texas, and Indiana. Among them are Fairleigh Dickinson University's Latino Promise and HACER programs.
"What a tremendous honor to be recognized by Excelencia in Education in acknowledgment of the hard work of our Latino Promise and HACER teams, who are committed to transforming the lives of learners and making a lasting impact on their future," said Michael Avaltroni, University provost and senior vice president for academic affairs at Fairleigh Dickinson University. "We are excited for the future direction of the programs under our new Executive Director Irene Oujo and look forward to reaching great new heights!"
Latino Promise and HACER are sister programs designed for Latino students to receive a personalized approach to higher education. Latino Promise is for students with English fluency while HACER is for English language learners and includes free ESL courses.
"FDU's Hispanic Center is honored by Excelencia in Education's recognition of our Latino Promise and HACER Associate Level programs. Fifteen years dedicating educational services to Hispanic students has been a rewarding journey and we are proud of our successful students who become leaders in their community," said Oujo.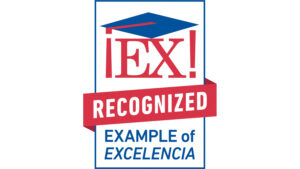 The 2022 Examples of Excelencia were selected as replicable models of cultural responsiveness, intentionality, and evidence-based programming by a committee of diverse leaders in higher education. The recognized programs implement practices cultivating a deep sense of what it means to belong in the academic world as a Latino, dismantling barriers to access, and leaving a resounding impact not only on individual students but on the future of their communities.
"It is important to celebrate what is working for Latino students on campuses and at community-based organizations in front of a national audience of practitioners, funders, and policymakers," said Deborah Santiago, co-founder and CEO of Excelencia in Education. "Now, we invite these stakeholders to join us by investing in and learn from the evidence-based practices improving Latino college completion and ensure that more students receive the support to reach their educational goals."
Examples of Excelencia is the only national effort recognizing evidence-based programs accelerating Latino student success in higher education. Since 2005, Excelencia has received over 1,900 program submissions of what works for Latino students. This marks the 17th annual recognition of programs intentionally serving Latino students nationwide. Programs selected annually as finalists are included in Excelencia's online and searchable Growing What Works Database.
The 2022 Examples of Excelencia are:
Latino Promise and HACER Programs, Fairleigh Dickinson University in Teaneck, NJ (Associate level)
Institute of Interdisciplinary Research: The University of Puerto Rico – Cayey in Cayey, PR (Baccalaureate level)
Master of Science (MS) in Environmental Science, The University of Texas at San Antonio in San Antonio, TX (Graduate level)
Post-Secondary Initiatives, Esperanza, Inc. in Cleveland, OH (Community-based Organization)
"We are grateful to Excelencia in Education for recognizing FDU's Hispanic Center with this award and we are excited to move forward with innovative programming for ever more inclusive opportunities for and with our Hispanic students and the communities we serve," said Benjamin Rifkin, dean of the Maxwell Becton College of Arts and Sciences.
About Excelencia in Education
Excelencia in Education accelerates Latino student success in higher education by promoting Latino student achievement, conducting analysis to inform educational policies, and advancing institutional practices while collaborating with those committed and ready to meet the mission. It has published more than 100 analyses, highlighted over 385 programs from across the country to advance effective, evidence-based practices, and distributed more than $2 million to promote programs producing results for Latino students. Launched in 2004 in the nation's capital, Excelencia has established a network of results-oriented educators and policymakers to address the U.S. economy's needs for a highly educated workforce and engaged civic leaders. 
About Examples of Excelencia
Examples of Excelencia expands on the legacy of work first started in 1999 by its two visionary leaders, Deborah Santiago and Sarita Brown. Since 2005, Excelencia in Education has received over 1,900 program submissions; recognized over 385 programs for their impact in accelerating Latino student success, and raised and awarded over $2 million to the programs making a difference for Latino students to support their sustainability and expansion.