Vancouver alum races ahead in tech field
By Spencer Cowley
October 22, 2019 – The technology that Carlos Martell works with every day is advancing at an exponential rate, and his career progression is keeping pace.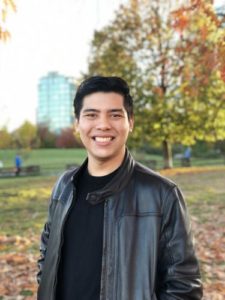 Working as a senior engineer at NuData Security, a Mastercard company, Martell, BS'17 (Van), develops products and services that have a global impact. He's constantly searching for opportunities to use the latest technologies to improve these products, which include online fraud protection and verification tools like their NuDetect system.
Martell, 23, is in a prominent position for being so fresh into the industry. But the path that led him there was an uphill sprint rather than a casual jog, and he's still working hard to keep up.
"I never go a day without learning something new," he says about the constant changes in technology. "I'm lucky enough that I get to go to tech conferences as part of my career development plan with Mastercard. If you don't like to learn and study, tech is probably not the right field for you."
Learning is one thing that Martell is accustomed to from his time at FDU's Vancouver Campus, where he graduated summa cum laude after studying information technology and business administration. Martell even spoke at two commencement ceremonies; at his own in 2017, as the winner of the Pinnacle Award, the university's highest honor for a graduating student; and in 2019, as the featured alumnus speaker.
"It felt like all my hard work during my time in FDU was well spent," Martell explained about being the Pinnacle Award recipient. "It has also motivated me to keep aiming higher and higher. The sky is the limit!"
The sky was also his launching point — the technological one, that is. In his last semester at FDU, Martell secured an internship with Cloudreach, a leading Cloud solutions provider, where he worked for two years before moving to Mastercard. At Cloudreach, Martell's skills and knowledge base grew more quickly than they ever had.
"It all started with good foundations from the university and personal study time, and then taking the time to learn everything that was being explained to me," Martell says. "Oh, and also asking a million questions every day!"
During those two years at Cloudreach, Martell held four different titles. "That's a promotion every six months!" he says. "The key was to set my goals very clearly from the beginning, and let my manager know about it."
Proving his ability to continue learning in an effort to fuel his quick progression, Martell became the first Cloudreach employee in history to hold all nine Amazon Web Services certifications. He even wrote articles for the Cloudreach and Amazon websites about the feat. But he wouldn't have had such success if he hadn't relied on help.
"Don't be scared of feeling like you don't know what you are doing for the first couple of months at your new job," Martell says. "Be open to feedback, listen, ask questions… one day everything just clicks into place and before you know it, the newbies will be coming to you with questions."
What is Martell looking forward to next? He's ready to keep working hard to see where life takes him. "I definitely see myself growing within Mastercard, possibly as a higher-level engineer. Maybe I'll be creating the next big thing for our company! I do have the goal of giving a talk at a big tech conference one day. To go on stage and share my technical knowledge with a big audience would be a dream come true!"
Read Martell's articles about completing the Amazon Web Services certifications: