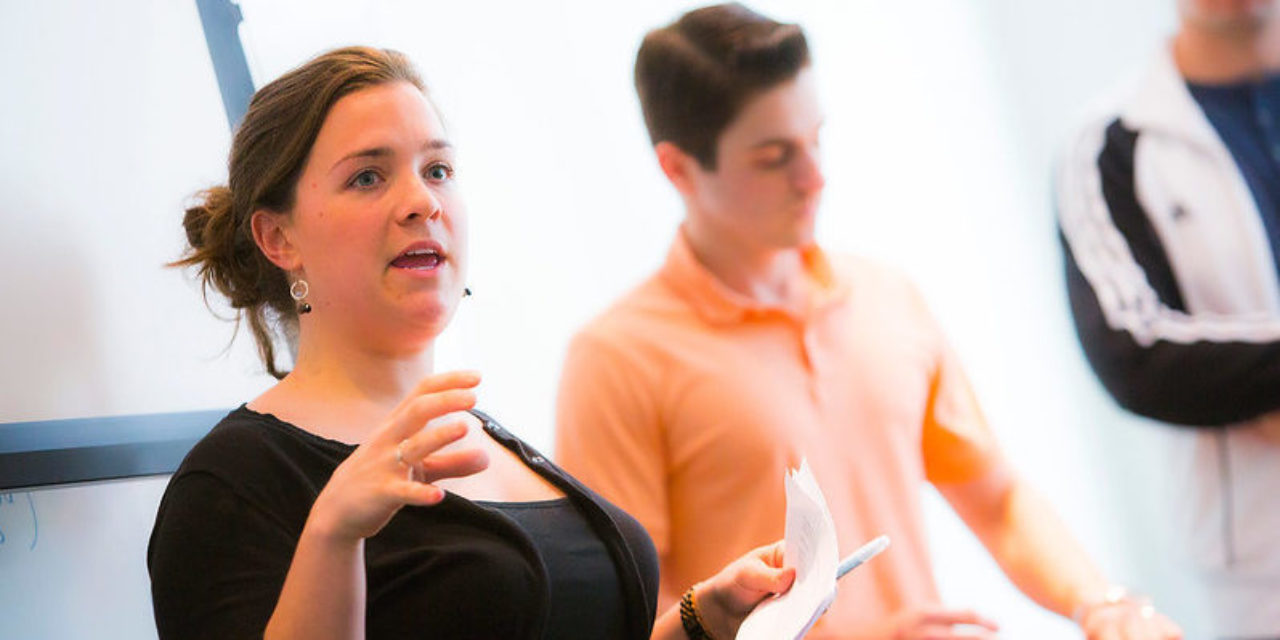 The major in management is designed for students who wish to develop the interpersonal and management skills they can use starting with their first professional job, as well as developing a long-term perspective and value system which will serve them their entire careers.
Management department course offerings emphasize:
An approach to classroom instruction that engages the student in the learning process
Concentration on knowledge and skill sets that are practical and useable
A global perspective that emphasizes ethics and long-term sustainable business practices
The use of team-based teaching and learning
It is our goal that our management majors will:
Receive solid conceptual grounding in management disciplines
Develop competencies to become highly effective individually and with others
Develop and demonstrate these competencies with hands-on learning, including work on real-world projects and service to the community
Undergo rigorous assessment of their overall accomplishments
Enter a fast track to successful and rewarding careers
Degree Requirements
Students pursuing a BS in management will be required to choose a concentration in either human resource management or leadership. To attain a BS in management, students must take four required management courses in addition to three courses from either concentration.
All students enrolled in the Bachelor of Science program must complete the University and Business Core Curriculum in addition to the major requirements listed below.
Required Courses
Concentrations (choose three courses from one of the concentrations below)
Human Resource Management Concentration
Silberman College of Business Human Resource Management students are equipped with a wide knowledge of various human resource management functions including recruitment, selection, training, performance evaluation, compensation and legal concerns.
Through discussion, hands-on learning, and exposure to HR professionals, students learn how to manage various HR functions and develop an understanding of how human resources plays a vital role in the sustainable strategic management of companies.
The career- and skills-related focus of this concentration helps students develop the skills needed for successful careers in human resource management.
Required HR Course
Select two of the following Human Resource courses
Our Advisory Board
To ensure that our curriculum stays on the cutting edge, that our students get exposure to leading human resource management professionals, and that our students get access to internships at leading companies, our HRM concentration has an active advisory board.
Jennifer Eckhardt, PHR, Organizational Effectiveness Manager at Biomet (former HR Director at Stryker, Medco, Wyndham, Toys R Us) FDU MBA alum
Dan Domenech VP HR at American Express
Corine DiMeo, PHR, Human Resource Analyst, Verizon Wireless, FDU alum, 2009
Julissa Villanova, Human Resource Analyst, AIG, FDU alum, 2011
Christina Roesch, Human Resources Generalist, Opera Solutions, FDU alum, 2010
Robert Russo, VP Human Resources, Bristol-Myers, FDU MBA alum
Dan Black, Campus Recruiting Director, Ernst & Young
Career Preparation
Recent graduates have been hired to HR positions at such companies as AIG, Ralph Lauren, Wakefern Foods (Shop-Rite), Stryker Medical Devices, Jet Professionals, ADP, Opera Solutions, UMass Medical Center, and more.
HR students have recently completed internships at Colgate-Palmolive, Movado Watches, Opera Solutions, Enterprise Rent-a-Car, BR Guest Hospitality, Express Employment Professionals, and more.
Society for Human Resource Management (SHRM) Affiliation
The Society for Human Resource Management is the world's largest association devoted to human resource management. The Society serves the needs of HR professionals and advances the interests of the HR profession. Founded in 1948, SHRM has more than 250,000 members in 140 countries and more than 575 affiliated chapters.
The Society for Human Resource Management (SHRM) has acknowledged that the Management major with the concentration in Human Resource at the Silberman College of Business fully aligns with SHRM's HR Curriculum Guidebook and Templates. Throughout the world, 321 programs in 242 educational institutions have been acknowledged by SHRM as being in alignment with its suggested guides and templates. The HR Curriculum Guidebook and Templates were developed by SHRM to define the minimum HR content areas that should be studied by HR students at the undergraduate and graduate levels. The guidelines — created in 2006 and revalidated in 2010 and 2013 — are part of SHRM's Academic Initiative to define HR education standards taught in university business schools and help universities develop degree programs that follow these standards.
Leadership Concentration
The B.S. in management with a leadership concentration prepares students to effectively and ethically exercise leadership. Students will be exposed to a variety of leadership perspectives and models. Self-assessments and guided exercises will provide students with insight into their leadership styles. As part of their major, students will engage in hands-on experiences of leadership and change management. They will develop the knowledge and capability to lead with attention to the "triple bottom line" of environmental stewardship, social equity, and financial success.
Required Leadership Course
Select two of the following leadership courses
For More Information
If you are a prospective student and would like information about applying to Fairleigh Dickinson University, please contact the Office of Admissions at (973) 443-8900 or (201) 692-7308 or via email.
If you would like information regarding the majors, courses or careers paths, please contact the Department Chair Gwen Jones at (973) 443-8850 or via email.