Florham Campus Residence Halls
For most students, living on campus is one of the most memorable and fulfilling parts of their college experience. For many, it marks the first time they've lived on their own, away from family and friends. At the Florham Campus, three of every four undergraduate students choose to live in the University's residence halls.
The two Twombly Halls Florence Twombly and Hamilton Twombly, are traditional-style residence halls, coed by floor, with double rooms and common bathroom facilities. The climate is controlled by our Facilities department. Students give high grades to the extra-spacious rooms in the Twomblies. 
The Village features nine suite-style buildings; each of which has six to seven person suites that offer a shared suite bathroom and double bedrooms. Coed by suite, The Village is fully air-conditioned. In Stirling Hall, York Hall, Ellsworth Hall, Barclay Hall, Penn Hall and Rice Hall, the suites each also have a shared suite common living room.
Park Avenue has four-person suites, each with its own living room and kitchen and is independently climate-controlled. Park Avenue is reserved for juniors, seniors, and graduate students.
Rutherford Hall  offers independently climate-controlled double rooms, each with a private bathroom.
Each residence hall offers unique amenities.  Some have a fitness center, a game room, study lounges, and more.  But each residence hall offers:
In-building laundry facilities, always free of charge
Daily complimentary housekeeping services in the common
Wireless and Ethernet links to the campus network
Free in-room cable
In hall programs, events and community builders
All buildings have air conditioning
All buildings are smoke free
All residence halls have card-access front doors and room doors
All residence halls have security cameras inside the building and out
Near the residence halls, you'll find a variety of outdoor courts and playing fields. They include a volleyball pit as well as lighted basketball courts and softball field for evening play.
All residence halls contain smoke-free rooms. Resident students are permitted to have cars on campus. Free parking is available in lots near the residence halls. Incoming Florham Campus freshmen students, residing on campus, will have the ability to apply for a parking permit. Approved freshmen students will be allowed to park in a designated area in residence parking lot #3, located in the rear of Park Avenue residence hall.
Each residence hall floor has a resident assistant (RA) who serves as an on-site counselor and resource for students. Your RA will plan activities to encourage you to meet and get to know other resident students. Examples might include white-water rafting, hiking excursions, skiing in the Poconos, shopping at area malls and discount outlets, a skirmish weekend (paint-ball) or a semi-formal dance.
Overnight guests are permitted on campus, but they must be registered for each night's stay. The residence halls have card-access doors, security cameras and campus security regularly inspects campus grounds and facilities.
Near the residence halls, you'll find a variety of outdoor courts and playing fields for a casual game or two. They include a volleyball pit as well as lighted basketball courts and softball field for evening play.
Fairleigh Dickinson University's Florham Campus residence halls house nearly 1600 undergraduate and graduate students. The traditional lock and key have given way to card access, similar to the technology found in most hotels. Students simply use their student identification card to access the main building doors as well as their room door.
The Twomblies
Room size: 12′ x 15′
"The Twomblys" are two adjoined traditional-style residence halls, coed by floor, with double rooms and common bathroom facilities. One of the favorite parts of the Twomblys, for some, are its extra-spacious rooms.
Twombly Lounge
A large lounge located on the lower level connects Hamilton and Florence Twombly. Renovated in 2015, Twombly Lounge features comfortable seating and a large projector and screen for movie nights and other programs throughout the semester. In addition, the lounge's "study side" includes large tables and seating for collaborative study, as well as individual study corrals.
Cardio Room
The Twombly Lounge also hosts a 24-hour access Cardio Room. The Cardio Room includes bikes, ellipticals, medicine balls, a stair climber, treadmills, and televisions.
Twombly Room, overhead view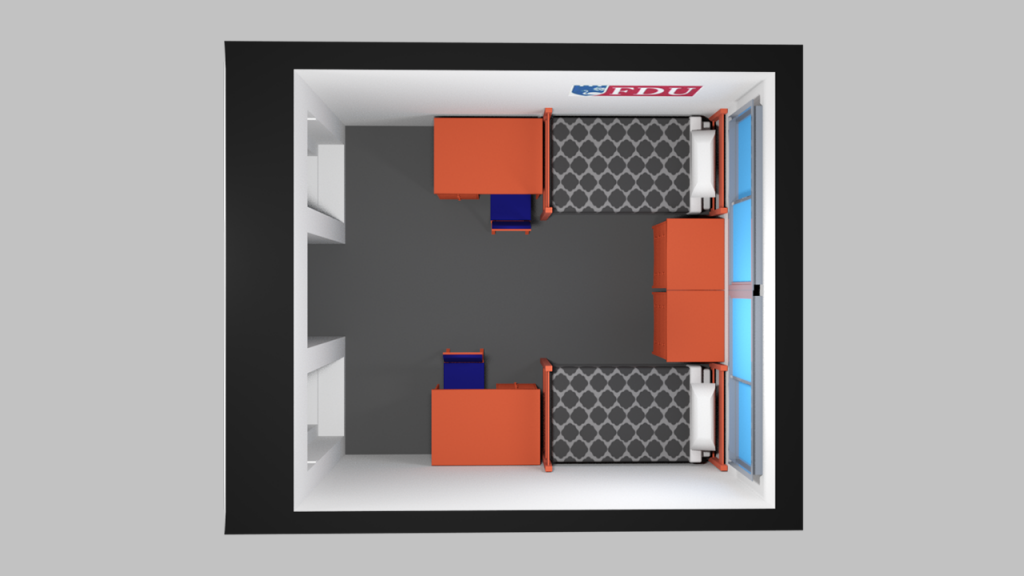 Twombly Room, perspective view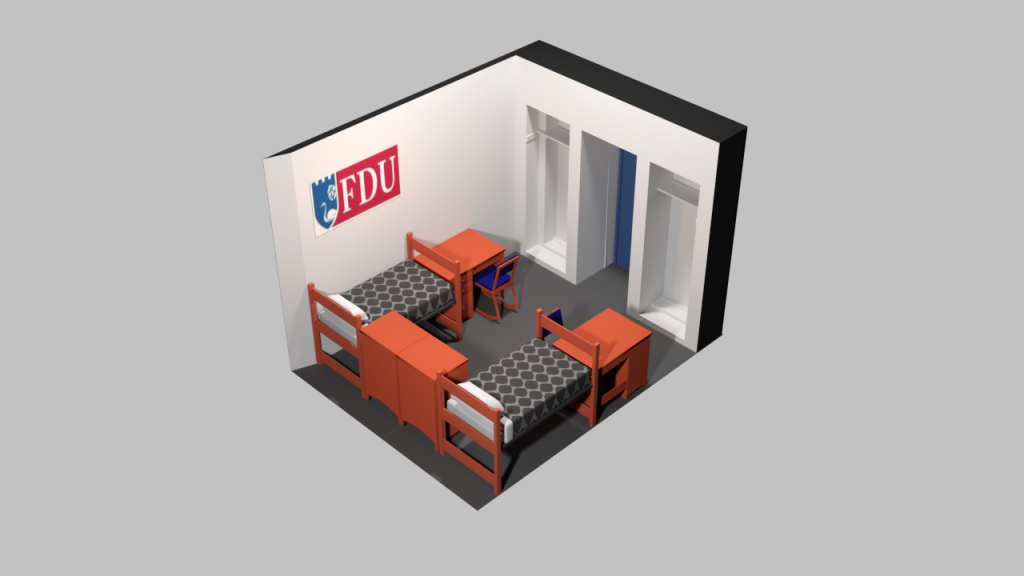 Village Residence Halls
Approx. Room size: 11′ x 15′
The Village consists of nine residence halls, with students living in suite-style accommodations. Stirling, York, Ellsworth, Barclay, Penn, Rice, Wilder and Vanderbilt house sophomores through graduate students. Danforth Hall is our designated housing for first-year University Honors Program and Honors Academy students. Suites house six to seven students depending on the layout of the suite.
Stirling, York, Ellsworth, Barclay, Penn, and Rice have three double bedrooms that share a common living room and bathroom.
Wilder, Vanderbilt and Danforth feature four bedrooms (three double bedrooms and one single room) connected by a hallway that share a bathroom.
Laundry and trash facilities are provided on the lower level of each Village hall. Light housekeeping is provided once a week in each suite's bathroom. We encourage all students to come prepared with cleaning supplies for ongoing up-keep.
The Village Halls have no overhead lights in the student rooms; therefore, residents are encouraged to provide lamps for reading and general lighting.
Village Suite, overhead view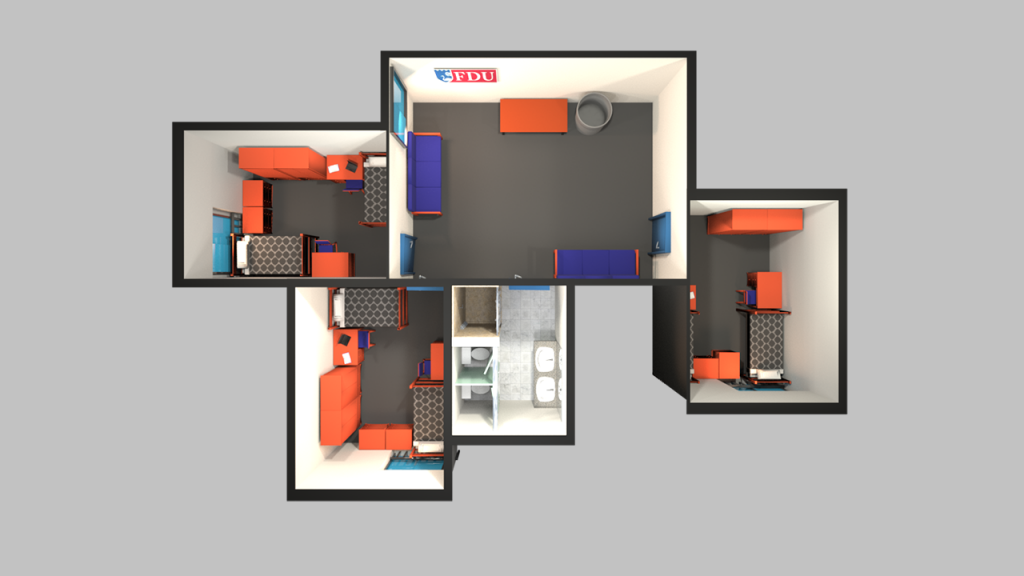 Village Suite, perspective view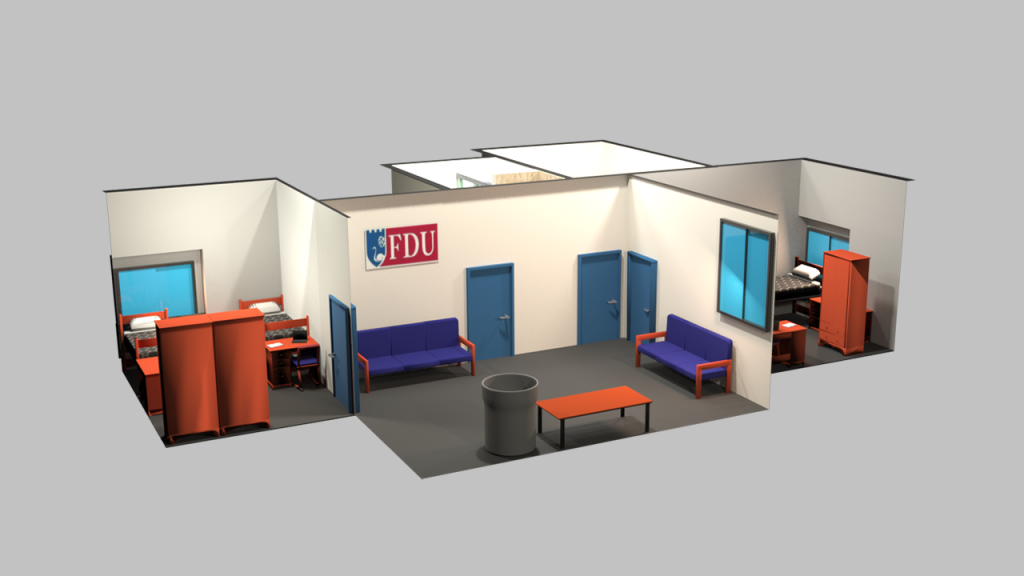 Rutherford Hall
Named after the University's first campus, Rutherford Hall offers double rooms with private bathrooms, and independent climate-control for its residents.  With its close proximity to the Student Center, it's a highly desirable location for upper-class students who are active on campus. Each floor in Rutherford offers a common social space, study lounge and vending machines on each floor for late night snack attacks. Rutherford has five floors and features two elevators.
Rutherford forms a quad with Florence and Hamilton Twombly Halls creating a large courtyard and lawn space, which becomes a social hub for students; whether they are having a BBQ, playing a wiffle ball game, tanning, catching up on reading, or enjoying the patio swings.
Rutherford, overhead view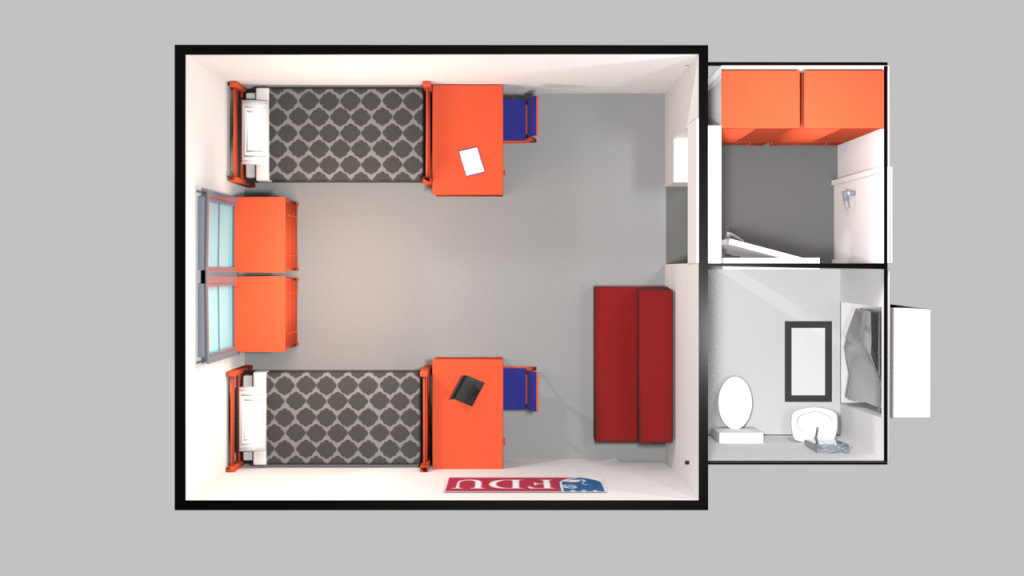 Rutherford, perspective view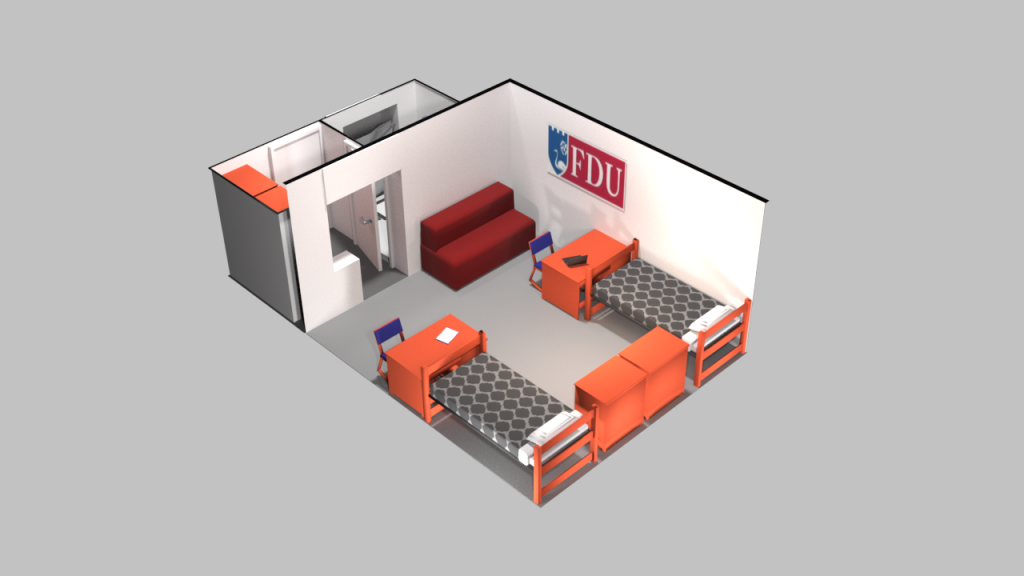 Park Avenue Residence Halls
Approximate bedroom size: 13 ft x 15 ft
Approximate living room size: 10 ft x 15 ft
Park Avenue offers apartment-style living. Each apartment has two double bedrooms, a living, room, and a kitchen area with a sink, apartment-size stove and refrigerator and independent climate-control. Park Avenue suites do not includes microwaves; though students may bring their own. Each bedroom has its own bathroom. Park Avenue is four floors and has two elevators to help after those long days of classes.
Game Room
The recently renovated Game Room, located in the South Wing of Park Avenue on the first floor includes a pool table, television, and lounge furniture for residents to enjoy. Students can access the Game Room 24/7 via their Fairleigh 1Card.
Park Avenue, overhead view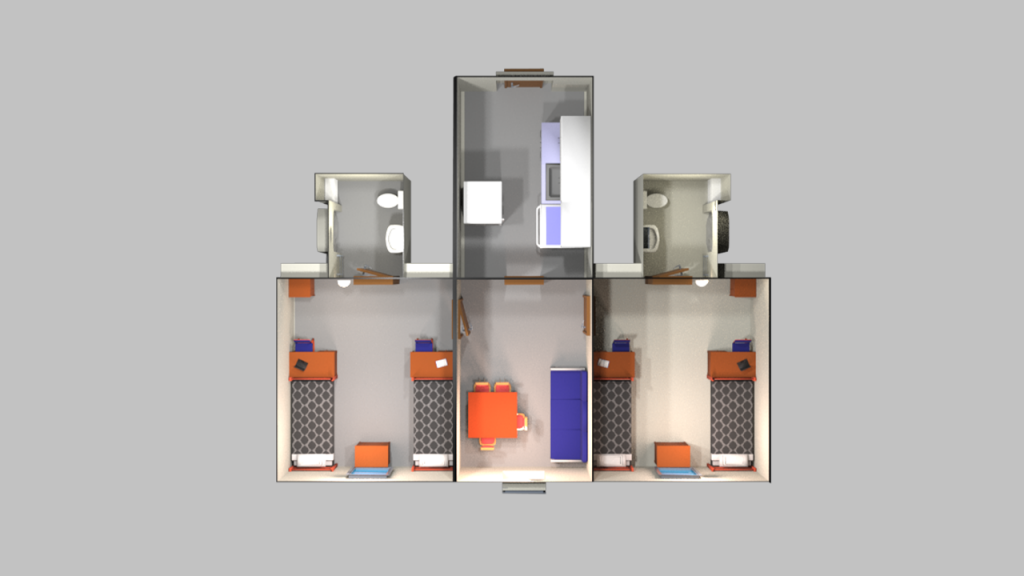 Park Avenue, perspective view