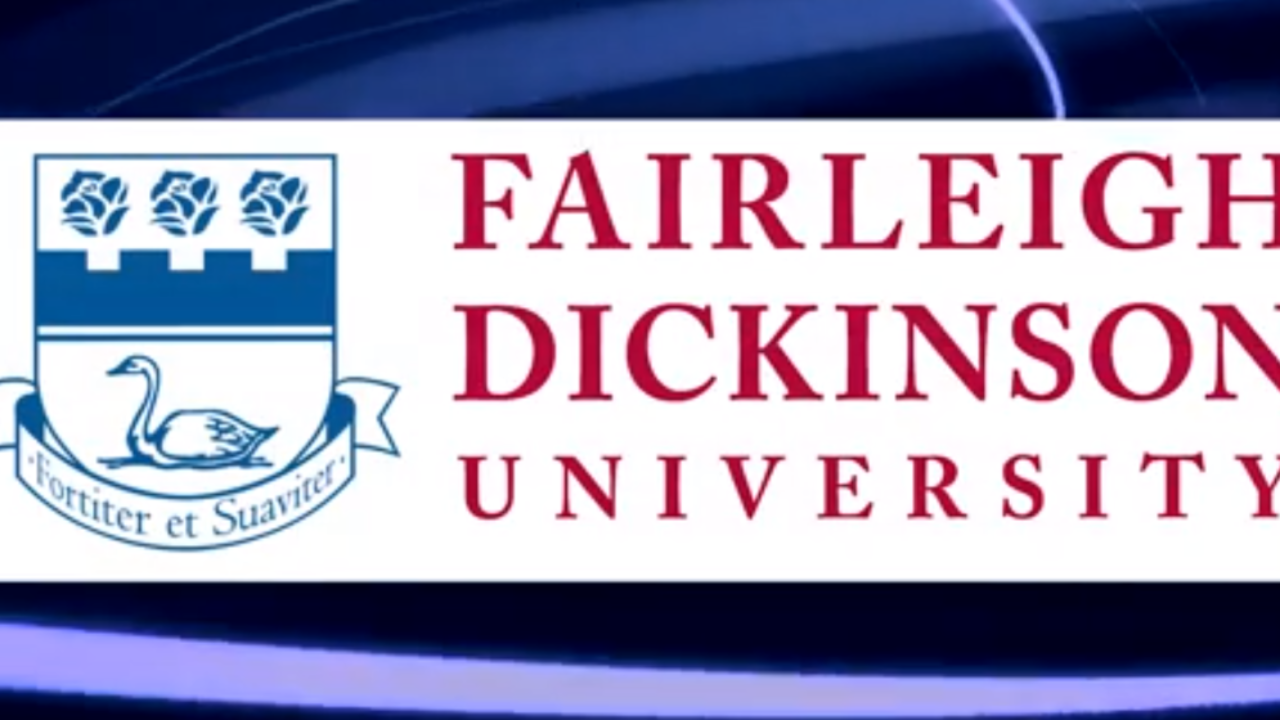 2018
Transcript of the 2018 Event
Gillian Small:
Please stand for the showing of the colors and the singing of our national anthem, which will be sung by Morgan Prytherch.

Morgan Prytherch:
Oh, say can you see by the dawn's early light, what so proudly we hailed at the twilight's least gleaming? Whose broad stripes and bright stars through the perilous fight, o'er the ramparts we watched were so gallantly streaming? And the rockets red glare, the bombs bursting in air, gave proof through the night that our flag was still there. Oh, say does that star-spangled banner yet wave, o'er the land of the free and the home of the brave?

Gillian Small:
Thank you, Morgan. Good afternoon, my name is Gillian Small, I'm the University Provost and Senior Vice President for Academic Affairs. I'm delighted to welcome everybody here with us today, students, faculty, staff, administrators, trustees, platform party members, and all of our guests to the Convocation of Fairleigh Dickinson University for the 2018-19 academic year.

Gillian Small:
Before I introduce those members of the platform party, please sit. Before I announce those members of the platform party who are not active participants in this afternoon's program, I would like to first introduce the eighth president of Fairleigh Dickinson University, Christopher Capuano. As I announce our platform party, I kindly ask the audience to please hold your applause until I have introduced everybody.

Gillian Small:
Hania Ferrara, Senior Vice President for Finance and Chief Operating Officer; Richard Reiss, Senior Vice President for University Advancement; Luke Schultheis, Vice President for Enrollment, Planning, and Efficiency; Richard Frick, Vice President for Facilities and Auxiliary Services; Neal Sturm, Vice President and Chief Information Officer; Minerva Guttman, President of the Faculty Senate; Ruben Flores, Vice President of the Professional Administrative Staff; John Codd, University General Council; Anthony Adrignolo, Grand Marshal and Senior University Faculty Member.

Gillian Small:
And our Board of Trustees, Patrick Zenner, Chair of the FDU Board; Evelyn Douglas; Robert Pures; Brenda Blackmon; Art Sukel; and Franklyn Jenifer. I would also like to take this opportunity to introduce our Dean of Students, from the Metropolitan Campus, Vidal Lopez, and our Assistant Deans of Students from Florham, Pam Messina and Sandra Gilot-West. Thank you all for attending.

Gillian Small:
If there are any retired faculty in attendance today, I ask that you also please stand so that we may acknowledge you. Any retired faculty? They're staying quiet. I'd also like to acknowledge in absentia the faculty, staff, and students who are at our international campuses, Vancouver, British Columbia, Canada, and Wroxton in the UK, and therefore they're not in attendance today. Now it is my pleasure to present the Academic Deans who will introduce their new faculty. Faculty should stand when their name is called, and remain standing until all names in their respective college or school have been called. I ask that you hold your applause until all names are read in a particular college or school. First I would like to invite Geoffrey Weinman, Dean of the Maxwell Becton College of Arts and Sciences to introduce the new faculty in his college.

Geoffrey W.:
Thank you, Provost Small. I'm pleased to welcome five new faculty to Becton College, please stand when your name is called. Justin Bogart, Assistant Professor of Inorganic Chemistry; Ihab Darwish, Assistant Professor of Cyber Security; Buvaneswari Narayanan, Lecturer in Biology; Thomas Loreng, Lecturer in Biology; and Justin Shaw, Assistant Professor in Animation, School of the Arts. Welcome to you all.

Gillian Small:
Thank you, Dean Weinman. I now ask Michael Avaltroni, Dean of the School of Pharmacy and Health Science, to introduce the new faculty in his college.

Michael A.:
Thank you, Provost Small. It's my pleasure to welcome five new faculty members to the School of Pharmacy and Health Sciences. The first, Hyunah Cho, Assistant Professor of Pharmaceutical Sciences; The second, Jaclyn Palummo, Clinical Assistant Professor of Pharmacy Practice; Kajal Patel, Clinical Assistant Professor of Pharmacy Practice; Rachel Quinn, Clinical Assistant Professor of Pharmacy Practice; and Amanda Zelinski, Clinical Assistant Professor of Pharmacy Practice. Welcome to each of you.

Gillian Small:
I now invite Dean Lisa Braverman, Dean of the Anthony J. Petrocelli College of Continuing Studies, to introduce the new faculty in her college.

Lisa Braverman:
Thank you very much, Provost Small. I'd like to welcome three new faculty members to the Petrocelli College of Continuing Studies this year. Xiaoye Li, Assistant Professor of Hospitality and Tourism Management, and please stand when I call your name; Ryan Dreher, Senior Lecturer of Hospitality and Tourism Management; and Matthew Hawzen, Assistant Professor of Sports Administration. Welcome to the Petrocelli College of Continuing Studies, and to FDU.

Gillian Small:
Now I'd invite Vicki Cohen, Interim Dean of University College, Arts, Sciences, and Professional Studies, to introduce the new faculty in her college.

Vicki Cohen:
Thank you, Provost Small, and welcome faculty, guests and family members and friends. I'm pleased to announce that we have 13 new faculty members in University College. Please stand when I call your name. Joshua Bornstein, who's Assistant Professor of Educational Leadership; WonJae Choi, Assistant Professor of Mechanical Engineering and Mechanical Engineering Technology; Douglas Evans, Assistant Professor of Criminal Justice; Meaghan Guiney, Assistant Professor of Psychology; Esther Hellman, Lecturer of Early Childhood Education; Erika Oak, Clinical Assistant Professor of Psychology; Andrea Owes, Lecturer Nursing; Martha Pitts, Assistant Professor of English; Linda Raffaele-Mendez, Assistant Professor of School Psychology; Sora Suh, Assistant Professor of Second Language Acquisition in the School of Education; Avimanyou Vatsa, Assistant Professor of Computer Science; and Laurence Winters, Senior Lecturer Humanities. Welcome all, and glad that you're here.

Gillian Small:
Now I'd like to invite Andrew Rosman, Dean of the Silberman College of Business, to introduce the new faculty in his college.

Andrew Rosman:
Thank you, Provost Small. I'd like to welcome two faculty to Silberman College, both are Assistant Professors of Finance. Hongyan Li and James Bulsiewicz.

Gillian Small:
A welcome to all the new faculty to FDU, and we wish you a good first academic year. I'm now pleased to introduce our keynote speaker, Dr. Dan Cassino. Dan is a Professor of Political Science at FDU, and the Director of Experimental Research for the FDU Poll. He carried out his doctoral work at Stony Brook University, followed by post-doctoral work at Princeton before joining FDU in 2005. He conducts research in political psychology, threat, and how people respond to survey questions. Dan?

Dan Cassino:
Thank you, Provost Small. Why do we have a college of arts and sciences? A combination like that seems against the spirit of the times, when specialization, doing one thing and doing it very well, seems to be the norm. After all, the days of Aristotle or Leonardo da Vinci, when someone could be an expert in every field of human endeavor, that seems well behind us. No one today expects a novelist to also be a chemist, or a biologist to also be able to paint, so why in the world do we need a college of arts and sciences? Wouldn't we be better off, better able to focus on things that actually matter to us, if it was two colleges? It may sound right, but it's just not the case.

Dan Cassino:
I teach government and law here, so let me start by explaining a bit about the Basque Separatist Movement. In the Basque region of Spain, many locals have spent generations in often bloody fight for independence from what they see as a foreign government in Madrid. Among those most committed to the fight, it's common to get tattoos on the face, neck, or hands proclaiming their commitment to Basque independence, and to speak only Basque, never learning Spanish, which they see as the language of the oppressor. I know this seems extreme of course, but it's clear why they do it. If you can't speak Spanish, and you have a visible tattoo tying you to what's regarded as a terrorist movement, there's no way you're gonna forget about the movement, settle down and get yourself a nine-to-five, a house, and two-point-five kids. You couldn't even if you wanted to, and that's the whole point.

Dan Cassino:
By getting the tattoo, by never learning Spanish, you're tying yourself to your current path forever, making what economists call a credible commitment. Ensuring that you'll never be able to change, never be able to progress, never be able to grow beyond what you are now. Why do we have a college of arts and sciences? To stop our students from getting the intellectual equivalent of a face tattoo. Probably also actual face tattoos, technically it's none of our business, but I'd probably ask my students to hold off on it if I thought they were about to do it. We have a college of arts and sciences because we need our students to be able to apply the concepts and techniques they learn in their major fields of study as broadly as possible. The narrower our focus, the more unique our topics will seem to our students, but the broader their studies are, the more they'll be able to find the similarities between all the classes they take, and the better we'll be able to prepare our students to apply their skills broadly.

Dan Cassino:
I don't teach government and law because I think it's vital for my students to understand how the Rules Committee of the House of Representatives works, or what's including in the UN Charter on Human Rights. These things are important, the rules in congress mean less than they used to, but the reason we teach these systems isn't because we think it's gonna be directly useful. Of course, we have some students who go off and work in politics, run for office, or work as lobbyists, and that's great, especially the lobbyists because the university has an advancement campaign going on, and those folks do very well for themselves. But the rest of the class isn't learning about governmental systems for their own sake, but rather to understand how systems work. We want our students to learn how to think through a system, no matter what that system is, and understand how actions in one area can reverberate throughout. And they can get a very different outcome from very small changes in initial conditions.

Dan Cassino:
How to break down the system, analyze it, isolate cause and effect. Once they can do that, it doesn't matter if they're looking at a chemical reaction, or a corporate restructuring, or a program that's just not compiling because apparently there's a bug in it somewhere. The skills they learn transcend the topic. On the surface, we're all teaching very different things, but at the deepest level the skills we're trying to impart are all the same. Breaking down systems, critical thinking, clear communication, database decision making, finance and chemistry and communication are just different ways of getting at these same skills. If all my students ever did was take a course in US politics, they'd never know that. They'd think everything they were learning was a unique feature of the American political system.

Dan Cassino:
But when they take comparative politics, they find the same principles can be used to understand the political systems of France or China or South Africa. When they take classes in computer science, they find that applies to programming. When they take biology, they apply it to the processes of cells. If they never took those classes, they'd never know how much they really know, they'd never be able to apply it to new areas. They'd be very knowledgeable about US politics, sure, but that face tattoo would tie them to the one topic forever. Now I understand the allure of specialization, a few years ago the highest paid major in the US was in oil and natural gas extraction engineering, there was a fracking boom going on, and they needed people to know how to engineer wells and extract natural gas from the short supply. At one point, the median starting salary for undergraduates with that major was just shy of $150,000 a year, which sounds very good to the assembled faculty.

Dan Cassino:
This sounds like a great deal, but what happens when the fracking boom is over? What happens when solar power, which very rarely needs to get extracted from Salem, Pennsylvania, gets cheaper than natural gas? If all we're doing is preparing our students for one narrow area, no matter how in-demand that area might be right now, we're doing them a disservice. We're giving them that face tattoo. But if they majored in oil and natural gas extraction engineering and took challenging classes outside of that specialization, they'd see the connections between what they were learning in their major and other areas. They'd be able to apply that knowledge in new ways, in new fields, to change, adapt and grow. Interaction goes both ways, when they're able to apply what they learn in one area to another, they're also able to take new approaches back to the field they started in.

Dan Cassino:
When he was in college, President Herbert Hoover studied mine engineering, but took courses in Latin. As a result, he and his wife translated ancient engineering texts about metallurgy into English for the first time, and used the techniques they learned from them, from 1600 year old books to buy up previously unprofitable mines and make a killing on them. The reason modern computers have so many cool fonts on them, is that Steve Jobs took a college class on calligraphy from a Trappist monk. The class in literature, philosophy or chemistry or computer engineering might seem utterly irrelevant to what we're teaching our students, but neither you nor I nor anyone else has any idea what will wind up being vital. Who would think a Trappist monk would have something to offer a computer programmer, or the classics would benefit an engineer?

Dan Cassino:
Nor is this just a benefit for students, everyone sitting here has some insight, some technique, some research question, even some trick in the classroom that can be shared across disciplinary lines. We often decry the fact that we don't get the research support or funding that our colleagues at other schools might, that we can't compete on a level playing field with them. All right, so let's cheat. Let's do the interdisciplinary work that no one else is even thinking of doing, let's share our ideas and resources to do something new, broader, something that isn't just a deeper dive into our own corners. We have a college of arts and sciences because we know that one set of skills will not be enough to get our students through their careers. Of course, it's nothing new that the world is changing, that society, economics, and politics are in upheaval. A hundred years ago, teachers complained that students were too reliant on paper and pencils, they weren't learning how to write properly with a piece of chalk on a slate board, "What are they gonna do when they run out of paper and ink," they asked.

Dan Cassino:
Change has been a constant, what's different now is that the rate of change is increasing. A thousand years ago, most people lived about the same way their ancestors did 500 years before that. A hundred years ago, most people lived about the same way they had 100 years before that. Is your life, is your career anything like what someone had in the 1920s, or the 1970s, or even the 1990s? It would be hubris, destructive pride, to think that you or I have any idea what skills will be in demand 10 or 20 or 40 years from now. I cannot in good conscience tell my students, "If you learn to do this one thing, you'll be set for life." A hundred years ago, even 40 years ago, you could make a reasonable living working as a clerk filling out those big paper ledgers we called spreadsheets, those jobs existed as far back as Dickens, and they're wiped out overnight by a computer program.

Dan Cassino:
If you have one set of skills, if you have that face tattoo, you're stuck hoping you won't be made obsolete. But if our students can apply their skills widely, if they can see how disparate areas are related to each other, and apply what they've learned in one area to anywhere else, they'll always be in demand. We have a college of arts and sciences, we've looked at history, we're willing to admit that we have no idea what the world will look like 20 or 30 or 40 years from now. The only way we can prepare our students for that world, is to give them the ability to apply their knowledge to any new challenge that may arise. We have a college of arts and sciences because applying, focusing narrowly can make you good at what you're trying to do, but being able to apply that knowledge can make you great. We have a college of arts and sciences because the Basque Separatists who tattoo themselves are inherently pessimistic, they're betting that the world will never end, that their defiance will never be irrelevant.

Dan Cassino:
It's like learning how to fix an internal combustion engine, it's a useful skill, sure, but one that if we're lucky will be irrelevant before too long. To specialize and never step outside of the specialization, is to bet against the future, to bet against progress. But we are optimists, we hope the future will be better and different in 1000 ways we can't even imagine. We don't know the exact skills we need for that future, we know how to get the students ready for it. So when you're advising your students, and they're complaining about a general education course, your business or literature, or if they're very lucky, government and law, and they're asking why they have to take this class, why they're being asked to read Gabriel Garcia Marquez or understand how an electrical circuit works, I want you to tell them the point, the breadth of their education isn't distraction, rather it's the whole point. Thank you.

Gillian Small:
Thank Dan, for that thought provoking talk. I'm now pleased to present the recipients of the 2018 Distinguished Faculty Awards. Faculty are being honored for their outstanding contributions to the university. The recipient of this year's Distinguished Faculty Award for Service is Alice Benzecry. Alice?

Gillian Small:
Back in 2008, the greenhouse of the Metropolitan Campus needed restoration. Alice Benzecry, co-founder and co-chair of the Green Campus Committee took on the job. With support from the Provost's Office, Alice and her team rehabbed the space readying it for both academic research and community gardening. Since then, she has managed the facility and tended to the plants. That is a big act of service, and just one example of the dedication that Alice has shown to FDU. She's represented her faculty colleagues in meetings with University presidents and the Board of Trustees, served on campus and college committees, attended open-houses and admitted-students days, and been an advisor and mentor to students and supervised their independent study.

Gillian Small:
At the global level, Alice worked on establishing Fairleigh Dickinson University's partnership with Gediz University in Turkey, and connected with the marine biology station in the Dominican Republic. In 2010, the late President Michael Adams nominated her to the UN Congo Committee on Sustainable Development. She has planned Earth Day events in conjunction with students, and each year coordinates a plant sale. She gives of herself generously to benefit the University and her students, and instills a sense of volunteerism in the community. Her dedication to making this world a better place, from local projects to global projects, is clearly something to be admired, said Teaneck resident and collaborator Frank Melick. In recognition of her giving spirit, today we bestow the Distinguished Faculty Award for Service upon Alice Benzecry.

Gillian Small:
Do you want to join us, Vicki?

Gillian Small:
Would you like to say a few words?

Alice Benzecry:
I'd like to thank very much, especially my students that allow me to mentor them and to help them into their careers, their professional development. I also want to thank administrative faculty, friends, and also the staff facility at Metro Campus that helped me create all those nice Earth Day events. And finally, I really would like to thank the administration for allowing me to represent this University locally, nationally, and internationally. Thank you.

Gillian Small:
The recipient of this years Distinguished Faculty Award for Research and Scholarship is Riad Nasser. Since joining the FDU faculty in 2001, Riad Nasser has published two books, numerous scholarly articles, participated in an international research and policy project on school textbooks, presented at a wide range of conferences, and continues to have an active portfolio of current and future projects. He mainly studies nationalism and national identity, in particular the ways in which national identity is constructed. He has analyzed the process of political socialization in public schools, and the strategies employed to forge collectiveness, such as the use of textbooks.

Gillian Small:
In 2009, he was invited to join a group of international scholars in helping local scholars from Israel and Palestine conduct a comprehensive study of Palestinian and Israeli school textbooks. This study received extensive coverage in media outlets, including the New York Times, and has been cited by scholars in many countries and triggered responses from both the Israeli and Palestinian prime ministers. Recently, he was asked to join another international group of scholars to focus on images of the Palestinian, Arab, Israeli conflict in Middle Eastern and European school textbooks. This project will start this fall. Knowing how important his international research is to the mission of the University, Riad has often spoken on these subjects, and many others for University lectures and panel discussions.

Gillian Small:
He further has been active in developing new programs and courses reflecting his breadth of knowledge and study. Today his current research broadens to include the United States, where he is examining racism in various social groups. In addition, his Patriarchy, Religion and Citizenship project explores the experiences of Jordanian women, and their journey to achieve greater rights. For the ground breaking work done in his passionate pursuits, and for bringing distinction to FDU and its global mission, the University is pleased to present Riad Nasser with the Distinguished Faculty Award for Research and Scholarship.

Riad Nasser:
Good afternoon. Thank you, I'm deeply touched by this honor. Some of you may wonder what had sparked my interest in the question of ethnic and national identity. I was born in a small town in historic Palestine where my parents, where my father and his forefathers over several centuries were born and raised. My mother came from another large and prominent family in the Jordan Valley of the West Bank. During those times, it was not unusual for people in Palestine to marry a person from another town or country in that world. My parents were married in the mid 1940s. A few years later, the first Arab-Israeli war broke out. In the wake of the war, historic Palestine, which extended from the Jordan River in the east to the Mediterranean Sea in the west, was divided by cease-fire lines.

Riad Nasser:
One of those lines — east of my town — not only separated my grandmother and my mother from the rest of their family in the West Bank, but it created a new political geography. To the east of my town, where my mother's extended family lived, became in the eyes of Israel "enemy" land, and to the west it became "Jewish" land or Israeli land. In the eyes of Palestinians in the West Bank, the land west of the cease-fire lines was called "enemy" land and Jewish land. My town now in Israel, like other Palestinian towns in that region, wedged between these two parts, became a land of people without history, without memory, without identity, the land of the Minority or as we were often called by Israelis, "non-Jews," but Israeli citizens.

Riad Nasser:
A couple of years following the war, I was born into this reality of divided land and torn communities. My interest in the question of identity on both Palestinians and Israelis, grew out of this new historical and sociopolitical order in which I found myself in when I reached my late teens. Since then, especially in the last 30 years, I have been researching this issue of national and ethnic identity, and I am still raising questions on how such identities develop when new lines are drawn and new realities are created. In closing, I would like to extend my thanks to the Selection Committee for its effort in evaluating my scholarship, and its decision to grant me this prestigious award. I would like to thank Dean Geoffrey Weinman for his continued support, for scholarship, and for providing faculty with the resources to do so. I would like to thank my friend and colleague Professor David Rosen, Professor Peter Woolley, and my former colleague, the late Professor Irene Thomson who had welcomed me with open arms and hearts once I stepped into FDU.

Riad Nasser:
I would like also to acknowledge and thank Professor John Schiemann for his support over the years, and his deep belief in my scholarship. Special thanks to Professor Gary Darden, our department chair, for his relentless support. Warm thanks to Professor Krista Jenkins for her support, dedication to excellence, scholarship, and equity among faculty. Thanks for Professor Peabody, Professor Hall, and faculty in our department for being curious and supporting of my work. Finally, I would like to thank my parents for helping me become who I am today, especially my mother, who taught me to seek the good in every human being. I would like to thank my wife, Hanna … Sorry. And my children Adam and Irene, for their sincere love and support and belief in the contributions I have made to science and knowledge, to the advancement of human understanding and well-being, and who themselves have had to decipher these identities and realities. Final, finally, I feel blessed to be part of FDU community and the academic freedom this institution provides to its faculty in pursuing their academic goals and interests. Thank you very much.

Gillian Small:
The recipient of this year's Distinguished Faculty Award for Teaching is Professor Aixa Ritz. Aixa Ritz's commitment to her students is on display both in and out of the classroom. She engages her students academically, and cares deeply about their futures. Students and alumni still talk about their seminal week abroad, reminiscing about the trip at Mount Titlis in the Swiss Alps, or making fresh Pasta Academia Barilla in Parma, Italy. Pictures of European hotels, mills and vistas constantly dot their social media. This undergraduate trip is one of the hallmarks of the International School of Hospitality and Tourism Management curriculum. Aixa Ritz has been coordinating it for more than 15 years.

Gillian Small:
The trip itself is the most incredible and life-changing experience for our students, says Kirsten Tripodi, a former colleague in the school. Every detail is considered with regard to how it will impact the students both personally and professionally. Aixa also stresses critical thinking skills, and emphasizes sustainable tourism efforts, while fostering meaningful classroom discussions. She has taught online courses, contributed to curriculum, and served as a mentor to both faculty and students. In particular, she is passionate about international education, and forms a strong and special bond with many of her international students. Dr. Ritz always puts the needs and best interests of her students first, said FDU alumnus Peter Gennario. She's always actively listening to anybody's ideas and viewpoints.

Gillian Small:
Her inclusiveness and commitment to diversity should serve as a benchmark for others. We honor Aixa Ritz today with the Distinguished Faculty Award for Teaching, and for all the ways she's inspired and educates. Congratulations.

Aixa Ritz:
Thank you very much. It feels really great to be recognized this way for something that I really really love to do. I have a few people to thank, my best friend and husband, whose encouragement and support brought me here. My son, or our son, sorry, Neal, and his wife Shannon and little Colleen, who you can hear in the background. I'm sorry for the interruption. Thank you very much for being here, to come all the way here to be here, made this a very special location. Thank you to Dr. Khyati Joshi and Dr. Kirsten Tripodi for your persistence in nominating me for this award, but more than anything else, for your friendship. Thank you. Thank you very much to Professor Donald Hoover, also for your words of encouragement, and for your friendship. Thank you very much.

Aixa Ritz:
Thank you to Global Learning so much, because of their willingness to help me with study abroad and GVF, which enriches my classes. Thank you to those members of the administration of FDU, who back in 1999 valued my industry experience and saw it as an asset for my teaching, thank you very much. Lastly, a million times to the members of the committee for having selected me. Thank you.

Craig Mourton:
Good afternoon, my name is Craig Mourton, I'm an interim campus executive for the Metropolitan Campus. Just as we have many faculty who have given years of distinguished service to Fairleigh Dickinson University, likewise we have many staff members who make outstanding contributions to the success of the university. These Pillars of FDU have served the university with commitment and distinction for 10 years or more, they have promoted civility on campus, have shown unusual concern for the welfare of students, and serve as role models for their colleagues and students. This award is made to no more than two people from each campus each year. I am proud today to introduce the Metropolitan Campus recipients of the Pillars of the University Award.

Craig Mourton:
The first recipient is Michael Noe, Manager of Buildings and Grounds. Michael, please join me at the podium. For more than 25 years, Michael Noe has devoted himself to making sure the FDU community is seen in the best possible light. He is basically responsible for every path and parking lot and all the buildings and grounds that from our living and learning environment on the Metropolitan Campus. Every effort involves Mike, and he makes sure everything is working at peak performance. After the storms and blizzards, Mike leads the cleanup crews. After the students leave the residence hall, Mike makes them new again for the next class. And whether we are hosting parents or politicians, students or summer camps, Mike ensures that the campus facilities are as attractive, safe, and accommodating as possible.

Craig Mourton:
In every pursuit, Mike's kindness, humility, and loyal devotion bring out the very best in others. He takes each task personally and has consistently elevated the reputation of the University. Mike of course, relishes each special event from freshman orientation, all the way up to the graduation celebration, and plays an integral role in our Commencement ceremonies. For taking great measures in each setup and every cleanup, we proudly recognize Mike as a Pillar of FDU.

Michael Noe:
Thank you so much, thank you.

Chris Capuano:
We want to take a picture.

Michael Noe:
Thank you. Wow, that was quite a speech, thank you very much. I didn't know I did all that, but thank you. To be recognized by your peers is something that I do not take lightly, it means a great deal to me to be standing here before you and this feels really special, and really feels good. I thank you all very much, for everybody that was involved in this, I thank you, it means a great deal. My responsibilities here, my job basically has me spend quite a bit of time on the Metro Campus, over 25 years, it seemed at times to be a burden, but I embrace it. It feels good to be needed, it's just a special place to work. There are very many special people here, I believe that's what sets us apart when people are decided where to send their kids to school. I think when they visit and they meet a lot of the special people we have here, I think that helps them make their choice, and I think that's why they choose us.

Michael Noe:
I'm very proud to be part of that group, and I realize the students are vital to everything we do. So we try to make it as safe and functional for them as possible. There is a person in antecedence today that I would be remiss if I didn't recognize, that would be my boss, Mr. Richard Frick, he's been my biggest supporter, he's been in my corner, in the good, the bad and the ugly. We have a very close knit group in Facilities, he's part of it, I certainly have a second home here at FDU, and I do have extended family. Mr. Frick is part of that, so I thank him very much for his support. And I pledge to you, as I do you, Craig and President Capuano, to just keep working as hard as I can to make this a great place to be. Thank you very much.

Craig Mourton:
The second Pillar of FDU recipient for the Metropolitan Campus is Patrick Reynolds, Assistant Director of Criminal Justice. Patrick is Assistant Director of School of Criminal Justice, Political Science, International Studies on the Metropolitan Campus. A former chief of police, Patrick Reynolds started teaching at FDU as an adjunct professor in 1999, and became Assistant Director in the school in 2004. He performs a wide range of roles, but whether professor, assistant director, advisor, promotional spokesperson, or the consummate problem solver, the prevailing mantra for his is that students come first. With great understanding and empathy, he sets the tone for a family-like environment in which students are nurtured, engaged, and readied for critical thinking in the complex world.

Craig Mourton:
Patrick in particular pays close attention to those students who might be struggling, and provides guidance that propels them forward. The best example of his influence is the great number of graduates who continue to keep in close touch with him. Pat is the first one to volunteer for events, presentations and activities, to represent the school, and is a leading force when it comes to every single open-house, admitted-student day, major madness, and many more. For such incredible service, we are pleased to bestow upon him the Pillar FDU Award.

Patrick Reynolds:
Thank you very much. Like Lou Gehrig, who is a Yankee legend many years ago, who stated that he was the luckiest man on the face of the earth, I sort of feel the same way. I've been absolutely blessed to work here at FDU for the last almost 20 years. I started in 1999 as an adjunct while working as a police chief, which I didn't like being, and after a few years I was called to a diner on Route 4 in Hackensack by Bob Vodde, who was then Director of the School of Criminal Justice, and Deb Minervini, the admin for the program. I was asked if I would come to FDU full-time as the Assistant Director of the School of Criminal Justice. I went home, and I spoke to my wife and my copilot, Barbara, and after a seven-second conversation, we decided that yes, I would leave the miserable police department and go to FDU.

Patrick Reynolds:
I have to tell you, the last 15 years working in the School of Criminal Justice, and more recently in political science, has been an absolute pleasure. A couple people I just want to acknowledge, Deb Minervini, my first admin, thank you so much for all you did for me. More recently, Katie Ingenito, our admin, she does a great job. Our faculty is second to none, we have dedicated tenure track and many adjunct professors who come from all fields of the criminal justice arena, they bring their expertise to the classroom, and they're caring, they're devoted. And the end result, as all of you well know, is our students doing well in the world. We, like all of you, don't do high-fives when they graduate, it's when they get that career they're seeking, when they get into law school, when they get that position they're seeking.

Patrick Reynolds:
That's the reward to us, intrinsically it makes us feel very good. My wife, Barbara, has been my copilot as I said, for many years, my inspiration, and I love her, and I thank you very much Barbara, for all you've done. My two children, my son Bryan, and my daughter Gina, here with granddaughter Reese, who cut her first day of kindergarten to make this event. She takes after her grandfather when it comes to … But again, to my faculty, my coworkers, we have a great team, I appreciate everything you can do. And if I could just divert a bit, little in the introductions, Dean Cohen omitted one of our new-hires, and I just want to welcome Dr. Nicole Sachs, Assistant Professor of Criminal Justice, who comes to us from Rutgers, and we worked very hard to get her here. Nicole, can you stand up please? Welcome.

Patrick Reynolds:
FDU, thank you, I'm in the ninth inning, I'll be leaving at the end of this semester, but it's been a pleasure, it's been an honor. And moving forward, there's change coming, embrace it, it's all for the better, it'll work. God bless.

Brian Mauro:
Good afternoon, I am Brian Mauro, Florham Campus Executive. I am proud to introduce the Florham Campus recipients of the Pillars of the University Award. The first recipient is Kathleen Carpenter, Administrative Assistant for the Florham Campus Library. Katie Carpenter makes things happen at the library, and has produced and organized so many critical events that have informed the community and challenged our students. Take for example, the powerful discussions in the Monninger Conversation Series, for bringing to campus the only living American soldier who escaped from the Nazi slave labor in World War II. She also worked to produce the Politics and the Public Mind Series, and became the library contact for so many programs and people.

Brian Mauro:
In fact, when the Monninger set was being constructed, Katie became the liaison between the construction firm and the library. Always approachable and compassionate, Katie regularly goes above the routine to make sure the University is enriched, and most of all, that students are taken care of. Extremely devoted to FDU's mission and legacy, she well serves, and is a University liaison for the Friends of Florham, which is dedicated to preserving the historic elements of the famous Vanderbilt-Twombly Estate. For such dynamic efforts, we salute Katie Carpenter as a Pillar of FDU.

Katie Carpenter:
President Capuano, University Provost Small, Campus Executive Mauro, distinguished guests, thank you for this wonderful honor. I am especially honored to receive it as an administrative assistant, because as my fellow admins know, we do a lot of work behind the scenes to help make things run smoothly. I have been fortunate in my position, as Administrative Assistant in the Library, to run all the library-sponsored events on campus, and as Brian mentioned, to be the FDU liaison with the Friends of Florham. This has given me the enjoyment of working with so many in the FDU family, from administrative staff, to faculty, to staff on both campuses, and of course, our students.

Katie Carpenter:
It is a family, we all work together and jump in to help each other whenever needed. We have our own Florham Campus Library family, led by the very capable Acting Director of Public Services, Nicole Potdevin, and Associate University Librarian and Technical Services Director, Brig Burke, who set the tone for our group. It is a small, close knit part of the FDU family, where we all work closely together and always have each other's back. The staff at the library makes it a pleasure to come to work. Then I have my own family, who is always there for me and always supportive. Two members of my family were able to be here today for this ceremony, my daughter Emily and my husband Ted, I love you. Thanks once again for this very special honor.

Brian Mauro:
The second recipient for the Florham Campus is John Pasqua, Associate Director for Enrollment Services for Records. John Pasqua began working at FDU in 1992 as an office temp, but fortunately for FDU, his service has been far from temporary. Since that time, he has been a tireless, unflappable, and steady force in Enrollment Services, making many contributions to the department's success. Now a manager at the Florham Campus, he works closely with his counterparts to ensure consistent outstanding services are regularly provided for our students. A devoted student advocate, John sets the standard for professionalism and sensitivity, that we all seek to follow. In what sometimes can be a stressful and anxious environment, John's cool demeanor, gentlemanly approach, and expert guidance provides students and their parents with trusted solutions to the most worrisome issues, particularly those concerning registration and financial matters.

Brian Mauro:
John is equally successful collaborating with colleagues across the department and University to provide answers to our most pressing problems. For his extraordinary service and dedication, we are honored to present him with the Pillar of FDU Award.

John Pasqua:
Okay. Let me bring this down a bit. Thank you for this very prestigious award, it is very much appreciated and completely unexpected. Fairleigh Dickinson University has been very good to me over the past 26 years, when I first started here, I didn't think I would last six months. None of this would have been possible without the tremendous support that I have received from the many special people that I have had the pleasure to work with. Had it not been for my boss, Carol Creekmore, whom many of you know, who showed such great vision for our department and for the University when she arrived shortly after I did, I would not still be here. I can also give her credit for bringing a very special person to FDU, from Centenary College, the woman who would years later become my wife, Carolyn.

John Pasqua:
I cannot emphasize enough the gratitude that I have for the people that I work with each and every day, on both campuses, in many different departments, but especially the Office of Enrollment Services. Were it not for them, I would not have lasted this long. I would also like to thank my parents who are here today, for their love and support throughout my career. My brother and his wife, who couldn't be here. And my two biggest fans, my niece Maria and my nephew Vincent, who are here today. FDU truly is a wonderful place to work, and I thank each and every one of you for honoring me with this award. Thank you.

Brian Mauro:
Well deserved. Thank you, John. This concludes this year's convocation, thank you all for attending, and please join us for a reception back at the Mansion. Have a great academic year, and kindly remain seated until the platform party and faculty have recessed.