Educational Opportunity Fund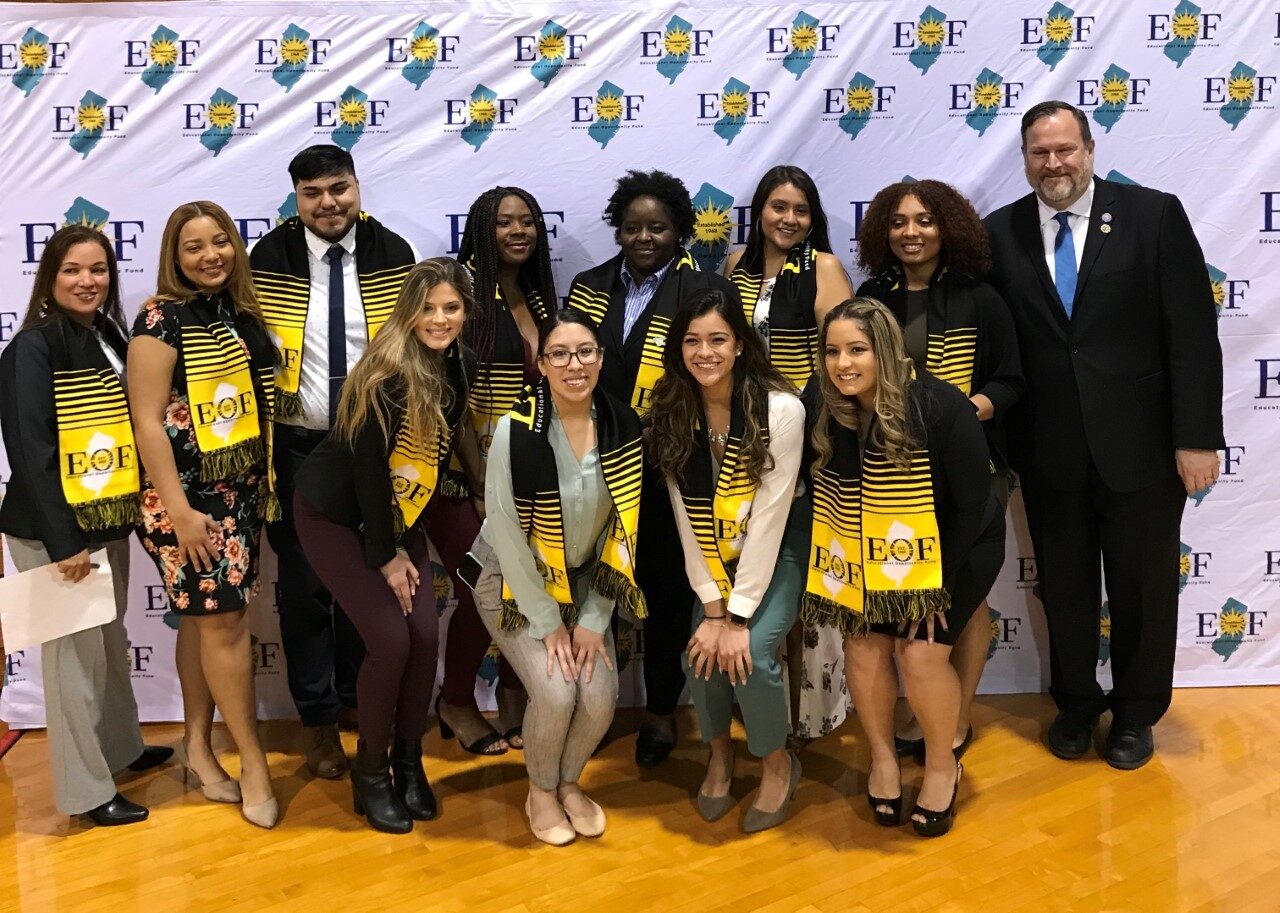 Program Features
The Educational Opportunity Fund is a University- and state-sponsored program in which a select number of entering freshman are chosen to participate.
EOF offers academic and financial assistance to qualifying New Jersey residents from backgrounds of educational and economic need who demonstrate strong evidence of the commitment, motivation, and potential for scholastic success, as well as interest in completing a Fairleigh Dickinson University education. EOF provides participants with the support of structured academic services and specialized counseling.
Pre-freshman summer program
Counseling services and academic courses offered only to EOF students
Summer institutes and academic opportunities
Leadership lecture series
Peer mentoring program
Student honors recognition ceremony
Epsilon Omega Sigma Honor Society
EOF statewide Alliance of EOF Students of New Jersey Chapters
On- and off-campus student leadership opportunities and community service
EOF application process
First-Year Students
To apply to the EOF at FDU, you must:
The EOF program has limited enrollment capacity and is filled on a first-come, first-served basis.
Transfer Students
EOF transfer students are an integral part of the program at FDU. We strive to assist with your transition into a new setting and provide you with the necessary support to ensure your success. All transfer students must follow the steps below:
Admission and EOF enrollment
Complete and submit the online Undergraduate Study Application Form. Follow the instructions for Transfer students.
Download, complete, and mail the EOF Application (DocuSign) to the Office of Admissions at FDU.
Submit an EOF Transfer Verification Form from your sending institution.
Submit your official college transcripts.
Schedule and attend a meeting with an EOF program counselor.
EOF Services
Pre-freshman summer experience
The summer program will provide you with a head start on the challenges of college by offering you a chance to earn college credits while enhancing your basic skills. You will have the opportunity to meet and work with fellow EOF students, along with University faculty and staff.
Incoming first-year students attend the EOF Pre-freshman Summer experience. This residential program consists of a rigorous, four-week schedule of courses and workshops designed to assist students with the academic and developmental transition to college at Fairleigh Dickinson University. Students also participate in field trips including Broadway plays.
All costs for attending the EOF residential summer program including tuition, fees, room, board, books, and field trips are covered by State and University funds.
Students reside on campus in the University's residence halls from Sunday until Friday under the constant supervision of specially trained peer counselors, as well as EOF staff.
Counseling services
Each student is assigned to an EOF counselor who provides academic, career, personal, and financial counseling. An EOF counselor will meet and work with you weekly or bi-weekly. Students receive individual as well as group counseling. The assistant directors and counselors use their knowledge of a student's particular learning style and preferences to facilitate more effective selection of courses, faculty, and academic support options.
Transition to college
The counseling staff also prepares and presents various workshops to facilitate students' transition to college and support their successful completion of an undergraduate degree. Workshops are designed to help you maximize your college performance, covering such topics as developing better study skills, adapting to on-campus living, handling the stress of being a college student, and preparing for exams.
Academic support
EOF provides participants with highly effective and timely academic support services. These include, but are not limited to, individual and small group tutorials and access to professional learning specialists.
Tutoring
EOF students receive one-on-one or small group tutoring services at no cost to them in order to address their individual academic needs.
EOF academic courses
During their first and second years, EOF students register for credit-bearing courses taught by EOF staff designed to enhance their academic and leadership skills.
Student recognition awards ceremony
The EOF Annual Awards Ceremonies are held for each campus to honor students who have achieved academic excellence. Students who meet eligibility criteria are inducted into the EOF Honor Society, Epsilon Omega Sigma, and are eligible for academic upgrades based on continued academic achievements.
Financial support
As an EOF student at FDU, you will be awarded a financial aid package designed to meet the cost of attendance by providing the maximum allowable federal, state, and university need-based grants in order to minimize the amount of any student or personal loans. The package will assist you and your family in paying for tuition, fees, room, board, and books.
Our financial aid staff is committed to working with you and your family to make your education an affordable reality.
EOF graduate grants
EOF graduates who enroll in masters degree programs as full-time, matriculated students may apply to receive an EOF Graduate Grant. EOF graduates are eligible for the graduate grant as long as they continue to demonstrate financial need and meet established criteria. The amount of the graduate grant is dependent upon the student's financial need; the maximum graduate grant is $3,000. These grants are renewable based upon continued eligibility and available funding.
EOF eligibility
Be sure to talk with your high school guidance counselor about your desire to attend Fairleigh Dickinson University's EOF Program.
All EOF applicants are pre-screened to establish their eligibility for the program. Students who pass the initial review process will be contacted by an Admissions representative for an on-campus selection event.
The New Jersey Education Opportunity Fund provides financial assistance and support services (counseling, tutoring, and developmental course work) to selected students from educationally and economically disadvantaged backgrounds who attend qualified institutions of higher education in the State of New Jersey. Undergraduate grants range from $200 to $2,650 annually depending on the type of institution and financial need. These grants are renewable based upon continued eligibility.
All program participants must meet university- and state-established guidelines to be considered.
Demonstrate an educationally and economically disadvantaged background.
Be a New Jersey resident 12 consecutive months prior to attending.
Meet the academic criteria as set by the EOF program.
Proof of historical poverty where gross income falls within the criteria shown in the chart below:
2022-2023 Income eligibility scale with asset cap calculation
Applicants with
a household size of
Gross income
not to exceed
Asset cap calculation
(Not to exceed*)
* = Based on household size
for ALL students
1
$25,760
$5,152
2
$34,840
$6,968
3
$43,920
$8,784
4
$53,000
$10,600
5
$62,080
$12,416
6
$71,160
$14,232
7
$80,240
$16,048
8
$89,320
$17,864
For each additional member of the household add
$9,080
$1,816
2023-2024 Income eligibility scale with asset cap calculation
| Applicants with a Household Size of | Gross Income (Not to Exceed) | Max. Asset Cap (Not to Exceed) |
| --- | --- | --- |
| 1 | $27,180 | $5,436 |
| 2 | $36,620 | $7,324 |
| 3 | $46,060 | $9,212 |
| 4 | $55,500 | $11,100 |
| 5 | $64,940 | $12,988 |
| 6 | $74,380 | $14,876 |
| 7 | $83,820 | $16,764 |
| 8 | $93,260 | $18,652 |
| 8+ | Add $9,440 for each additional family member | Add $1,888 for each additional family member |
Contact Information
EOF Office, Metro Campus

T-EF1-01, 1000 River Rd, Teaneck, NJ 07666
EOF Office, Florham Campus

M-EO1-00, 285 Madison Ave, Madison, NJ 07940