FDUFilm Alumni Jobs and Internships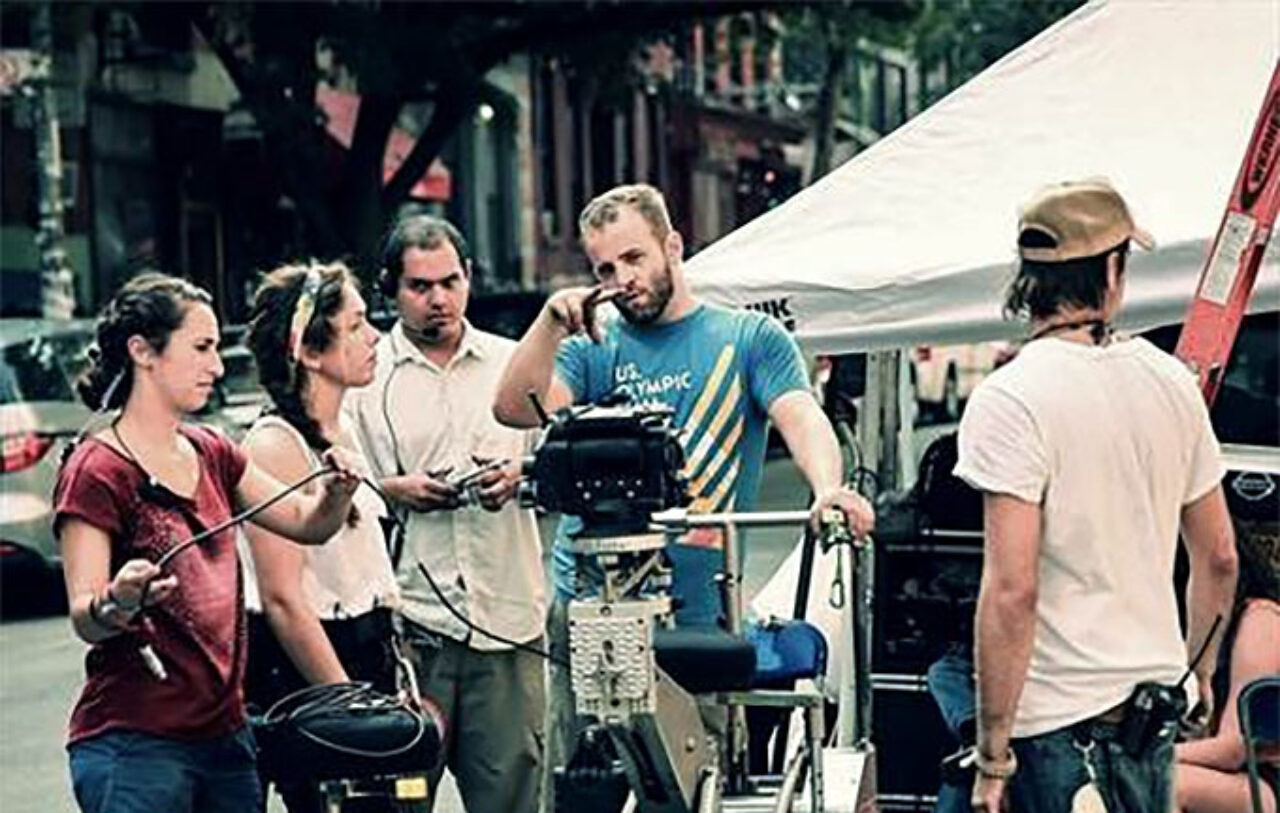 "Though hard work is certainly half the battle, I would not be in the position I am today without the hands-on training and dedicated professors at FDUfilm!"
— Conor Stalvy '12 feature film grip
Small World – FDUFilm Alumni working together
Nico Fransisco '19 and Brian Murphy '18
Two of our recent grads bumped into each other working on the new TV series "The Equalizer" shooting in Newark – Nico Fransisco 2019 on the grip crew and Brian Murphy 2018 on the lighting crew.  Brian also worked with recent alumni Liam Dillion 2020 on "Real Housewives", when Brian was a camera operator and Liam was his camera assistant. Brian was also the Director of Photography on the Oikos Pro Yogurt commercial that aired during the super bowl.  
Alan Anagnostos '20 and Brandon Ferriero '20
Alan Anagnostos 2020 and Brandon Ferriero 2020 worked together as crew production assistants on the MTV show "Jersey Shore Family Vacation". Alan is now in Arizona working on the new MTV show "Double Shot".
Brandan Laird '20 and Matt Kamis '20
Brandan Laird 2020 and Matt Kamis 2020 have been working together as set production assistants on Hulu's "Wutang Clan: An American Saga".
Courtney Beck '19 and Rob Huntley '04
Courtney Beck 2019 has been hired on staff as an assistant production coordinator by Rob Huntley 2004, who is one of the senior producer/directors, at the Novartis video department. They both work with Nate Nowlin, 2002 who is the head of postproduction at the Novartis video department. They've also been hiring Jarrid Royce 2020 and Bridget Rath 2019 as freelancers.  Bridget has also been working as a production assistant on "The Kitchen" and  "Chopped. "
Carrie Whalley '18 and Shayne Kamat '16
Carrie Whalley 2018 has joined Shayne Kamat 2016 in the editing department at Viacom cutting promos and coming attraction for Viacom TV shows. 
Salma Hbaich '17 and Ben Carolan '16
Salma Hbaich 2017 is working as a camera assistant on the new HBO Docu-series "Black and Missing" and just brought Ben Carolan 2016 on as the B camera assistant. Salam was previously the A camera operator on the CNN Films documentary "Empire Murdoch".  Ben has been busy since graduating freelancing as an assistant camera on multiple projects.
Jason Chau '10 and Conor Stalvy '12
Jason Chau 2010 was just camera operator on the newly released feature film "Blood Theater" but before that he was camera assistant on the James Franko feature "The Long Home", working alongside Conor Stalvy 2012 who was the best boy grip on the feature. Conor is now the Best Boy shooting Grip on the TV show "Law & Order: Organized Crime" but previously was best boy grip on the series "Dash & Lily", "The Last O.G.", "The Plot Against America" and key grip on "The Enemy Within ".
Sean Nejman '09 and Andrew Rivara '08
Sean Nejman 2009 just found himself working with Andrew "Tank" Rivara 2008 on a Dodge Ram commercial – Sean as key grip and Andrew as gaffer. Sean spent 7 years working at Verizon video as their production manager and then senior producer before going freelance, He is now busy getting jobs as a gaffer, grip, and cinematographer on commercials and corporate videos. Andrew's lighting/grip truck company – Tank Lights You UP – has been a big success as well, with Andrew working as a gaffer on a number of shoots for clients such as Sesame Street, fashion commercials, and pharmaceutical videos.
Kaitlyn Pickerelli '14 and Megan Osborne '13
Kaitlyn Pickerelli 2014 is now a member of the Producers Guild of America and as a producer at the Discovery/Food Network she's hired editor Megan Osborne 2013 on many projects. Megan has been busy since graduating as a freelance editor working for clients such as Bank of America and Discovery.
Scott Giameo '16 and Brock Borowczyk '18
Scott Giameo, 2016 has become a studio manager at Lighthouse studios after previously working as key grip on the HBO CC Sabbatha documentary and an indie horror film.  Brock Borowczyk, 2018 is working on equipment rental at Lighthouse Studios.  They were both brought in by Brian Beavers 2010 who is now Lighthouse Studios' senior equipment manager. 
Chris Schuster '08 and Sean Nejman '09
Chris Schuster 2008 is now the senior producer at Verizon video, often hiring Sean Nejman 2009 as a freelance cameraman and working with Michael Posner 2014, who has moved up to senior editor at Verizon video.
Gary Powel '06 and Eric Schoeter '11
Gary Powel 2006 is still working as a cameraman at Tri-Star Studios, where Eric Schoeter 2011 is working as their gaffer, and Jenn Daniels 2018 works in their prop/art department.    Often Jenn Marshall 2003 comes in with her teleprompter – she owns her own thriving teleprompter business, Acute Productions.
FDUFilm Alumni work Series and Features
Eddie Salerno '09 was just a camera operator and second unit Director of Photography on the feature film "Little Rituals" in LA. Previously he was a camera operator on the series "All Wrong" and gaffer on the feature films "Out of the Wild" and "The Long Dumb Road".
Ross Citrin '13 is presently working in Thailand as a Digital Imaging Tech on the new Marvel series to air on Disney Plus. He had been on the camera crews of the feature films "The Irishman" and "The Greatest Showman".    
Maggi Kaszuba '15 is back for another season on the hit series "The Marvelous Mrs. Maisel", this time running background (last season she was Key PA) and has her hours in to join the DGA as an assistant director. She previously worked on the shows "God Friended Me", "Younger" and "Mozart in the Jungle". 
Samantha Brant '16 left the lighting dept at Silver Cup studios and is now on the rigging lighting crew for the Apple TV show "Severance".
Marc DeBlasi '16 has been working sound on the HBO Max show "Ellen's Next Great Design" and "The Big Shot with Bethenny", on the Bravo show "Winter House" and is currently upstate NY on a new Netflix reality show. 
Ari Davidson '10 is now working as Best Boy Electric on the lighting crew of the series "The L Word: Generation Q" out in LA. He had been Best Boy Electric on the series "Glow".
Vince Larson '16 is an Associate Producer with Dateline at NBC. Before that he worked on the series "The Circus" for Showtime. He's also become a member of the Writer's Guild of America.
Jim Cocoliato '10 has been working as the director/editor of the talk show "Show People with Paul Wontorek" and was editor on the TV special "Take Me to the World: A Sondheim 90th Birthday Celebration".
Sunil Devadanam '09 is curranty working as a camera assistant on "The Whale" and previously was a camera assistant on the documentary "The Way I See It" and the feature film "The Evening Hour".
Chris Falkowski '07 is a very successful steadicam operator, having completed work recently on the feature films "Worth", "Josie & Jack", "Can You Keep a Secret", "Blow the Man Down" and on the TV mini-series "The Accidental Wolf".
Brian Lonano '05 and his brother Kevin 2012 have been in Atlanta working as Dailies Workflow Supervisors. Brain has been working on "Swagger", "This Country", "Watchman", "Legacies" and "True Detective" as well as the feature films "The Black Phone", "Halloween Kills" and "The House Next Door". Kevin has been working on the series "Being Mary Jane", "Good Girls", "The Gifted", "Halt and Fire", and before going south he was dailies operator for "The Good Wife", "Orange is the New Black", "Elementary" and other shows shooting in NYC.
More FDUFilm Alumni News
Coleen Brady '19 is working as an editor at Chefman, having fun cutting food videos.
Josh Siniscal '18  has moved to Pittsburg and has been working as a videographer/editor for weddings and a variety of clients.
Danah Lassiter '17 is now a writer's assistant at World Wrestling Entertainment.
Mariam Bakashvili '16 has been working as a producer at NexTV. 
Jordan Durham '16 is now the Production Supervisor of the video department of In-N-Out Burger in CA.
Dan Quiyu '15 is a video production specialist and head producer at Princeton university Broadcast Center.
Ray Ortega '14 has been working as a freelance cameraman on a variety of productions from live events to corporate videos for capital investment firms.
Dan Inzitari '13 has an award-winning, high-end wedding video company called INZI Films. He's added drones to his productions.  
Liz Thompson '12 is a Video producer and editor at Manhattan Associates in Atlanta.
Alejandro Perez '12 is a Videographer/editor at Mondo Italiano TV
AJ Chakravarti '11 moved out to LA and is now Sr. Director of Client operations at Pixelogic Media, which handles media distribution across theatrical markets, streaming, broadcast, and DVD.
Jason Roberts '09 is living in Greenville SC working as the Post Production Supervisor at Your Creative People.
Ryan Kelly '08 left Verizon after working there as one of the lead directors in the video department to form his own production company with two partners.
Bridgette Yachetti '05 is now the General Manager and video producer at Immediacy Learning productions in Media PA.
Internships
Students Learn from Professional Internships
in the Field
Through our faculty's connections and through hard work on owning their parts, our students have been able to secure educational internships in professional companies, including (but not limited to);
Tribe Productions, NJ
Lighthouse Studios, NJ
TriStar Media, NJ
HBO
MTV
Scriptee/ Tony Pettine script supervisor
Panavision Camera, NYC
Off-Hollywood Digital, NYC
Virgin Records, music video department, NYC
CNN
CBS
CNBC
"The Sherry Show" sit-com, NYC
"Recuse Me" TV show, NYC
Xenon Lighting, NYC
Dreamworks, LA