"Sustainable development requires human ingenuity. People are the most important resource."
— Dan Shechtman
Sustainability Working Groups
Spanning 200 feet across the Hackensack River, the densely planted garden path replaces a crumbling concrete-and-chain link walkway to connect FDU's split campuses. It affirms the University's commitment to stewardship of the river and embodies the ongoing transformation of their campus into a sustainable eco-park for increasing landscape resiliency and human wellbeing.
FDU Spirit Footbridge
The new Spirit Footbridge strengthens FDU's identity, unites its campus, and showcases its commitment to sustainability.
FDU Spirit Bridge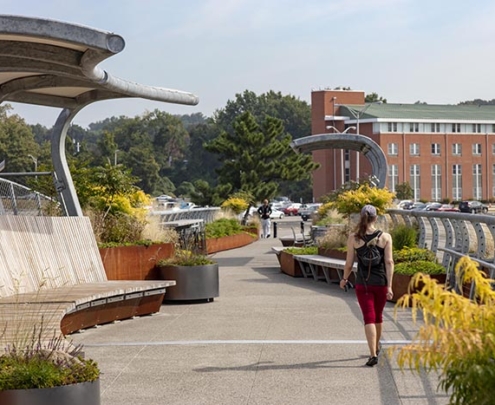 Contact Information
Office of the University Provost
vanessaperez@fdu.edu
201-692-7094