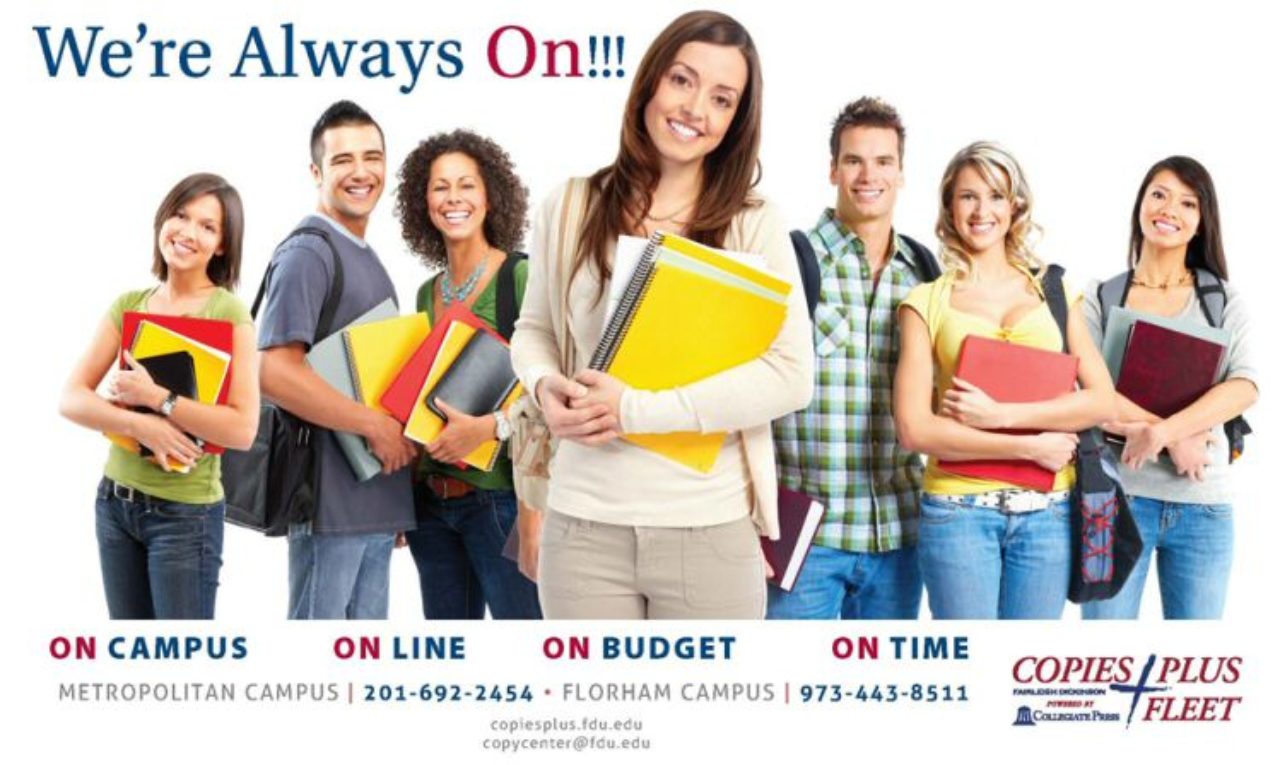 Copies Plus Centers and Services
Your campus copy center
Fairleigh Dickinson University has partnered with Collegiate Press to provide the best possible copy, print and digital printing services to our faculty, staff and students. The partnership includes management of the Copies Plus operation, and the campus departmental MFD/Copier fleet devices. This solution guarantees that FDU Copies Plus will remain in the forefront of technology. The priority is to meet your expectations for schedule and quality, to provide new technology to improve workflow, and to ensure that you are satisfied with each and every project.
Copies Plus can now take your orders through the Web
Collegiate Press has developed a customized order submission tool for use within the Fairleigh Dickinson University campus community. This is a secure site that you can reach using your FDU domain authentication credentials.
The customized FDU/Copies Plus web based site:
allows clients to submit copy/print jobs electronically or with hard copy
converts files to pdf to be previewed by the client instantaneously
offers ticketing properties including quantity, paper, binding, price and due date
sends email notifications for receipt and completion of jobs and are auto dispatched to the end user.
In addition to 24/7 ordering convenience, there are several benefits to the end users, including archiving cyclical/repeat orders, clear service descriptions, budget information, etc. Group and individual training by the site coordinator is available on an ongoing basis.
Copies Plus Locations
Services
Graphic Design
Black & White Copying/Printing
Color Copying/Printing
Up to 12"x18"" 'Full Bleed'
Cutting/Folding
Padding
GBC Binding
Wire Binding
Tape Binding
Cover Bindery
Tab Copying
Step Stake Signs
Print Solutions – Consulting
Laminating
Multi-part NCR Sets
Saddle Stitching
Large Format Full Color Posters
Foam core Mounting
Shrink Wrapping
Hole Punching
Thesis Binding
Variable Data Printing
Branded Business Cards, Letterhead, Envelopes
Pick-up and Delivery (using Mail Services)

Guidelines for the use of the University logo are available at FDU Graphic Standards. The University logo and identity marks using FDU are also available at this site.

The Office of Communications and/or Copies Plus will work with community members to ensure compliance and consistency with the University logo and identity guidelines.

Questions and requests for logo usage must be submitted to the Office of Communications.

You should also reach out to the Office of Communications for its full range of editorial, design and production services.

All services are available at Copies Plus for FDU students, and for the personal needs of our faculty and staff. Payment can be made by cash, check, Visa, MasterCard, and American Express.
Fleet Services
Supporting Your Office Copier/MFD
Your copier is much more than a copier, it is a Multi-Function Device – it can scan, print, copy, staple and perform assorted other functions.

The team at Copies Plus is now supporting your office copier/MFD needs. Our job is to assist with all service, training and supply needs related to your copier/MFD. We have separated the service response process from the supply and training process;the objective is to make sure repairs are handled quickly and seamlessly. A Copies Plus team member will contact you to help solve any issue requiring service. We will also provide all toner and staples, and training for your device.

Metropolitan and Florham Campuses call 973-443-8822 (Technical Assistance Center will route to Copies Plus)

Metropolitan Campus call 201-692-2488
Florham Campus call 973-443-8197

Please look at the Toshiba model number on your office copier/mfd, click on the matching link below, and locate the appropriate information.