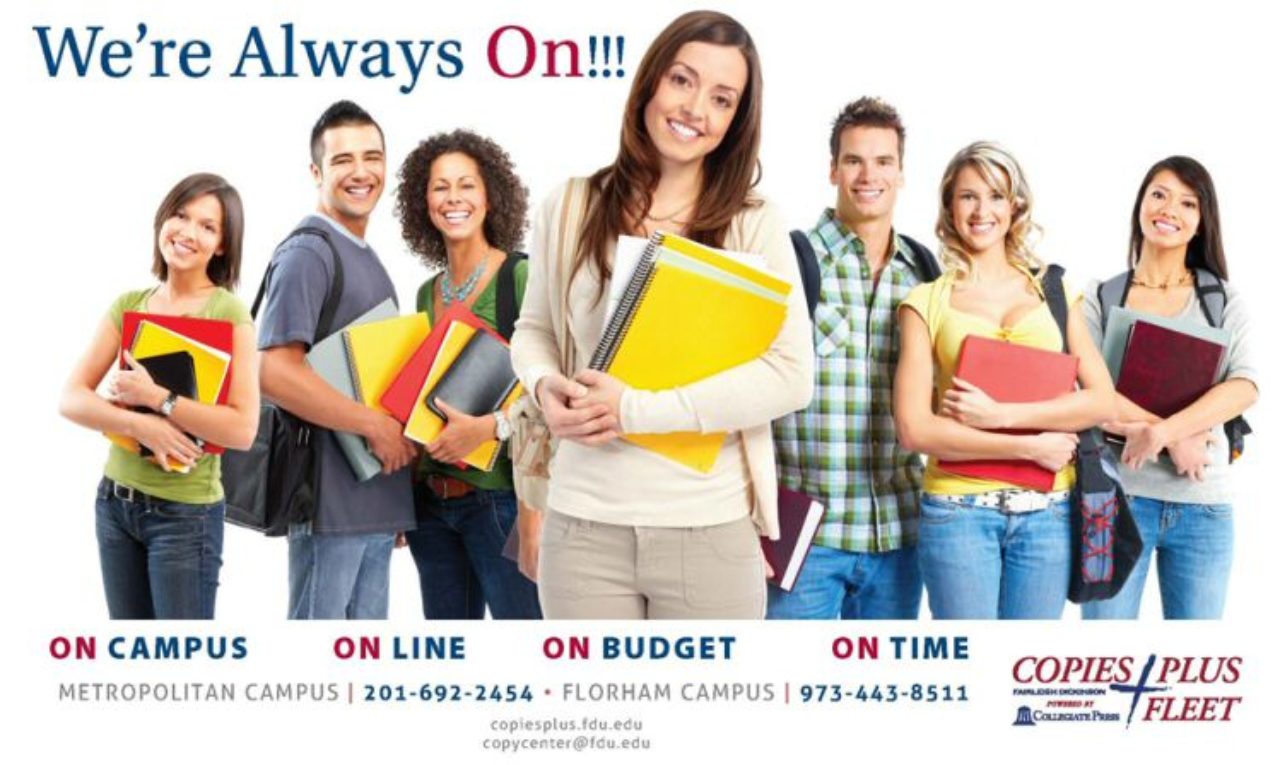 Copies Plus Centers and Services
Your campus copy center
Fairleigh Dickinson University has partnered with Collegiate Press to provide the best possible copy, print and digital printing services to our faculty, staff and students. The partnership includes management of the Copies Plus operation, and the campus departmental MFD/Copier fleet devices. This solution guarantees that FDU Copies Plus will remain in the forefront of technology. The priority is to meet your expectations for schedule and quality, to provide new technology to improve workflow, and to ensure that you are satisfied with each and every project.
Copies Plus can now take your orders through the Web
Collegiate Press has developed a customized order submission tool for use within the Fairleigh Dickinson University campus community. This is a secure site that you can reach using your FDU domain authentication credentials.
The customized FDU/Copies Plus web based site:
allows clients to submit copy/print jobs electronically or with hard copy
converts files to pdf to be previewed by the client instantaneously
offers ticketing properties including quantity, paper, binding, price and due date
sends email notifications for receipt and completion of jobs and are auto dispatched to the end user.
In addition to 24/7 ordering convenience, there are several benefits to the end users, including archiving cyclical/repeat orders, clear service descriptions, budget information, etc. Group and individual training by the site coordinator is available on an ongoing basis.
Copies Plus Locations
Metropolitan Campus
Florham Campus
Location
Metropolitan Campus Library
Mansion (lower level Hennessy Hall)
Phone
201-692-2454
973-443-8511
Email
copycenter@fdu.edu
copycenterflor@fdu.edu
Hours
8:00 AM to 5:00 PM
(Monday to Friday)
9:00 AM to 5:00 PM
(Monday and Thursday)
Fleet Services
Supporting Your Office Copier/MFD