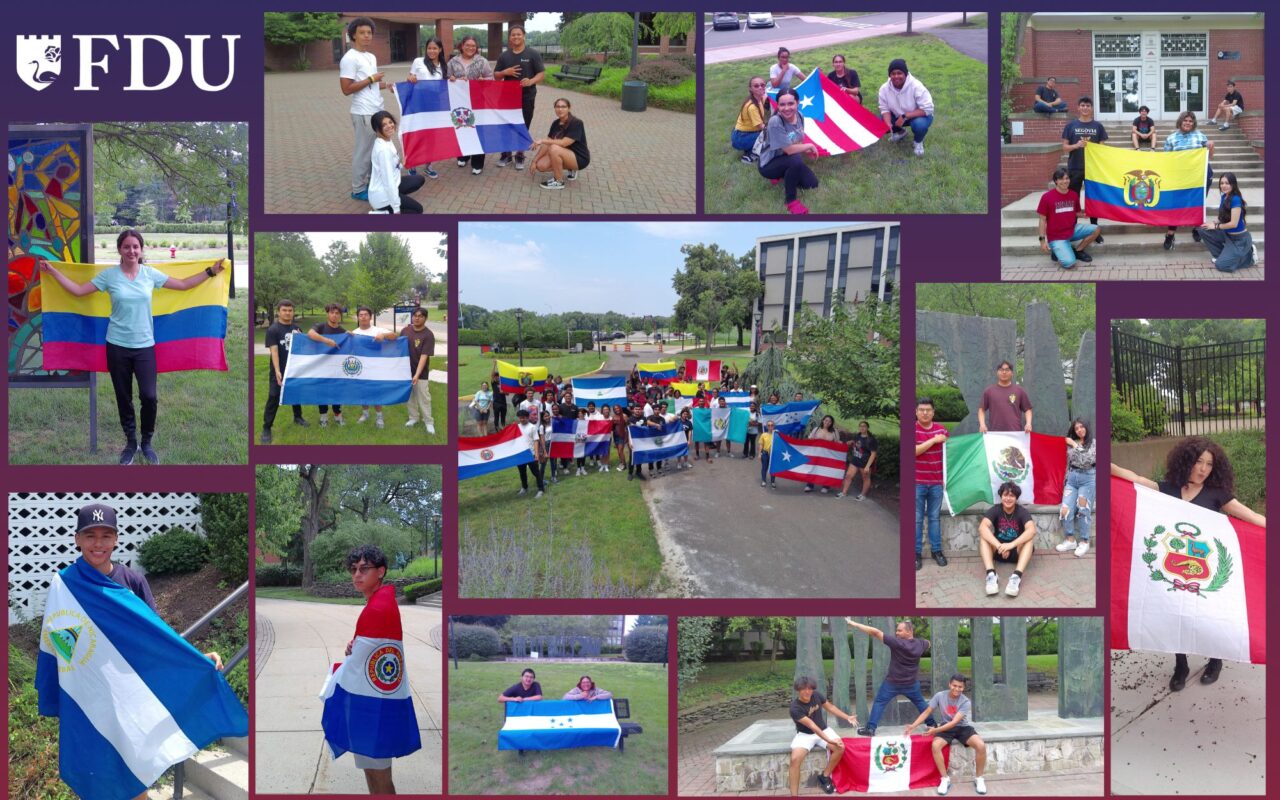 ---
El siguiente texto se presenta primero en español y luego se repite en inglés. The text is presented first in Spanish and repeated below in English.
En Español
"Mi experiencia en HACER fue muy emocionante. Los profesores son muy dedicados en su trabajo y están dispuestos a ayudar a los estudiantes en todo lo que puedan. Aprendí muchas cosas nuevas y obtuve nuevas experiencias que me servirán en el futuro. Lo que más me gustaba de estar en HACER era mi clase de ESL. Aprendí muchas cosas con mi profesor que mejoraron mi inglés de muchas maneras ".
– Nicole Ortiz, HACER, 2019
El programa HACER de FDU (Hispanics Achieving College Education Recognition) ofrece a los estudiantes la oportunidad de aprender inglés con cursos gratuitos de ESL y de obtener créditos universitarios en el Metropolitan Campus de FDU en Teaneck. Al igual que otros programas de FDU que sirven a estudiantes latinos, HACER ofrece un enfoque personalizado a la educación universitaria para estudiantes de secundaria en busca de un título de asociado o licenciatura. Con el apoyo de un personal bilingüe y profesores comprometidos con el éxito de sus estudiantes, los estudiantes de HACER disfrutan de un programa adaptado a sus necesidades individuales mientras se benefician de los recursos de una gran universidad privada.
Aspectos a Destacar
Apoyo pre-universitario en el proceso de admisión
Profesores y personal dedicado.
Talleres bilingües de ayuda financiera
Entrenamiento de liderazgo
Excursiones educacionales
Vida cultural vibrante en el campus
Para la admisión a HACER, los estudiantes deben presentar lo siguiente:

Completar solicitud (www.fdu.edu/hacer)
Transcripciones oficiales de la escuela secundaria (y transcripciones de la universidad si corresponde)

No hay tarifa de solicitud para los solicitantes al programa HACER. Las solicitudes se aceptan continuamente, pero se recomienda que aplique lo más pronto posible.

El Asociado de Artes de FDU es un programa de dos años y 60 créditos diseñado para estudiantes universitarios obtener un título universitario en un entorno de aprendizaje bilingüe y de apoyo. Los estudiantes reciben admisión en el programa de licenciatura de FDU al completar con éxito el título de asociado. Los estudiantes que aún necesitan apoyo de ESL después de obtener su título de Asociado tienen la opción de transferirse a Puerta Al Futuro, otro de los programas de licenciatura de FDU que se especializa en abordar las necesidades de los estudiantes bilingües que obtienen su título. 

La licenciatura de cuatro años y 120 créditos deFDU ofrece más de 60 especializaciones académicas en salud y enfermería, negocios, educación, ingeniería, informática, administración de hoteles y restaurantes, y artes liberales y ciencias. Los estudiantes inscritos en este programa pueden vivir en el campus en residencias estudiantiles o viajar a la Universidad desde su hogar.

HACER y Latino Promise son programas hermanos, ambos diseñados para que los estudiantes hispanos reciban un enfoque personalizado en su educación universitaria. HACER es para estudiantes bilingüe e incluye cursos gratuitos de ESL, mientras que Latino Promise es para estudiantes que ingresan a FDU con fluidez en inglés. 

FDU es miembro de Hispanic Association of Colleges and Universities (HACU).

Cada programa universitario ha identificado medidas de resultados que indican si los estudiantes tienen éxito en cumplir con los resultados específicos del programa. Las siguientes son medidas de resultado que serán evaluadas por el Hispanic Center y el Becton College of Arts and Sciences:

Comunicación: en forma oral y escrita.
Pensamiento crítico: para comprender y resolver problemas.
Comprensión analítica: comprensión de herramientas y principios matemáticos básicos.
Liderazgo: conocimiento de habilidades fundamentales de liderazgo en situaciones personales y profesionales.
ESL: Un graduado de FDU demostrará dominio de las habilidades del idioma inglés.
---
Program Information in English
"My experience in HACER was very exciting. The teachers are very dedicated in their work and willing to help students in any way they can. I learned many new things and gained new experiences that will serve me in the future. My favorite thing about being in HACER was my ESL class. I learned a lot of things with my professor that improved my English in many ways."
– Nicole Ortiz, HACER, 2019
FDU's HACER Program (Hispanics Achieving College Education Recognition) offers native Spanish speakers the opportunity to learn English with free ESL courses and to earn college credits on FDU's Metropolitan Campus in Teaneck. As with FDU's other programs that serve Latino students, HACER provides a personalized approach to higher education for high school students in pursuit of an Associate's or Bachelor's degree. With the support of a bilingual staff and professors who are committed to their students' success, HACER students enjoy a small program tailored to their individual needs while benefiting from the vast resources of a large, private university.
Program Highlights
Pre-College support with transition specialists guiding students through the admissions process
Dedicated faculty and staff providing personalized academic advisement and mentorship ensuring student success
Bilingual financial aid workshops to navigate complex federal and state financial aid processes and receive maximum aid
Leadership training in which students to meet Latino leaders in business and the community
Field trips to storied institutions such as the New York Stock Exchange; New Jersey State Assembly and Governor's Mansion; the United Nations; Washington, D.C.; and much more
Vibrant cultural life on campus with the option to live in residence halls at our Metropolitan Campus in Teaneck, NJ
For admission to HACER, students should submit the following:

Official high school transcripts (and college transcripts if applicable

There is no application fee for applicants to the Associate of Arts degree program. Applications are accepted on a rolling admissions basis, but applying early is encouraged.

FDU's Associate of Arts is a two-year, 60-credit program designed for college students to pursue a college degree in a bilingual, supportive learning environment. Students are offered admission into FDU's baccalaureate program upon successful completion of their associate's degree. Students who still need ESL support after they earn their Associate's degree have the option of transferring into Puerta Al Futuro, another of FDU's Bachelor's degree programs that specializes in addressing the needs of bilingual students earning their degree.

FDU's four-year, 120-credit Bachelor of Arts Degree offers more than 60 academic majors in allied health and nursing, business, education, engineering, computer science, hotel and restaurant management, and the liberal arts and sciences. Students enrolled in this program can live on campus in residence halls or commute to the University from home.

HACER and Latino Promise are sister programs, both designed for Hispanic students to receive a personalized approach to higher education. HACER is for English language learners and includes free ESL courses, while Latino Promise is for students entering FDU with English fluency.

FDU is a member of the Hispanic Association of Colleges and Universities (HACU).

Each college program has identified outcome measures that indicate whether students are successful in meeting the specific outcomes for the program. The following are outcome measures that will be assessed by the Hispanic Center and the Becton College of Arts and Sciences for HACER students:

Communication: to effectively communicate in oral and written form.

 

Critical Thinking:  to understand and solve problems from a variety of perspectives.

 

Analytic Understanding: 

to understand

 basic mathematical tools and principles.

 

Leadership: 

to

 be applied in personal and professional situations.

 

ESL: 

become proficient

 in English language skills.

 
For School Counselors
We understand and appreciate how hard school counselors, teachers, and school administrators work to guide students through the college application process. We would like to aid in making that process smoother. To that end, we offer high schools the following:
Presentation and On-site, which include presentations at high schools and instant decision during our on-site interviews.
School Counselor Workshop and Luncheon to assist school counselors, teachers, and administrators a deeper understanding of the issues facing Latinos today, including social and financial obstacles that many students and their families must overcome to ensure academic success at the college level.
Experience a Day At HACER is an invitation to spend the day at FDU to learn what the life of a Latino Promise student is like.
Bilingual Financial Aid Workshop for Latino students and their families to assist through the complex federal and state financial aid processes. These are done at the campus or can be done at the high school.
HACER Summer Program is a two-week intensive workshop to prepare students for their first year in college.
Administration and Staff
HACER is led by a group of highly talented and motivated individuals who are passionate about ensuring that Latino students have the opportunity to reach their full potential at the college level:
Contact Information
Irene Oujo, PhD, Executive Director
oujo@fdu.edu
Robison Hall, 4th Floor
Israel@fdu.edu
Israel Delgado, Admissions Counselor
1000 River Road, Teaneck, NJ 07666