AA Liberal Arts: Latino Promise Program®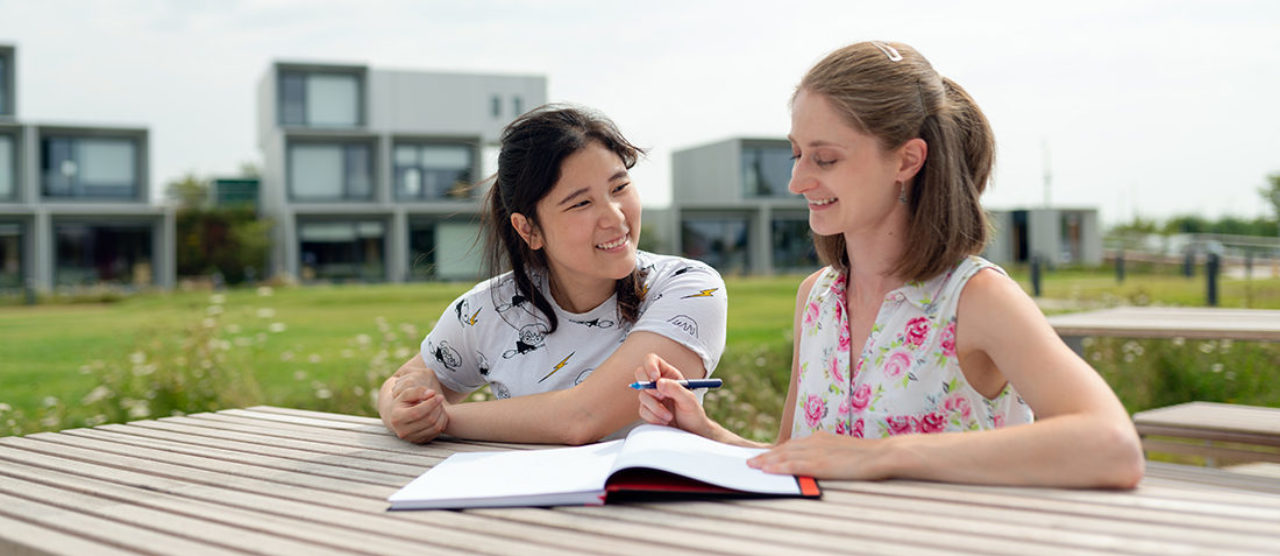 Latino Promise helped to guide me in the right direction for a good future. They taught me the importance of responsibility, volunteering and being a leader, while providing me with endless support and advice that I may not have received at a larger university. Professor Oujo was a great mentor, and overall, it was a great two years!
— Carolina Zardoya, Latino Promise, 2013
Latino Promise began as a pilot program in 2007 with just 12 students. Since then, hundreds of students have realized their college dreams with Latino Promise. Some have moved on to continue their studies in graduate school while others have pursued their dream jobs.
Designed to help Latino students achieve their college goals, FDU's Latino Promise Program provides a personalized approach to higher education for high school students in pursuit of an Associate's or Bachelor's degree. With the support of a bilingual staff and professors who are committed to their students' success, Latino Promise students reap the benefits of a small program tailored to their unique needs with the vast resources of a large, private university at their fingertips.
Experience a Day At Latino Promise.
Bilingual Financial Aid Workshop.
Parent "College Knowledge" Workshop.
Latino Promise Admitted Student Day.
Latino Promise Summer Social.
Additional highlights:
One-on-one academic advising.
Career development.
Option to live in residence halls on campus.
Latino community development and volunteerism.
Latino leadership development.
Study abroad opportunities.
Associate's degree or 60 college credits towards intended major.
Field trips.
Degree paths
Latino Promise students may pursue a two-year, 60-credit Associate of Arts or Associate of Science degree, studying on FDU's Metropolitan Campus in Teaneck. Ultimately, students may go on to earn a baccalaureate degree through FDU's Bachelor of Arts Degree Completion Program.
FDU's four-year, 120-credit Bachelor's Degree offers more than 60 academic majors in allied health and nursing, business, education, engineering, computer science, hotel and restaurant management, and the liberal arts and sciences. Students enrolled in this program can live on campus in residence halls or commute to the University from home.
Latino Promise vs. HACER
Latino Promise and HACER are sister programs, both designed for Latino students to receive a personalized approach to higher education. Latino Promise is for students with English fluency while HACER is for English language learners and includes free ESL courses.
FDU is a member of the Hispanic Association of Colleges and Universities (HACU).
Program learning outcomes
Each college program has identified outcome measures that indicate whether students are successful in meeting the specific outcomes for the program. The following are outcome measures that will be assessed for the AA program in Petrocelli College:
Communication: to effectively communicate in oral and written form.
Critical Thinking: to understand and solve problems from a variety of perspectives and in a global context.
Analytic Understanding: to understand basic mathematical tools and principles.
Leadership: to develop fundamental leadership skills and apply them in personal and professional situations.
Admissions requirements
To apply to Latino Promise, students need:
Official high school and/or college transcripts (for transfer students)
Letters of recommendation (optional)
SAT or ACT scores (optional)
There is no application fee, and we have rolling admissions.  Applying early is encouraged. 
For School Counselors
At Latino Promise, we understand and appreciate how hard school counselors, teachers, and school administrators work to guide students through the college application process. We would like to aid in making that process smoother. To that end, we offer high schools the following:
Presentation and On-site, which include presentations at high schools and instant decision during our on-site interviews.
School Counselor Workshop and Luncheon to assist school counselors, teachers, and administrators a deeper understanding of the issues facing Latinos today, including social and financial obstacles that many students and their families must overcome to ensure academic success at the college level.
Experience a Day At Latino Promise is an invitation to spend the day at FDU to learn what the life of a Latino Promise student is like.
Bilingual Financial Aid Workshop for Latino students and their families to assist through the complex federal and state financial aid processes. These are done at the campus or can be done at the high school.
Latino Promise Summer Program is a two-week intensive workshop to prepare students for their first year in college.
"Latino Promise has given my students the opportunity to be successful in college by offering them small personalized classes while giving personalized attention. Not only have these students earned their associate's degrees, but they took the skills and confidence learned with Latino Promise to earn their bachelor's and master's degrees and currently have successful careers in their fields."
— Michele Martoral, School Counselor, North Bergen High
Administration and staff
Latino Promise is led by a group of highly talented and motivated individuals who are passionate about ensuring that Latino students have the opportunity to reach their full potential at the college level:
Contact Information
150 Kotte Place, H-EWC1-01, Hackensack, NJ 07601