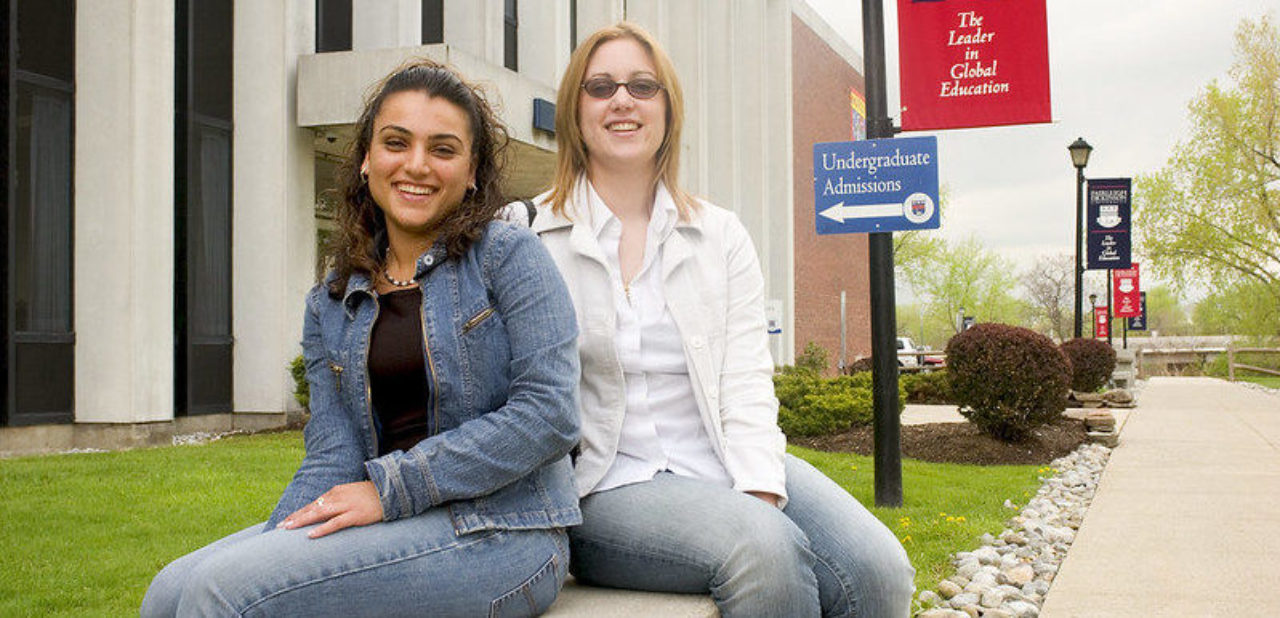 FDU's HACER Program (Hispanics Achieving College Education Recognition) offers native Spanish speakers the opportunity to learn English with free ESL courses and to earn college credits on FDU's Metropolitan Campus in Teaneck. As with FDU's other programs that serve Latino students, HACER provides a personalized approach to higher education for high school students in pursuit of an Associate's or Bachelor's degree. With the support of a bilingual staff and professors who are committed to their students' success, HACER students enjoy a small program tailored to their individual needs while benefiting from the vast resources of a large, private university.
Program highlights
50% tuition discount per academic year upon acceptance
Pre-College support with transition specialists guiding students through the admissions process
Dedicated faculty and staff providing personalized academic advisement and mentorship ensuring student success
Bilingual financial aid workshops to navigate complex federal and state financial aid processes and receive maximum aid
Leadership training in which students to meet Latino leaders in business and the community
Field trips to storied institutions such as the New York Stock Exchange; New Jersey State Assembly and Governor's Mansion; the United Nations; Washington, D.C.; and much more
Vibrant cultural life on campus with the option to live in residence halls at our Metropolitan Campus in Teaneck, NJ
Admissions requirements
For admission to HACER, students should submit the following:
Official high school transcripts (and college transcripts if applicable)
Letters of recommendation (optional)
SAT or ACT scores (optional)
There is no application fee for applicants to the Associate of Arts degree program. Applications are accepted on a rolling admissions basis, but applying early is encouraged. Successful applicants who enroll as students in the HACER program receive 50% off tuition per academic year.
Degree paths
FDU's Associate of Arts is a two-year, 60-credit program designed for college students to pursue a college degree in a bilingual, supportive learning environment. Students are offered admission into FDU's baccalaureate program upon successful completion of their associate's degree, with 50% off tuition per academic year to complete their degree. Students who still need ESL support after they earn their Associate's degree have the option of transferring into Puerta Al Futuro, another of FDU's Bachelor's degree programs that specializes in addressing the needs of bilingual students earning their degree.
FDU's four-year, 120-credit Bachelor of Arts Degree offers more than 60 academic majors in allied health and nursing, business, education, engineering, computer science, hotel and restaurant management, and the liberal arts and sciences. Students enrolled in this program can live on campus in residence halls or commute to the University from home.
HACER vs. Latino Promise
HACER and Latino Promise are sister programs, both designed for Hispanic students to receive a personalized approach to higher education. HACER is for English language learners and includes free ESL courses, while Latino Promise is for students entering FDU with English fluency.
FDU is a member of the Hispanic Association of Colleges and Universities (HACU).
Program learning outcomes
Each college program has identified outcome measures that indicate whether students are successful in meeting the specific outcomes for the program. The following are outcome measures that will be assessed for the AA program in Petrocelli College:
Communication: An FDU graduate will demonstrate the ability to effectively communicate in oral and written form using technology as a tool to enhance presentations when appropriate.
Critical Thinking: An FDU graduate will demonstrate the ability to use critical thinking skills to understand and solve problems from a variety of perspectives and in a global context.
Analytic Understanding: An understanding of basic mathematical tools and principles.
Leadership: An FDU graduate will demonstrate knowledge of fundamental leadership skills that can be applied in personal and professional situations.
Bilingual Programs Additional Learning Goal
ESL: An FDU graduate will demonstrate proficiency in English language skills.
Faculty and staff
HACER is led by a group of highly talented and motivated individuals who are passionate about ensuring that Latino students have the opportunity to reach their full potential at the college level:
"My experience in HACER was very exciting. The teachers are very dedicated in their work and willing to help students in any way they can. I learned many new things and gained new experiences that will serve me in the future. My favorite thing about being in HACER was my ESL class. I learned a lot of things with my professor that improved my English in many ways."
— Nicole Ortiz, HACER, 2019
For Guidance Counselors
At HACER, we understand and appreciate how hard guidance counselors, teachers, and school administrators work to guide students through the college application process. We seek to make that process smoother. To that end, we offer high schools the following:
Presentation and On-site
HACER faculty and staff conduct presentations at high schools and offer students an instant decision during our on-site interviews.
Guidance Counselor Workshop and Luncheon
This workshop and luncheon offers guidance counselors, teachers, and school administrators four hours of professional development and gives participants a deeper understanding of the issues facing Latinos today, including social and financial obstacles that many students must overcome to ensure academic success at the college level.
Experience a Day at HACER
Students along with their teachers, guidance counselors, and other school administrators are invited to spend the day at FDU to learn what the life of a HACER student is like. Activities include sitting in on a college class, taking a tour around campus, joining a candid Q&A session with current students, and having lunch at FDU's cafeteria.
Bilingual Financial Aid Workshop
Led by FDU's bilingual financial aid specialists, this workshop guides Latino students and their families through the complex federal and state financial aid processes to ensure that students receive as much aid as possible. HACER has conducted these workshops on FDU's Metropolitan Campus and at high schools in the area.
HACER Summer Program
HACER is dedicated to ensuring the academic and professional success of young Hispanics. To that end, the HACER Summer Program consists of a three-week intensive workshop to prepare students for their first year in college. This free program assists students with their Math, English, and study skills. Upon successful completion of the Summer Program, students take placement exams, which determine their fall courses. In addition, students use the skills they learned to ensure their academic success in freshman year, a critical year of college. The Summer Program meets in July from 10 am to 1 pm, Mondays through Wednesdays.
"My experiences working as an ESL professor with the HACER program have been very fulfilling. I enjoy working with the students and watching them progress both while in the program and once they graduate from HACER and transition into one of the university's many four-year programs. It has been a joy working with them and witnessing their success."
— Professor Matthew McCall, ESL
Contact Information
150 Kotte Place, H-EWC1-01, Hackensack, NJ 07601