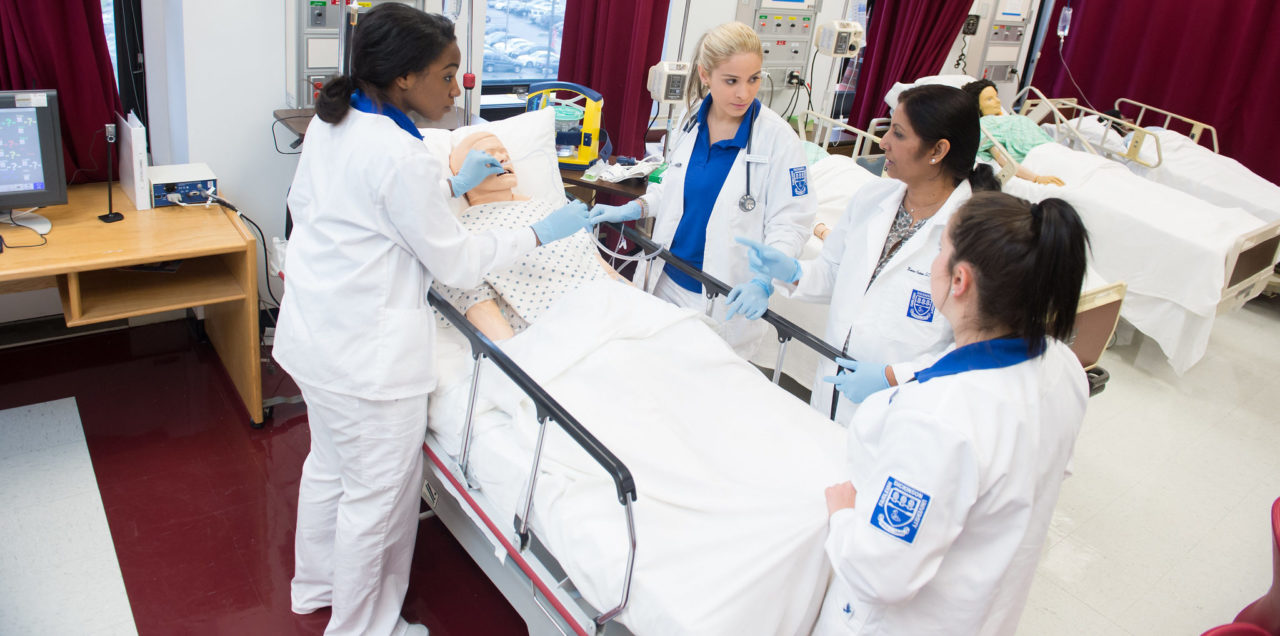 The Accelerated Bachelor of Science in Nursing (ABSN) program welcomes individuals who have baccalaureate degrees in fields other than nursing. The program honors diverse education and life experiences and provides opportunities to enter the nursing profession in a concentrated timeframe.
The intensive curriculum develops a student to become a professional nurse who is prepared to practice in many settings, across the lifespan, and with diverse populations. Graduates of the program are qualified for the role of a baccalaureate-prepared generalist nurse as described by the American Association of Colleges of Nursing (AACN, 2021) and are eligible to take the NCLEX-RN for licensure as a registered nurse.
Admission Requirements
An earned baccalaureate degree from a regionally accredited college or university
An undergraduate Cumulative GPA of 3.00 or higher
Completion of the following college-level courses with a minimum grade of B minus (B-):

Human Anatomy and Physiology (8 credits, with lab)
General Chemistry (4 credits, with lab) – Note: Introductory Chemistry is not accepted
Microbiology (4 credits, with lab)
Statistics (3 credits) – course must include inferential and descriptive statistics
Microeconomics or Macroeconomics (3 Credits)
Bioethics/Medical Ethics (3 credits)(may take as co-requisite)

Completion of the Kaplan Admission Test
NOTES
Human Anatomy and Physiology, General Chemistry, and Microbiology must be taken within the last 10 years from a nationally accredited university.
The Kaplan Admission Test is offered through the Becton School of Nursing and Allied Health. Students with a GPA of 3.4 or higher are exempt from this requirement.
Academic Program Plan
Fall Semester (Freshman Level Courses, 13 credits)
Spring Semester (Sophomore Level Courses, 14 credits)
Summer Semester (Junior Level Courses, 8 credits)
Fall Semester (Junior Level Courses, 13 credits)
NURS3600/3601 Nursing Management of Women Newborn & Families, 5 credits
NURS3650/3651  Nursing Management of Children & Families, 5 credits     
NURS4420 Health Care Management, 3 credits
Spring Semester I (Senior Level Courses, 17 credits)
NURS4500/4501 Nursing Management of Populations, 3 credits
NURS4430 Critique and Utilization of Nursing Research, 3 credits
NURS4460 Preparation for Success, 3 credit
_________Elective, 3 credits (can complete at any point in program)                                                                                                             
FAQ's
Frequently asked questions
The recommended application deadline is December 1 for the 15-month program starting the following May.

Fill out an undergraduate transfer student application located online at www.fdu.edu/apply  

Students will be informed about needing to sit for the KAT exam after submitting an application to the program. If you need to take the KAT we will inform you in your initial admissions decision letter and provide instructions on how to do so. 

The ABSN program is considered a full-time program. Students are expected to be available full-time to complete coursework and clinicals. Typically, students have found it very difficult to maintain a full-time job and be successful in the program. 

There are so many variables here! Please email your question to myapp@fdu.edu and we will connect you with an admissions representative who will further assist you.  

Please contact Enrollment Services at 201-692-2214 for additional information.   
Contact Information
Dr. Sylvia Cabassa (Director, Entry-Level Nursing Program)
scabassa@fdu.edu
(201) 692-2880
School of Nursing AND Allied Health
---
NURA2.15.TEA
Prerequisite: BS
Start Date: May 2024 (option for non-matriculated start)
Remote Class Options? Mostly online; synchronous and asynchronous
Direct Care Clinical Hours? yes, varies
Typical Credits: 65
Pace: 15 months full time, summer start 
Tuition and Fees