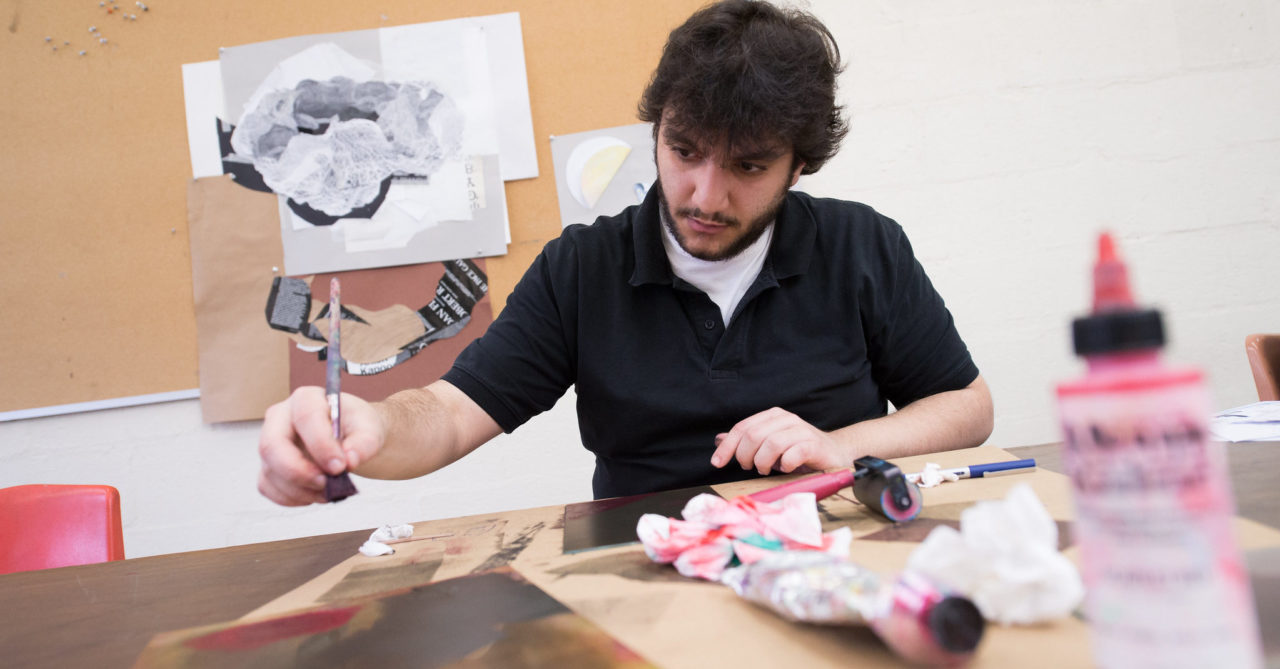 Degree Requirements
Students majoring in art must complete 42 credits of course work in art, 52 credits of liberal arts core requirements and a 15-credit minor concentration. Each of the separate concentrations has groups of required courses in its areas of specialization. Guidance by the students' individual advisers is essential in guiding them through each specialization.
The required courses in art are designed to provide students interested in the visual arts with a strong foundation program of 24 credits in drawing, design, color, and art history. Additionally, in the senior year, a 6-credit senior project and seminar are required for the degree.
The remaining 15 credits (for a total of 42) may be taken in a variety of art electives, as well as required courses for the concentrations in arts management, computer art and design, graphic art and design, and painting and/or drawing.
Outline of Program
Except for the freshman foundation courses (which must be scheduled in the first and second semesters as indicated below), the semester assignment of courses in this outline is only suggested. Students have the option of distributing the electives, with the approval of a faculty adviser, among the semesters as they deem appropriate.
Required Courses 
Freshman Foundation Required Art Courses
First semester
ART1141 Two-dimensional Design
ART1151 General Drawing I
Second semester
ART1144 Color Theory I 
ART1153 Life Drawing I
General Requirements
Third semester
ART1107 Development of Art I
ART1108 Development of Art II
Remainder
ART1120 Modern Art to Mid-century
ART4821 Portfolio
Computer Art and Design Concentration
The computer art and design concentration focuses on the interactive world of broadcast, 3D, gaming, and animation. Students learn principles of 3D modeling, animation, and interactivity including texture, lighting, and camera action.
Major Requirements (18 credits)
ART1107 Development of Art I
ART1108 Development of Art II
ART1141 Two-dimensional Design or
ART1142 Three-dimensional Design
ART1144 Color Theory I
ART1151 General Drawing I or
ART1161 Painting I
ART4821 Portfolio
Major Concentration (15 credits)
Choose five from the following courses:
ART1177 Introduction to Digital Media
ART1178 Multimedia on the Internet
ART1192 Digital Photography I
ART1843 Design for the Web
ART2271 Adobe® After Effects: Broadcast Graphics
ART2274 Computer 3-Dimensional Modeling
ART2294 2-D Computer Animation
ART2295 3D Computer Animation
CSCI3317 Computer Game Programming
Graphic Art and Design Concentration
The graphic art and design concentration exposes students to all aspects of graphic design and data visualization with outputs to print, web and smart devices.
Major Requirements (18 credits)
ART1107 Development of Art I
ART1108 Development of Art II
ART1131 History of Graphic Design and Illustration
ART1144 Color Theory I
ART1151 General Drawing I or
ART1161 Painting I
ART4821 Portfolio
Major Concentration (15 credits)
Choose five from the following courses:
ART1141 Two-dimensional Design
ART1167 Collage and Mixed Media
ART1174 Desktop Publishing I
ART1177 Introduction to Digital Media
ART1179 Digital Illustration and Design
ART1192 Digital Photography I
ART2215 Photoshop® for Advertisement and Illustration