BS Electrical Engineering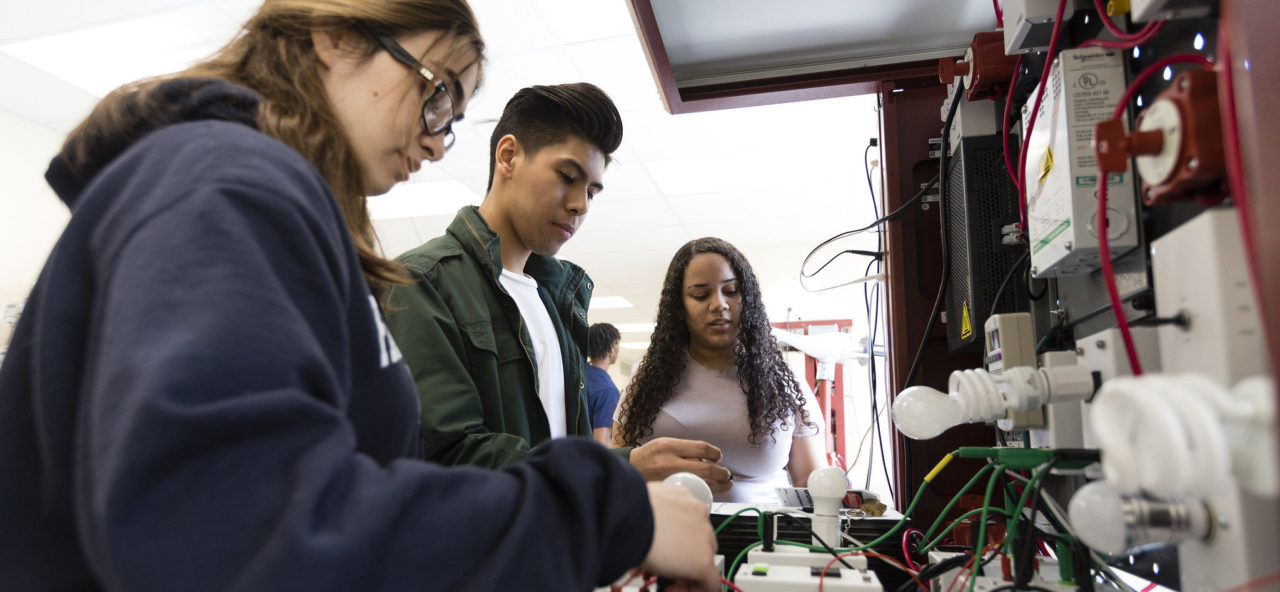 The Bachelor of Science in Electrical Engineering degree curriculum prepares graduates for entrance into the profession of electrical engineering by providing them a varied and balanced educational experience with an appropriate combination of theoretical and practical skills. Students are provided with a strong foundation in mathematics, basic sciences, computer and design skills, the engineering sciences and the liberal arts. A stimulating course of study is maintained by offering students a reasonable variety of required contemporary courses and electives courses in emerging technical areas. The engineering laboratory experience is fully integrated with course work.
Educational Objectives
The B.S. in Electrical Engineering program will produce graduates who:
Enter into and advance in the profession of electrical engineering, particularly in the areas of systems and devices, computers and communications.
Continue their formal education and obtain advanced degrees in electrical engineering or other related fields.
Become responsible professionals and global citizens, who are aware of ethical issues and societal needs and problems
Student Outcomes
Each electrical engineering graduate will demonstrate the following attributes and achievements as required by the Engineering Accreditation Commission of ABET upon or before graduation:
An ability to apply knowledge of mathematics, science and engineering.
An ability to design and conduct experiments, as well as to analyze and interpret data.
An ability to design a system, component, or process to meet desired needs within realistic constraints such as economic, environmental, social, political, ethical, health and safety, manufacturability, and sustainability.
An ability to function on multi-disciplinary teams.
An ability to identify, formulate, and solve engineering problems.
An understanding of professional ethical responsibility.
An ability to communicate effectively.
The broad education necessary to understand the impact of engineering solutions in a global, economic, environmental, and societal context.
A recognition of the need for, and an ability to engage in life-long learning.
A knowledge of contemporary issues.
An ability to use the techniques, skills, and modern engineering tools necessary for engineering practice.
Degree Plan
1st Semester (15 credits)
2nd Semester (18 credits)
3rd Semester (16 credits)
4th Semester (15 credits)
5th Semester (15 credits)
6th Semester (16 credits)
7th Semester (16 credits)
8th Semester (17 credits)
EENG4341   Communication Systems
EENG4347   Wireless Communication
EENG4268   Electrical Engineering Project (WR)
_________   Technical Elective (9 credits)
Cooperative Education Option
Students in the B.S.E.E. program have the option to undertake a cooperative education experience and earn a total of 6 academic credits toward their degrees as technical electives. The co-op experience provides students a real-world grounding, linking theory and practice, academic and industrial experiences, and college education and lifelong learning. It better prepares students for jobs, gives them a competitive edge in the job market, helps them develop networking skills and professional contacts and allows them to experience career fields before graduation. Industry benefits from better-prepared students with real and relevant work experience – saving time and money by reducing the training period for new employees.
Program Enrollment and Degree Data
The official fall term enrollment figures (head count) of the B.S. in Electrical Engineering program for the last five academic years and the number of degrees conferred during each of those years.
 
Academic Year
Enrollment Year
Total
Degrees Awarded
1st
2nd
3rd
4th
5th
Current Year
2015 -2016
FT
28
8
15
11
62
11
PT
1
1
1
7
10
1
2014 -2015
FT
19
17
14
12
62
5
PT
0
1
2
3
6
2
2013 -2014
FT
19
12
13
6
50
8
PT
0
2
3
2
7
3
2012 -2013
FT
21
10
7
7
45
4
PT
2
0
3
4
9
4
2011 -2012
FT
16
7
7
7
37
5
PT
1
0
3
4
8