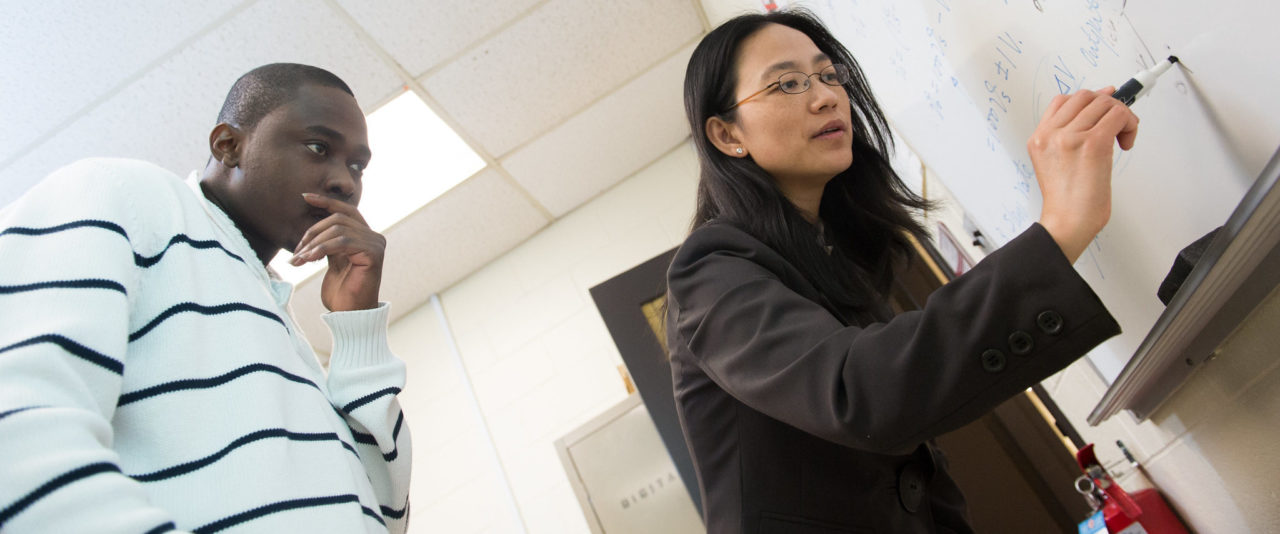 The educational objectives of the B.S. in mathematics program define the skills, knowledge and attributes that will be needed and achieved by the graduates for a successful career and professional accomplishments three to fours years after graduation.
Educational Objectives
The program will produce graduates who:
Have an appropriate combination of theoretical knowledge and practical skills in mathematics to enter into and advance professionally in mathematics and related fields.
Have a well-rounded education with a strong liberal arts foundation that encourages and supports meaningful dialogue with individuals from other disciplines.
Are able to adapt to and succeed in a dynamic global environment.
Can engage effectively in oral, written and graphical communications in both interpersonal and public settings.
Are prepared to participate in lifelong learning opportunities.
Are prepared to continue formal education and obtain advanced degrees in mathematics or related fields.
These objectives are consistent with the mission of Fairleigh Dickinson University to educate and prepare students as world citizens through global education.
Concentrations
The Bachelor of Science degree with a major in mathematics offers concentrations in:
applied mathematics
pure mathematics
pharmaceutical biostatistics
Degree Plan
Prerequisites:
elementary and intermediate algebra
plane geometry
trigonometry
two units of science including one unit of physics
Mathematics Requirements (35 credits)
Science Requirements (8 credits)
Science Electives (11 credits)
Laboratory science I
Laboratory science I Lab
Laboratory science II
Laboratory science II Lab
Science Elective:

Eight (8) credits of science electives must be a one-year sequence with laboratory; the remaining three (3) credits must be a 2000 or higher level course in electrical engineering, computer science, chemistry, or biology
Minor Sequence (15 credits)
Computer Science Requirements (9 credits)
General Education Requirements (18 credits)
WRIT1002    Composition I:  Rhetoric & Inquiry
WRIT1003    Composition II:  Research & Argument
ENGR2210  Technical Communication
ENGR3000  Modern Technologies: Principles, Applications & Impacts
Humanities Elective:

Take three credits of any course that has the prefix ENGL, HIST, HUMN, LANG, PHIL, or RELI, or the following ART courses: ART1103, 1107, 1108, 1120, 1131, 1133, 1135, 1136, 1137, 2137, and 2238.

Social & Behavioral Science Elective:

Take three credits of coursework in COMM, CRIM, POLS, PSYC or SOCI.
University Requirements (8 credits)
Technical Electives (16 credits)
Students must take sixteen (16) credits of technical electives which include courses in computer science, engineering, engineering technology, information technology and mathematics at appropriate levels based on their interests. A 1-credit free elective can be substituted for the 1-credit technical elective. Also, a 3-credit course in a related discipline can be substituted for a 3-credit technical elective.  Internship credits and honors courses can be used as technical electives.  Students must obtain prior approval from the GHSCSE academic advisor for all course selections or substitutions.
Concentrations
All the concentrations are required to fulfill the BS Mathematics
General education requirements (18 credits)
University requirements (8 credits)
Technical electives (16 credits)
Minor Sequence (15 credits)
BS Mathematics with Pure Mathematics
Students must meet with their advisers to discuss the course sequence for the concentration.
BS Mathematics with Pharmaceutical Biostatistics
FDU offers a unique mathematics concentration that prepares students to enter the pharmaceutical industry as an entry-level bio-statistician or statistical programmer, or to enter a graduate program in statistics or public health. The market for pharmaceutical statisticians continues to be very strong, and the demand for experienced statisticians is constant. The drug-development process is highly regulated and requires statisticians and statistical programmers throughout the long development cycle time of seven or more years per product. Add the growing demands of biotechnology and gene-based research, and you have the makings of a long, interesting and rewarding career within an international industry.
During the junior and senior years, students are given a firm background in statistical methods and models, experimental design and statistical programming. They will explore pharmaceutical applications using some of the same software tools used by industry (SAS, ORACLE, SPlus).
Mathematics Requirements (35 credits)
Science Requirements (24 credits)
Computer Science Requirements (12 credits)
BS Mathematics with Applied Mathematics
The following is for a Bachelor of Science in mathematics with  applied mathematics concentration. Students must meet with their advisers to discuss the course sequence for the concentration.
Mathematics Requirements (35 credits)
Science Requirements (8 credits)
Science Electives (11 credits)
Eight (8) credits of science electives must be a one-year sequence with laboratory; the remaining three (3) credits must be a 2000 or higher level course in electrical engineering, computer science, chemistry, or biology
PHYS2202 Physics II Lab
Laboratory science I
Laboratory science I Lab
Laboratory science II
Laboratory science II Lab
BIOL_____  Bio Elective
Computer Science Requirements (9 credits)