MSACS Applied Computer Science (Vancouver)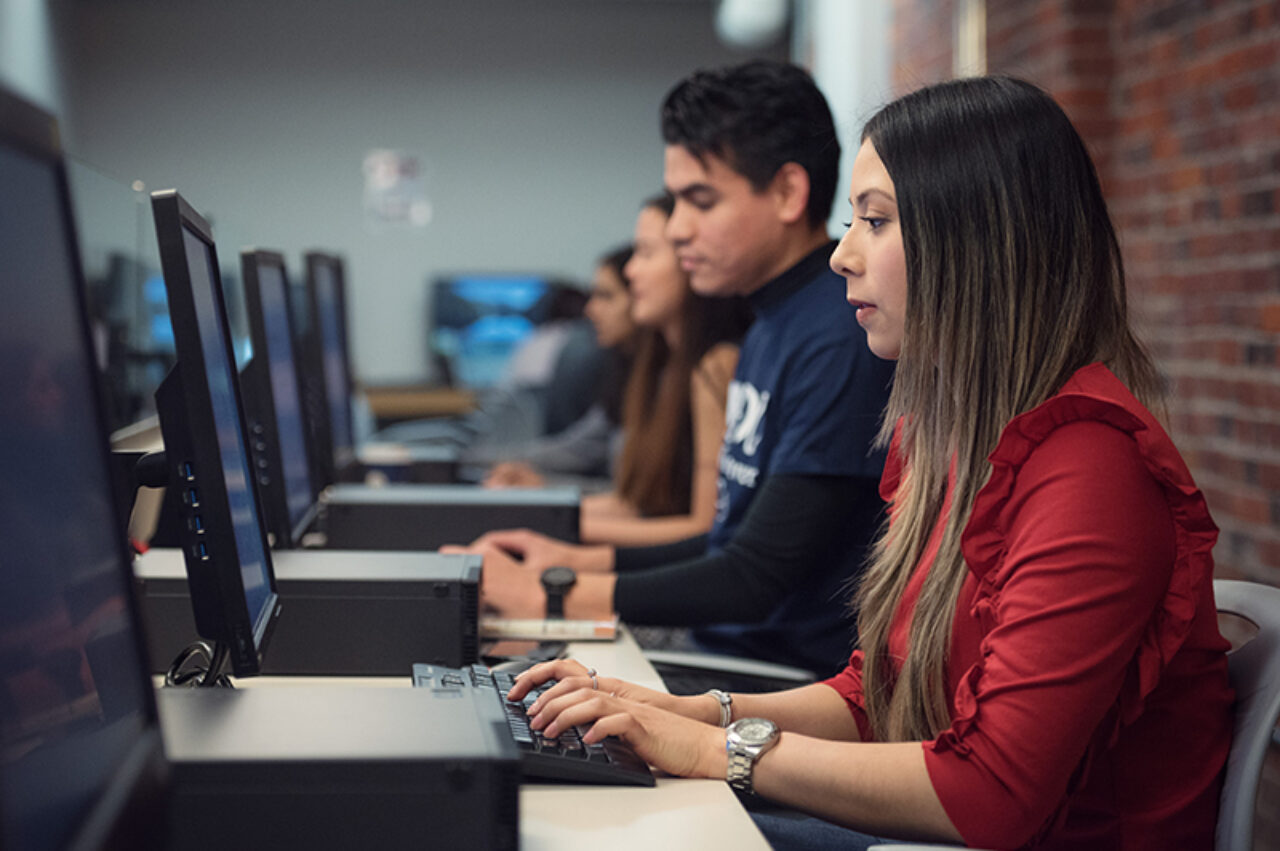 The Master of Science in Applied Computer Science (MSACS) is a 30 credit program that prepares students for the direct pursuit of productive careers in industry and for continued graduate study. The program educates professionals to become leaders in various areas of computer science ranging from software engineering to computer design, and from systems analysis to the management of information systems.
Program Highlights
The MSACS program at the Vancouver campus follows FDU's Gildart Haase School of Computer Sciences and Engineering mission of preparing competent computer professionals and responsible global citizens.
Students learn to evaluate current and emerging technologies; identify user needs; design user-friendly interfaces; apply, configure and manage these technologies; and assess their impacts on an individual user, an organization, the environment, and society.
Students can choose between two specializations: database administration or advanced computer programming. Each specialization comprises four courses (12 credits).
Students who desire to pursue further studies can select the thesis-based stream. A Master's thesis comprises 6 to 12 credits, depending on the contents of the thesis and the recommendation of the thesis supervisor and the thesis committee.
Program Objectives
The MSACS program will produce graduates who:
Enter into and advance their careers in the profession of computer science and its closely related fields.
Continue their education to obtain additional training, professional certifications, and/or advanced degrees, including Ph.D., in the fields of computer science, management information systems, business administration, or computer engineering.
Continue to develop as responsible professionals and global citizens who are mindful of ethical issues, societal needs, and problems inherent in the computing field.
Program Learning Outcomes
Graduates of the MSACS program will demonstrate the following knowledge, skills, and attributes:
An ability to gain and apply the knowledge of Computer Science theory to analyze problems, assess trade-offs, and develop creative solutions.
An ability to work effectively in teams and communicate with diverse audiences.
Understanding of the computing-related ethical and societal issues and their impact on individuals, organizations, and communities.
An ability to develop professionally and innovate with the deployment of computing technology.
Degree Requirements
The MSACS program requires successful completion of at least 30 credits (10 graduate courses), excluding any prerequisites that may be needed.  
Students are expected to complete the degree program within a two-year period. 
Students must earn a CGPA of at least 2.75 in order to graduate from the program. 
A maximum of nine credits may be transferred from courses completed within the last five years at other accredited institutions and with a grade of B or better in accordance with the curricular requirements of the program and FDU policies. 
Career Perspectives
This program is designed to prepare students for entrance into and advancement in the profession of Computer Science, to meet the current needs of professionals and industry in the ever-changing field of computing, and for advanced graduate programs, including doctoral studies.
The program educates students and professionals to become leaders in various areas of Computer Science, including software engineering, database administration and design, systems analysis and design, and advanced programming.
Graduates from this program can pursue careers as programmers, applications engineers and developers, data scientists, systems analysts, software engineers and developers, project managers, educators, researchers, consultants, and database, systems, network, and cybersecurity administrators.
Curriculum
Graduates from an accredited institution with an undergraduate degree in computer science typically meet these prerequisite requirements.
 Computer Science Core Courses (18 credits)
CSCI6620 Software Engineering
CSCI6638 Operating Systems
CSCI6806 Computer Science Graduate Capstone Project
CSCI6836 Computer Algorithms
CSCI7645 Systems Programming
CSCI6603 Computer Architecture (or) CSCI6623 Database Systems 
Courses in Database Administration Specialization (12 credits)
CSCI6882 Data Warehouse and Data Mining
CSCI7741 Disaster Recovery
CSCI7781 Advanced Database Systems
CSCI7783 Information Security
Courses in Advanced Computer Programming Specialization (12 credits)
CSCI6617 Computer Game Programming
CSCI6809 Advanced Applications Development
CSCI6844 Programming for the Internet
CSCI7872 Shell Programming
Prerequisite Courses
Students without prior education equivalent to the following courses must complete these prerequisites:
CSCI5505 Introduction to Computer Programming
CSCI5525 Introduction to Computer Science
CSCI5555 Data Structures
CSCI5565 Assembly Language