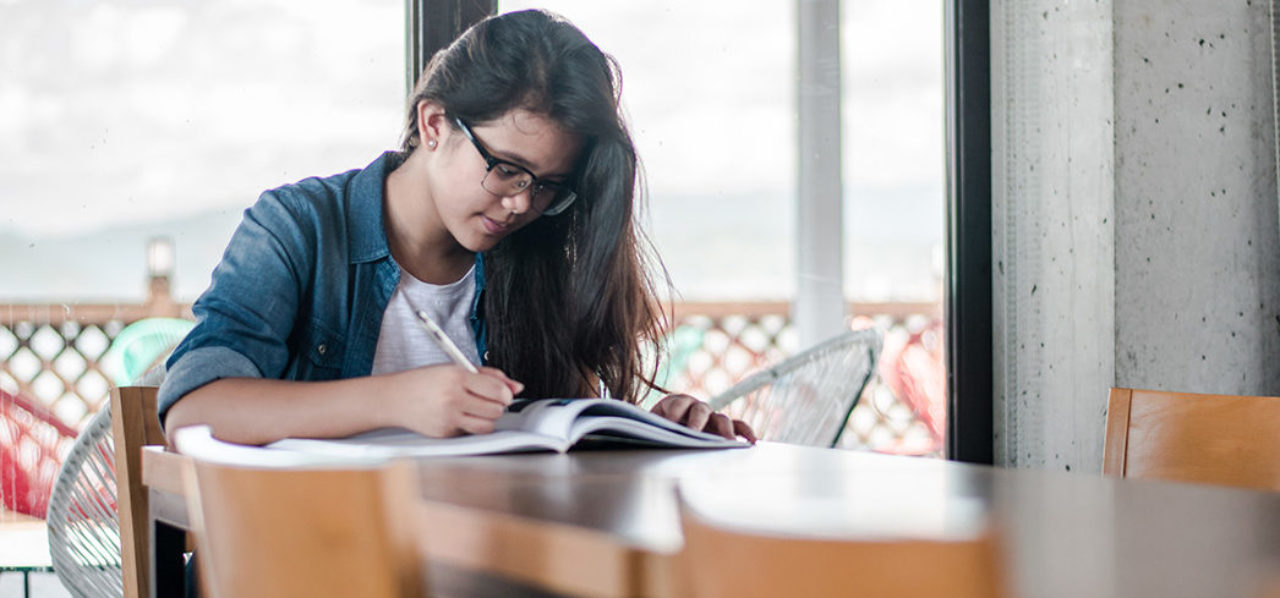 One of the top academic priorities of the Metropolitan Campus of Fairleigh Dickinson University is to graduate students who are competent and confident writers. To advance this goal, the Campus Writing Initiative, an innovative, comprehensive, campus-wide commitment to student writing, was adopted. The Metro Writing Studio supports the Campus Writing Initiative and reinforces the philosophy of the Writing Program.
The Studio is staffed with professional tutors who provide students with assistance in all steps of the writing process. Because our aim is to produce better writers — not just better writing — our tutors work closely with students to help them acquire for themselves the writing skills they need not only in their classes but in their future careers as well. Accordingly, tutors do not provide editing or proofreading services; rather, they help students learn how to express themselves clearly and coherently in any writing situation they may encounter. In addition, the Studio offers a range of workshops designed not only for students but also for faculty, staff, and the community. We provide a welcoming (and wireless) space where you can write or simply read and study, so visit the Metro Writing Studio soon and often!
The professional tutors at the Metro Writing Studio provide free academic support services to help students, faculty, and staff at Fairleigh Dickinson University improve student writing skills. Tutoring and workshops are offered in the Studio, which is a space designed to accommodate one-on-one, small group, and classroom instruction. Students have access to Studio laptops when working with tutors or attending class in the Studio (or they may bring their own laptops); wireless access to the Internet is available to those who have an FDU Webmail account.
ANNOUNCEMENTS
Thank you for contacting the Metro Writing Studio.  Online synchronous writing support for fall, 2020 begins August 24th and will commence on November 17th.  Daily tutoring hours are Mondays – Thursdays 10 – 5, and Fridays 10 – 4.  Please see the daily schedule and contact sheet listed to the left of this for directions on contacting a tutor and/or attending a scheduled workshop.  Graduate Assistants have been assigned for each and will assist you in connecting to your tutoring session and/or a workshop.  Should you have any questions, please contact Julia Wagner, Director of the Metro Writing Studio, at jawagner@fdu.edu or 201-692-2165. 
Tutoring Schedule
THE METRO WRITING STUDIO IS OPEN FOR VIRTUAL TUTORING
Studio Opens August 24th, 2020
For any student, faculty, or staff member in need of tutoring services, please check the schedule below and based on the day and time of your request, email the appropriate contact person.  Once you have contacted the Studio Support Team via email, you will be directed to the appropriate tutor scheduled for that day.  
 

Monday
10am – 7pm

Tuesday
10am – 7pm

Wednesday
10am – 7pm

Thursday
10am – 7pm

Friday
10am – 4pm

Sunday 1 – 5

 

 

 

 

 

 

Drop-in

J.Adams

T.Gibson

J.Horna

H. Kuttner

I.Konstandinis

 

10:00 – 2:00 PM

10:00 – 2:00

10:00 – 2:00

10:00 – 2:00

10:00 – 2:00 PM

 

D. Simons

 

D.Maclean

12: 00 – 4:00 PM

D.Maclean

J.Adams

 

R. Chavious

11:00 – 3:00

R. Moskowitz

11:00 – 3:00 PM

11:00 – 3:00

 

12:00 – 4:00 PM

1:00 – 5:00 PM

 

D.Simons

R. Chavious

 

12:00 – 4:00

12:00 – 4:00

Y.Shekhtman

 

T.Gibson

1:00 – 4:00

 

1:00 – 5:00

Y.Shekthman

J.Horna

 

1:00 – 5:00 PM

1:00 – 5:00 PM

 

H.Kuttner

11:00 -3:00 PM

R.Moskowitz

 

12:00 – 4:00 PM

 
These free workshops are open to all FDU students, faculty, and staff. No registration is required to attend; however, you will need to email the appropriate graduate assistant located under each workshop in order to register and connect to the virtual presentation.   Consult our website at http://ucoll.fdu.edu/metro, or email Julia Wagner, Director, at jawagner@fdu.edu for more information about the workshops and the tutoring services offered at the Metro Writing Studio. Suggestions are welcome!                                               
Registration information: Contact the email 10 minutes prior to presentation times.
ESL Conversation Schedule
Non-native speakers of English are invited to come practice their spoken language skills with help from Jeanette Adams at the Metro Writing Studio on six Tuesdays this semester. Jeanette Adams will guide the students in informal conversation, assist with pronunciation, and answer questions about colloquial English. Attendance is limited and registration is required; Call 201-692-2166 to register.
Referral form
Referral forms are not necessary; tutoring is available on a drop-in basis. However, faculty may refer students to the Writing Studio by printing, completing, and giving a referral form to those students in need of assistance.
To print out a referral form please click here: Referral Form
FAQ's
The Metro Writing Studio provides free, individualized tutoring in writing and writing workshops to help students, faculty, and staff at Fairleigh Dickinson University improve their writing skills.
Where is the Metro Writing Studio?
We are located on the second floor of the Frank Giovatto Library (on the Metropolitan campus in Teaneck) behind the Reference/Circulation Desk.
What are the hours of operation?
Monday-Thursday 10.00 a.m. – 7.00 p.m.Friday 10.00 a.m.-4.00 p.m.,Sunday 1.00 p.m. – 5.00 p.m..The Studio, which offers wireless connection to the Internet to those with an FDU webmail account, is open as a quiet and comfortable study space whenever the library is open.
Who may use the Studio?
Students who are matriculated at Fairleigh Dickinson (whether undergraduate or graduate, part-time or full-time), faculty, and staff are eligible to make use of all the Studio's offerings.
What kind of help do the tutors provide?
Tutors assist students with all phases of the writing process from brainstorming ideas to polishing the final draft. We do not, however, offer proofreading or editing services; our goal is to teach students how do such things for themselves.
Do I need to make an appointment to see a tutor?
No, we see students mainly on a drop-in-basis (limited appointments become available later in the semester). On occasion, you might have to wait before a tutor is free to work with you, so plan your time wisely. Be sure to fill out a Request for Tutoring Form upon your arrival.
What should I bring when I see a tutor?
You should bring the assignment given to you by your instructor, the materials (such as articles or books) upon which the assignment is based, and a printed copy of what you have written so far.
What other types of services does the Studio provide?
Throughout the semester, we offer workshops on various writing-related topics such as how to recognize and avoid plagiarism and how to use MLA and APA citation formats. International students can practice their speaking skills six times a semester at our English conversation workshops.
Faculty and Tutors
Director, Metro Writing Studio
Julia Wagner
Senior Lecturer, School of the Humanities
Phone: (201) 692-2165
Mail Stop: T-GL1-03
Jawagner@fdu.edu
Tutors
Rochelle Moskowitz
Jeanette Adams
Paul Caruso
Terry Gibson
Rose Grimaldi
Josephine Horna
Elizabeth Johnson
Jeannie Kang-Suh
Helen Kutner
Deborah Maclean
Patricia Miller
Barbara Morris
Yelena Shekhtman
Graduate Assistants
Devanshi Patel
Kartik Bhaktha
Akshay Venkatesh