The Silberman Symposium
Wednesday, May 24
4:00 – 6:30 PM followed by happy hour and networking
Florham Campus of Fairleigh Dickinson University in Hennessy Hall
285 Madison Ave, Madison, NJ, 07940
The Fairleigh Dickinson University Silberman Symposium is a complimentary pre-eminent business event that brings senior leaders from the NY Metro business community together in an environment that addresses thought-provoking topical business issues and provides a networking opportunity over cocktails.  Please join us and hear from industry experts on the topics of new age leadership, post-COVID work life, an economy and market forecast, and "the state of the state of New Jersey".  An event not to be missed!  Seating is limited.  
Meet This Year's Speakers
Michele Siekerka
Our keynote speaker is Michele Siekerka, President and CEO of the New Jersey Business & Industry Association (NJBIA), who will discuss "The State of the State".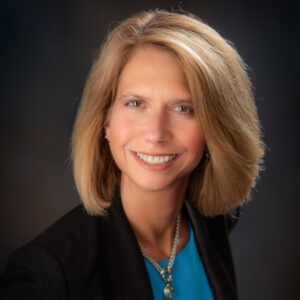 Michele N. Siekerka, Esq., President and CEO of the New Jersey Business & Industry Association, leads the nation's largest, most influential employers' organization, advocating on behalf of New Jersey's large and small businesses for policies that will make New Jersey more affordable and regionally competitive.
Being known as a collaborative leader, Siekerka leads an NJBIA-established coalition (New Jersey Business Coalition) comprised of more than 100 business and nonprofit associations across the state to tackle the tough economic and business challenges our state faced during COVID-19. Siekerka has also been at the forefront of efforts to build more effective workforce development alliances in New Jersey between academia, business, and government. The NJBIA Postsecondary Education Task Force's yearlong study of New Jersey's highest-in-the-nation millennial outmigration produced a 13-point action plan that is driving policymakers' discussions on how to retain our future workforce.
Siekerka came to NJBIA in 2014 from the New Jersey Department of Environmental Protection, where she last served in the critical position of Deputy Commissioner.  At DEP, Siekerka was a principal player in the state's charge to restore New Jersey after Superstorm Sandy with the responsibility of coordinating funding, outreach, and resources for rebuilding environmental infrastructure.
An attorney by trade, Siekerka's background includes serving as the president and CEO of the Mercer Regional Chamber of Commerce, senior legal counsel and vice president of human resources with the Automobile Association of America, and as a partner in a Mercer County law firm. 
Siekerka serves on the board of directors of Citizens Financial Group, Inc.; The New Jersey Chapter of the National Association of Corporate Directors; Choose New Jersey; the New Jersey Innovation Institute and Junior Achievement of New Jersey.  As a testament to her passion for women's leadership, she serves on the advisory council of both SheTek and Wings for Growth.
Stephen Weiss BS'97
Stephen Weiss is Managing Director at Cedar Pine, LLC. He will present the Economic Forecast and Markets Update.
Stephen L. Weiss has been on Wall Street for 25 years in senior positions at the industry's most prestigious asset management and investment banking firms.
After two years as a tax attorney, Weiss embarked upon his Wall Street career, first at Oppenheimer & Co. and then at Salomon Brothers during the time it was controlled by Warren Buffett, developing and communicating investment ideas to the industry's most respected investment funds including SAC Capital (Steve Cohen), Tiger Management (Julian Robertson), Soros Funds, Kingdon Capital and Omega Advisors (Lee Cooperman). After a successful career as an institutional salesperson, he was asked to co-manage Salomon Brothers' 500-person Global Equity Research Department where he developed the Street's first truly global product, integrating the firm's research efforts from Europe, Asia, Latin America, and the United States. His other responsibilities included representing the Equity Division on the Capital Commitment Committee and chairing the Stock Selection Committee. Weiss went on to co-manage SAC Capital, and then joined Lehman Brothers where he successfully built the top institutional equity sales force on the Street while serving on the Global Sales, Capital Commitment, Investment Policy, and US Executive Committees. He played a critical role in the research division's rise to first place in the prestigious Institutional Investor survey, the pre-eminent measure of Wall Street research.
On September 11, 2001, Weiss was booked on Flight 93 but fatefully canceled his travel plans at the last minute. He was, however, at Ground Zero in his office at the World Financial Center when the planes struck the WTC. As with so many others, this was a life-changing event and after Lehman put this tragic and damaging event behind them, Weiss took a break from the business, electing to spend more time with his family and to begin his second career as an author. Missing the day-to-day activity of the markets, Weiss returned to investment management in 2004, co-founding a long/short equity hedge fund. After 3 years with a good return profile, he joined a boutique investment bank as the Managing Partner of the Equity Division where he instituted significant changes that drove the firm's market share from 25th to 12th, as measured by trading volume while increasing profitability.
Weiss has authored two very well-received investment books. "The Billion Dollar Mistake: Learning the Art of Investing from the Missteps of Legendary Investors" has been translated from English into Korean, Japanese, and two Chinese dialects. Forbes named it one of the top 5 new investment books in 2010. His second book, "The Big Win: Learning from the Legends to Become a More Successful Investor," was published in May 2012. He has also written a novel, a financial thriller, "UNHEDGED A Killing in the Market."
In addition to being a professional investor, Stephen Weiss is currently under an exclusive television contract to CNBC as a market commentator, appearing in a regular role on "Fast Money" and "Fast Money Halftime Report" as well as other CNBC shows, including "The Kudlow Report" and "Power Lunch." Weiss also regularly blogs about his thoughts on investing and gives speeches to investment groups on the markets and business organizations on building a culture of success. He is also called on to consult with Wall Street firms about their business strategy. He maintains many relationships with some of the industry's most successful investors and most significant asset managers.
Micheline Nader
Micheline Nader, BSN, MPH, DESS is a best-selling author, healthcare entrepreneur, motivational speaker, and philanthropist dedicated to empowering people through conscious awareness and transformational leadership. She is the Founder and former CEO of Blue Dolphin Healthcare Group and is currently the President of Jesra Foundation, her family nonprofit dedicated to creating breakthroughs in health and education.
Micheline has extensive expertise in hospital administration, long-term care, and healthcare management. After a successful career in hospital administration, Micheline was interested in supporting the needs of seniors. Realizing they deserved a place to call home where they would receive optimal care, be supported by dedicated staff, and have an enriching and purposeful life, she founded the Blue Dolphin Healthcare Group, which grew to become a large chain of nursing homes and eventually was successfully acquired.
Micheline is a trustee of Fairleigh Dickinson University, chairs the Silberman College of Business Advisory Board, and serves on the board of Takreem America.
Micheline holds a BS in Nursing, a master's in public health from the American University of Beirut, and a Doctoral degree in Healthcare Management from Paris-Dauphine University. Micheline serves on the Board of Trustees at Fairleigh Dickinson University.
Scott Behson
Scott Behson, Ph.D., is a professor of management and Silberman Global Faculty Fellow at Fairleigh Dickinson University, and a leading expert in work-life, wellness, and flexible workplaces.
He's the author of three books, most recently, The Whole-Person Workplace: Building Better Workplaces Through Work-Life, Wellness and Employee Support, which is based on research, best practices, and interviews with dozens of business and HR leaders right as they were navigating Covid changes to the workplace. His other books are The Working Dad's Survival Guide and We Hate Team Projects!
Scott is an accomplished speaker and consultant who has worked with leading companies on workplace flexibility and building supportive work cultures, He was a featured speaker at the UN's International Day of the Family and the White House's Summit for Working Families. 
​Scott recently helped launch Flex-Friendly Certification, a user-friendly program in which employers assess and improve their approach to flexible work while earning a valuable credential that helps them attract and retain top talent.
In addition to his many academic publications, his work appears at HBR, Time, Fast Company, Success, Workspan, WSJ, and many other leading publications. He has appeared on NBC, CBS, MSNBC, NPR, and Bloomberg Radio, as well as many leading HR and business podcasts. His LinkedIn newsletter is a must-read for anyone interested in building better workplaces.  
He's worked with the states of New York and New Jersey and with leading advocacy groups for enhanced parental leave policies. He believes we should all advocate for needed change with our time and money, and vote for those who truly support working families.
Scott co-founded FDU's undergraduate program in human resources management, has won 8 awards for his scholarship, teaching, and service to students, and has taught in Paris, Zagreb, Lille, and Monaco.
Event Sponsors
Valley National Bank is proud to be the Event Sponsor at this year's Symposium.

1776 by David Burke is proud to be the Happy Hour sponsor at this year's Symposium.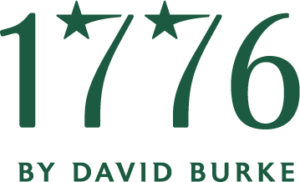 Goldman Sachs AYCO is proud to be the Swag Sponsor at this year's Symposium. 
Directions
The Symposium will be held at the Mansion on the Florham campus. 
Using the Madison Entrance
If you are coming in through the Madison Ave entrance, go straight, under the bridge, until you come across the guard booth. You will continue to go straight down Mansion road.
Using the Park Ave Entrance
If you are coming in through the Park Ave entrance, continue until you come across the guard booth, and then make a left. Parking will be behind the Mansion.
The red star marks where parking is available.
(1) marks where the Mansion is located.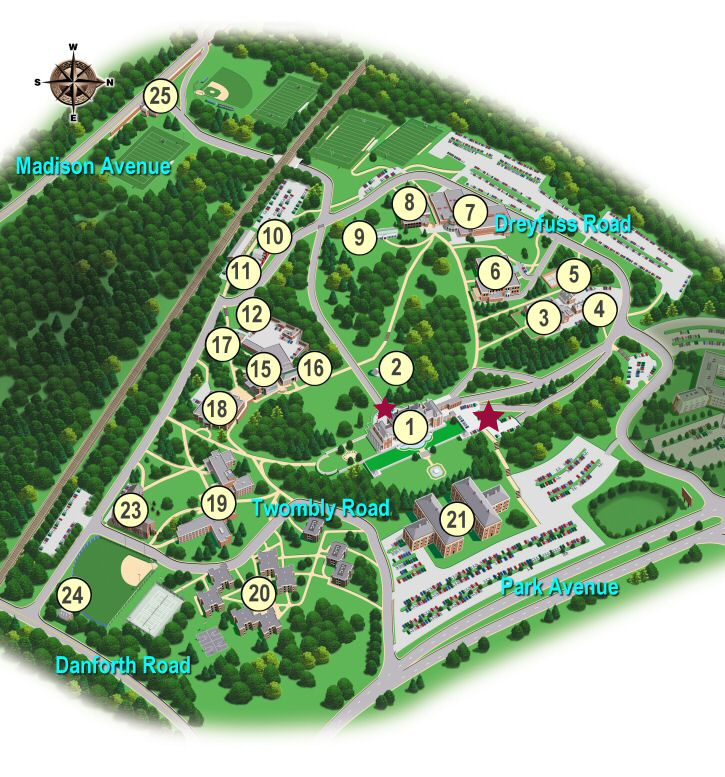 For Any Questions, Contact: