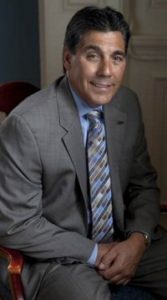 Hello! My name is Dr. Christopher A. Capuano, and I have the privilege of serving as the 8th president of Fairleigh Dickinson University.
Congratulations on your admission to FDU! On behalf of the entire University community, I would like to welcome all of our new international students to the University. We thank you for selecting FDU as your new home away from home. You are joining a special community with class members and faculty from many states in the nation and many countries around the world.
Here at FDU, we pride ourselves on being a close and friendly community that is dedicated to diversity and global awareness. International students are an essential part of the fabric of our community, bringing global perspectives and vibrant customs and cultures to our campuses. You will find that staff, faculty and classmates are welcoming and approachable.
FDU offers many nationally-recognized academic programs, but you will also discover other wonderful resources such as superior support services, and social and cultural activities, that will help you have a well-rounded university experience. Regardless of where you come from, or how familiar you are with the United States, you are likely to come across new and exciting experiences that will help you learn and grow as individuals.
You have come to FDU at a very exciting time. Many important developments have recently taken place such as the creation of the School of Pharmacy and Health Sciences and new schools in Public and Global Affairs and the Arts. Important investments in critical initiatives also include new science and technology labs, a state-of-the-art Career Development Center and, of course, the continued introduction of new and innovative academic programs. We are always looking for ways to serve our students better, and I hope you take advantage of the many opportunities we offer.
Thank you again for choosing FDU.  I look forward to seeing you on one of our campuses.
Christopher A. Capuano, Ph.D.
President