Florham: An American Treasure
Our New Book is "Florham: An American Treasure"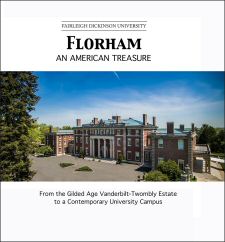 The Friends of Florham are pleased to announce the publication of Florham: An American Treasure, a pictorial history of the Vanderbilt-Twombly estate that has become Fairleigh Dickinson University's Florham Campus, illustrated with vintage photographs and a wonderful collection of new color photographs taken especially for this book, which show the campus as never seen before, including amazing shots from a drone.
In addition to the many new photographs, the book offers historical details about the Vanderbilt and Twombly families, the creation and creators of Florham, a typical weekend as a guest of Florence Vanderbilt Twombly, other Morris County mansions and estates, and the unique survival of Florham when most of its neighbors have disappeared.
The hardcover book had its initial display at the Friends' 25th anniversary celebration on Friday, September 23, 2016.
There are four options for ordering this book:
Order directly from Friends of Florham by sending a check for $20.00, which includes shipping and handling, to:


Karin Hamilton
c/o Friends of Florham, FDU
1000 River Road – H-DH3-13
Teaneck, New Jersey 07666

Order online via credit card courtesy of the Fairleigh Dickinson University Alumni Association website at www.myfdu.net/fofbook.
Order online from the Florham Campus Bookstore, www.fdumshop.com, or purchase directly in the bookstore.
Order online from Amazon.com
Florham: An American Treasure can also be purchased at the following venues:
Eagle's Nest, the William K. Vanderbilt Jr., Museum, Centerport, New York
Morris Museum, Morristown, NJ.
Morris County Historical Society at Acorn Hall, Morristown, NJ
The Bookworm, Bernardsville, NJ
Vanderbilt Mansion, NHS, Hyde Park, NY
[words] Bookstore, Maplewood, NJ
All proceeds from the sale of this book will be used by the Friends of Florham to continue renovations to the Mansion and the grounds.
Entering Florham
Turn off Madison Avenue in Madison, New Jersey, and pass through those ornate iron gates set in the imposing brick wall.
You'll drive a bit through the woodland on either side, head down a ravine, and pass through that dark tunnel under the railroad tracks that so enchanted Florence Twombly's young grandsons. And when you emerge into the light you will feel like you have left suburbia far behind and entered a different world. Drive slowly along that long driveway past lawns and stands of trees. And suddenly, you will gasp, sharing the awe of grandson Shirley Burden: I'll never forget my first visit to Florham. I must have been seven or eight. We drove through a wonderful tunnel with trains on top, and then down a driveway to the biggest house I had ever seen.
Somewhere, famed landscape architect Frederick Law Olmsted, and the great architects of the Gilded Age — McKim, Mead & White — are smiling, because that is exactly the reaction they wanted to elicit from you. For there ahead, in all its glory, is the Twomblys' mansion, looking like a great ancestral home lifted from the English countryside of "Downton Abbey" days.
Florham's past has become more and more an integral part of the University, a core component of the uniqueness of FDU for which students, their parents, alumni, faculty, administrators, and trustees feel a justifiable pride.
We hope that this book, which covers some of the history of Florham and its transformation to an outstanding university, and which features Mark Hillring house's new color photographs of this vibrant estate turned campus, will highlight and celebrate the magic of Florham.