Klimentiy Kenzikeyev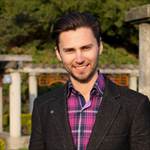 Klimentiy Kenzikeyev came to Vancouver in September of 2013. He is from Kazakhstan from the city Karaganda, which is located on the same latitude as Vancouver but on the other side of the globe. He graduated in spring 2015 with a Master's degree in Global Health and Human services administration.
The Vancouver Campus appealed to Klimentiy for many reasons such as opportunity to obtain a Master's degree in a related area of expertise (his first degree is in dentistry), central location of the campus, vibrant city and mild climate. His best memories about FDU-Vancouver will always be related to his friends from around the world, which showed him that friendship has no boundaries, languages and nationalities. He will cherish all the events and activities experienced during his two year program both inside the campus and outside spent with his friends.
The biggest challenge for Klimentiy was to overcome a language barrier and find a balance among studies, work, sport and hobby. The biggest victory and the main reward were to be privileged to deliver a speech on the Pre-Commencement Dinner in front of more than 300 people. This milestone has showed him that hard work such as constant self-education, developing of public speaking skills and campus involvement is rewarding and definitely pays back. His campus involvement was related to leadership during orientation weeks for new students and active participation in Toastmasters club. Klimentiy is proud to be a part of FDU-Vancouver and will make all possible that FDU-Vancouver will be proud of him for many years to come.
Sylvana Marsicovetere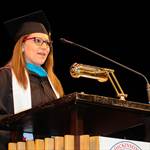 Sylvana Marsicovetere is a Guatemalan Clinical Psychologist who graduated from Rafael Landivar University in Guatemala. Her areas of expertise includes treating victims of violence, rehabilitation of male aggressors, self-esteem development, anxiety, depression, post traumatic stress and obsessive compulsive disorder, along with research and development for social marketing campaigns for prevention of sexual transmitted diseases.
Also, while in her home country she was engaged in promoting mental health through informational talks and workshops about anxiety and resilience of people with chronic diseases. She also has a diploma from the Autochthon University of Barcelona in Actualizations of STDs and she has just acquired her degree as Master of Administrative Science specialized in Global Health and Human Services from Fairleigh Dickinson University.
She chose FDU for the humanitarian values that the institution promotes. She was drawn by the program's unification of administrative subjects with global health and human services, focused on the public and non-profit sector. She chose the Vancouver campus because of the beautiful city. Moreover, the opportunity for enriching her knowledge by learning from the Canadian culture and work environment was a plus. One of the most challenging moments for Sylvana was balancing work with studying, although she was able to maintain a GPA above 3.7. She was always open to help her fellow students improve their performance and to speak on their behalf whenever they needed her to. Her most gratifying moment, aside of completing the MAS program, was to be honored with giving the speech at the commencement ceremony. Now Sylvana is looking to become part of an organizations which provides aid to women and fights against violence towards women in Vancouver.
Hasdra Ximena Ortega Salgado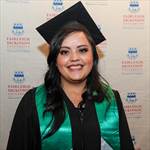 Ximena came from a small town in Mexico called Atlacomulco. She studied a Bachelor of Science in Business Administration with a major in International Business. She chose FDU Vancouver because of its focus on becoming a global citizen, which is precisely what she aims to become one day.
FDU Vancouver was full of great experiences for Ximena but if she had to point out her best memories she would like to share three: first, being President of the Student Government Association and all that comes with it. Particularly getting to work with such a great team as the one she had while being part of SGA 2014. Second, going abroad to the FDU Campus in Wroxton UK, an incredible and life changing experience and lastly being a member of FDU Thinkers. A club at that offers an excellent outlet for students to discuss and debate current events, philosophical questions and even performing on a theatrical debate.
Ximena reflects that her biggest challenge so far would be leaving her home country and adapting to a completely different place. She is grateful she met amazing friends, peers and professors that helped her through her journey.