BS Information Technology (Vancouver)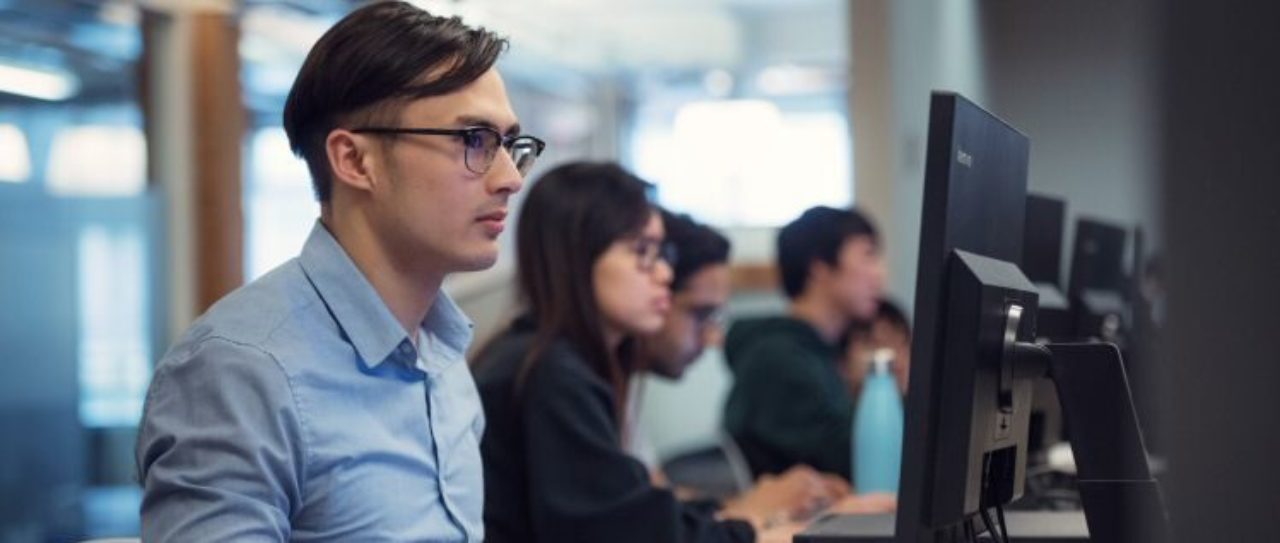 The Bachelor of Science (B.S.) program in Information Technology (IT) offers an interdisciplinary curriculum focusing on Information Technology and Computer Science.
The program is unique in that it merges traditional academic topics with leading edge and current IT practices and technology.
Courses from different fields of engineering are included: Computer Hardware, Software Programming, Web Design, Database Design, Networking Analysis, Digital Design and Cyber Security.
Courses have embedded content for industry certifications like CompTIA A+, CompTIA Network+ and CompTIA Security+.
The Vancouver Campus is a member of CompTIA's "Education to Career" program. Graduates of FDU-Vancouver's B.S. in Information Technology program are encouraged to complete IT certification exams as part of their program, ensuring that they are "market-ready" when they graduate.
Students in this program receive a dual degree: major in Information Technology and minor in Business Administration.
The program serves as an ideal launch pad for a management career in any technology-oriented company that is heavily dependent upon Information Technology.
Well-balanced program: Networking, Programming, Security, Hardware and Web Technology – ideal for finding employment.
Career Paths
Graduates of Fairleigh Dickinson University's B.S. in Information Technology program are qualified IT professionals who are prepared for careers in a wide-range of IT-related areas, as follows:
Computer networking
Network and systems administration
Website development and management
Digital media design
Management information systems (MIS)
Database management
Software development
Skills Acquired
Software skills: JAVA language through courses like INFO-2101 and INFO-2102.
Database design skills: ORACLE 10g DBMS through the course CSCI-3268.
Digital design skills: VHDL language through the course ENGR-2286.
Web programming skills: XHTML, .NET, .ASP, .PHP through the course INFO-4844.
Web site design skills: Adobe Illustrator, Flash, Dreamweaver, Indesign, Photoshop through the courses ART-1177, INFO-2105, INFO-2106 and INFO-3205.
Tools skills: Eclipse through the course INFO-2101 and INFO-2102.
Program Objectives
The main objective of the B.S. in Information Technology is to produce graduates who:
Enter into and advance in the profession of information technology, management information systems, business administration, or other related fields.
Continue their education by obtaining professional certificates or advanced degrees in information technology, management information systems, business administration, or other related fields.
Continue to conduct themselves as both responsible professionals and global citizens, who are aware of ethical issues and societal needs and problems.
The program objectives define the skills, knowledge, and attributes that graduates are expected to possess three to four years following graduation, and they fulfill the needs of our several University constituencies, including alumni, students, the Industrial Advisory Committee, the faculty, and employers. These objectives are consistent with the mission of Fairleigh Dickinson University "to educate and prepare students as world citizens through global education."
Program Outcomes
Upon or before graduation, each information technology (IT) graduate will possess the knowledge, skills, abilities, and attributes to:
Apply knowledge of computing and mathematics appropriate to the discipline.
 Analyze a problem and identify and define the computing requirements appropriate to its solution.
Design, implement and evaluate a computer-based system, process, component or program to meet desired needs.
Function effectively on teams to accomplish a common goal.
Understand professional, ethical, legal, security and social issues and responsibilities.
Communicate effectively with a range of audiences.
Analyze the local and global impact of computing on individuals, organizations and society.
Recognize the need for and engage in continuing professional development.
Use current techniques, skills and tools necessary for computing practice.
Use and apply current technical concepts and practices in the core information technologies.
Identify and analyze user needs and take them into account in the selection, creation, evaluation and administration of computer-based systems.
Effectively integrate IT-based solutions into the user environment.
Understand best practices and standards and their application.
Assist in the creation of an effective project plan.
Understand major features of a business system and how functional areas (i.e., accounting, finance, information technology, information management, marketing, and organizational behavior) work in relation to the entire operation.
Degree Requirements
Students in B.S. in Information Technology program must complete a minimum of 122 credit hours of course work. The credit work is distributed as:
Mathematics, Science and Programming Requirements — 21 credits
Liberal Arts Requirements — 17 credits
IT Core Requirements — 57 credits
Minor Requirements — 18 credits
Free Electives — 9 credits
Curriculum
Mathematics, Science, and Programming Requirements: 21 credits (7 courses)
EGTG 2201  Applied Calculus
MATH 2337  Applied Statistics
MATH 2255  Discrete Structures
INFO 2101  Computer Programming I for IT
INFO 2102  Computer Programming II for IT
ENGR 3000  Modern Tech: Principle, Application & Impact
Lab Science (3 credits)
Liberal Arts Requirements: 17 credits (7 courses)
ENWR 1101  Academic Writing
ENWR 1102  Academic Research and Writing
EGTG 2210  Technical Communication
UNIV 1001 Transitioning to University Life (1 credit)
UNIV 1002 Preparing for Professional Life (1 credit)
UNIV 2001 Cross Cultural Perspectives
UNIV 2002 Global Issues
IT Core Requirements: 57 credits (19 courses)
Business Minor Requirements: 18 credits (6 courses)