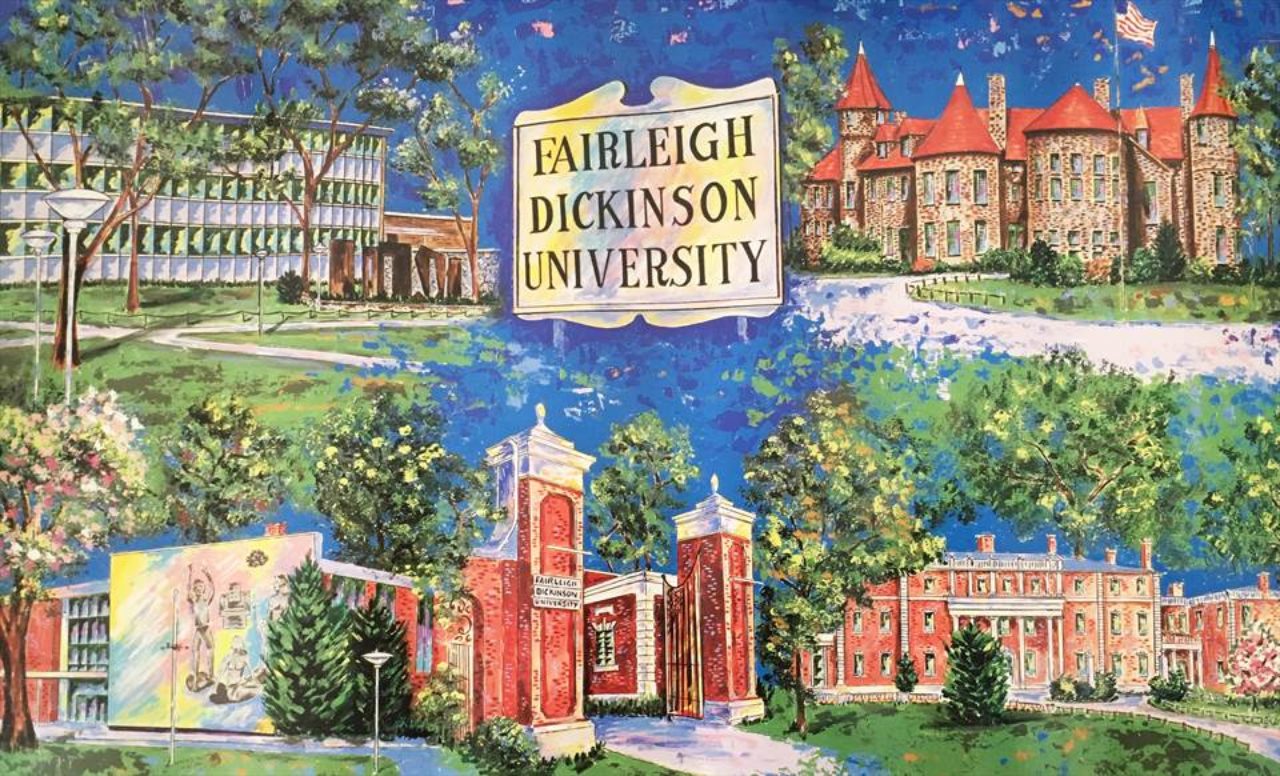 "People think of a university in terms of buildings, of numbers of students, of complexity of curricula. And yet it was in terms of our service to students and the simplicity of our approach that we found the greatest meaning to our lives."
— Peter Sammartino, Founder of Fairleigh Dickinson University
FDU Through the Years
Take a walk through the years as Fairleigh Dickinson University grows and expands its reach, while preserving its core values: access and opportunity, innovation and entrepreneurship, diversity and civility, and community service and global engagement.
Freeze Frame: Portraits of the Past and Present
In 2017, in celebration of the University's first 75 years, students came together to honor the generations of students who had come before in a series of iconic photo recreations. Enjoy these vintage looks and modern interpretations!
(Photos by Joshua Siniscal and Lauren Ploger)
Portraits of the Past and Present
Who was Fairleigh Dickinson?
Take a brief glimpse into the life and legacy of Fairleigh S. Dickinson Sr., a co-founder of medical technology company, BD (Becton, Dickinson & Co.), and early benefactor of Fairleigh Dickinson University. Read on to discover the stories and portraits of Fairleigh, his business partner, Maxwell Becton, and the University's founders, the Sammartino family.
A Brief history of FDU's Namesake
Historical Timeline
1940s
1942 – A two-year college is founded in Rutherford by Dr. Peter Sammartino and his wife, Sylvia (Sally). The school is named for its early benefactor, Fairleigh S. Dickinson. One hundred and fifty-three students are enrolled.
1948 – In response to the need for higher education in northern New Jersey, Fairleigh Dickinson College expands its programs into a four-year curriculum. First accreditation is achieved from the regional accrediting agency, the Middle States Association of Colleges and Schools [now the Middle States Commission on Higher Education].
1950s
1954 – The first graduate-level program is offered — a master's degree in business administration, still one of the University's most popular programs. A second campus is acquired: formerly Bergen Junior College, in Teaneck.
1956 – By action of the New Jersey State Board of Education, Fairleigh Dickinson College becomes Fairleigh Dickinson University. The College of Dental Medicine admits its first students.
1958 – A third campus is created in Madison on the former estate of Florence Vanderbilt Twombly.
1960s
1964 – Edward Williams College, a two-year college offering associate degrees, with highly personalized instruction and guidance, begins classes on the Teaneck Campus.
1965 – The University opens its first overseas campus, Wroxton College in England.
1967 – The founding president, Dr. Peter Sammartino, retires after 24 years of service and is appointed chancellor and president emeritus. Dr. J. Osborn Fuller is appointed president.
1970s
1970 – The College of Dental Medicine moves to a new multimillion-dollar facility on the Hackensack side of the Teaneck Campus. The innovative Saturday College of Edward Williams College opens, offering the opportunity to earn an associate degree by taking courses on Friday evenings and Saturdays.
1972 – Fairleigh Dickinson University dedicates its second overseas campus, the West Indies Laboratory at St. Croix, U.S. Virgin Islands.
1974 – Dr. Jerome M. Pollack becomes the third president of the University.
1980s
1982 – The first students are admitted to a program for the Ph.D. in clinical psychology.
1983 – Dr. Jerome M. Pollack resigns as president; Walter T. Savage is appointed acting president.
1984 – Dr. Robert H. Donaldson becomes the fourth president of the University.
1987 – The Rothman Center, the University's major, state-of-the-art athletic and recreation facility on the Teaneck Campus, officially opens.
1989 – With the opening on the Madison Campus of the George Rothman Institute of Entrepreneurial Studies, FDU becomes the first university in the nation to build a facility dedicated to entrepreneurial education.
1990s
1990 – The College of Dental Medicine graduates its last class. Dr. Francis J. Mertz is appointed to an interim term as president of the University. Because of significant damage to the West Indies Laboratory by Hurricane Hugo, the facility is closed.
1992 – As part of the implementation of a strategic planning process, a new University College: Arts • Sciences • Professional Studies is created at Teaneck and Madison offering honors track programs in all disciplines. Francis J. Mertz is appointed president of the University.
1993 – FDU's Board of Trustees approves a facilities master plan that allows for the implementation of three major construction projects by fall 1995. The board also votes that the University merge its operations on the Rutherford Campus with those of the Teaneck and Madison campuses beginning with the 1994-95 academic year.
1994 – Dickinson Hall reopens at the Teaneck Campus.
1995 – The Roberta Chiaviello Ferguson and Thomas G. Ferguson Recreation Center opens at the Madison Campus.
1996 – President Bill Clinton and Vice President Al Gore address environment issues in an event at the Rothman Center at the Teaneck Campus
1998 –  New College of General and Continuing Studies is formed to address the special educational needs of nontraditional students,  including adult learners. Martin F. Stadler, Patrick J. Zenner, Hoffmann-La Roche Inc. Academic Building opens on Madison campus.
1999 – J. Michael Adams is appointed President of the University. Students move into Park Avenue Residence Halls on Madison campus.
2000s
2000 – Board of Trustees approves a new mission statement dedicating the University to global education. Silberman College, the University's business school, receives AACSB accreditation for its bachelor's and master's level degree programs.
2001 – FDU PublicMind begins political and social public opinion polling; incoming freshmen and Global Virtual Faculty take part in distance learning initiative.
2002 – Port Authority Police Training Academy moves to Teaneck campus; missions of the New Jersey campuses are indicated by new identities: College at Florham and Metropolitan Campus. FDU creates its United Nations Pathways Lecture Series and earns designation as a nongovernmental organization (NGO) associated with the United Nations Department of Public Information.
2003 – Construction: Metropolitan Campus gets a new Fitness Center, College at Florham a substantially renovated Student Center, and each campus gets a new residence hall.
2004 – With increasing enrollments, University regains its distinction as largest private university in New Jersey. Degree-completion programs offered via online learning serve first-responders and National Guard personnel. Global Issues Gateway educational website is launched.
2005 – In recognition of the generosity of Anthony J. Petrocelli and his wife, Antoinette, the University renames the New College of General and Continuing Studies, to be the Anthony J. Petrocelli College of Continuing Studies.
2006 – Lee Gildart and Oswald Haase School of Computer Sciences and Engineering is named to honor the science mentors of alumnus, space-farer, and entrepreneur Greg Olsen, whose gift is the largest in FDU's history.
2007 – The University opens its second international campus, FDU-Vancouver, in British Columbia, Canada.
2008 – College at Florham celebrates its golden anniversary; United Nations Secretary-General Ban Ki-moon receives honorary degree and is keynote speaker at Convocation; University offers master's degree program in sports administration.
2009 – FDU grants its first doctor of nursing practice degrees. President Obama comes to the Metropolitan Campus for a Corzine gubernatorial campaign event. The University receives state approval to open a pharmacy school with a planned opening of 2012.
2010s
2010 – FDU-Vancouver graduates its first class. In recognition of the generosity of John Giovatto, and in memory of his brother Frank, the Metropolitan Campus renames the Weiner Library the Frank Giovatto Library.
2011 – The University breaks ground at the College at Florham for the John and Joan Monninger Center for Learning and Research. The University's largest capital campaign ever, FDU NOW, bests its $50 million target by almost $9 million.
2012 – Silberman College's prestigious AACSB accreditation is reaffirmed. J. Michael Adams, the University's longest-serving president since founder Peter Sammartino, is diagnosed with a form of leukemia and passes away June 21. Chief operating officer Sheldon Drucker becomes interim president. FDU School of Pharmacy welcomes its first class.
2013 – The John and Joan Monninger Center for Learning and Research officially opens at the College at Florham. Sheldon Drucker becomes the seventh president of the University.
2014 – The University welcomes largest class of international students. Bronze statue of Martin Luther King Jr. unveiled on Metropolitan Campus. Inaugural season of FDU's New Jersey Speaker Series at New Jersey Performing Arts Center debuts.
2015 – The Rothman Institute of Innovation and Entrepreneurship celebrates 25 years. The University dedicates The Daniel and Martina Lewis Center for Healthcare Innovation and Technology at the School of Pharmacy.
2016 – Christopher A. Capuano becomes the eighth president of the University. The University announces the formation of a new School of Public and Global Affairs.

2017 – The University celebrates its 75th Anniversary​. Rock star Jon Bon Jovi surprises students at the 74th Commencement celebration.

2018 – The largest capital campaign in FDU's history, One University Many Dreams, is officially launched and the goal would later be extended to $125 million. Silberman College of Business celebrates 50 years of changing lives. The University announces the formation of the School of the Arts.

2019 – The newly renovated and designed Metropolitan Campus footbridge opens. 
2020s
2020 – The construction of the Elizabeth Ruth Hennessy Field and the Vincent J. and Lenda F. Naimoli Ballpark.

The University created a new animation lab on the Florham Campus and expanded the School of Pharmacy and Health Sciences. 

2021 – FDU's Vancouver Campus expanded to a second location. Office of Veterans Services was awarded the We Value Our Veterans Academia Award by New Jersey Governor Phil Murphy. FDU is named Hispanic Serving Institution (HSI) leader by Fulbright Program.

To help make an FDU education more affordable and accessible, the University reduced the cost of undergraduate tuition by approximately 25% at the two New Jersey campuses.  

2022 –

Latino Promise and HACER programs were cited for excellence by Excelencia in Education. Wroxton College formed a partnership with the Royal Shakespeare Company. School of Psychology and Counseling created the Center for Empathy Training and Research. Florham Institute for Lifelong Learning turned 50.

2023 –

FDU alumnus Michael J. Avaltroni is appointed the ninth president of the University.