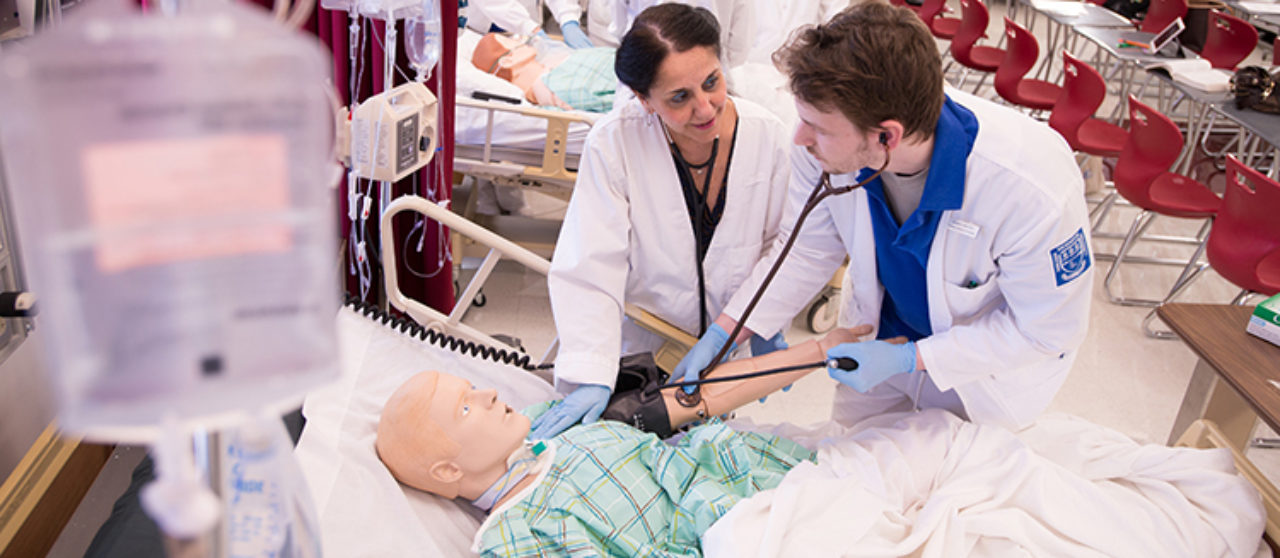 BS Nursing
At the end of the BSN program students will be able to:
Apply critical thinking skills in the nursing care of individuals, families, groups and communities measured by the effective use of the nursing process in all aspects of care; prioritize the needs of clients, see multiple sides of controversial questions; apply problem solving techniques in approaching nursing situations in the classroom, laboratory and clinical areas.
Demonstrate professional role behaviors, guided by ethical/legal principles and standards of practice. Measures include passing scores on the standard examinations tested to be predictive of readiness to pass the NCLEX-RN and satisfactory clinical and faculty evaluations.
Incorporate values of human caring in the application of the nursing process across the life span as demonstrated by care based on theory of caring, respect and empathy for individuals, families, groups and communities. Evidence of this competency includes satisfactory clinical evaluations.
Synthesize knowledge from liberal arts and professional education to meet the health needs of a changing society and world as measured by nursing care based on scientific rationale and satisfactory evaluation of clinical experiences.
Use research and problem solving strategies, including outcomes measurement, and evidenced-based practice to improve healthcare of individuals, families, groups and communities as shown in the completion of classroom and clinical assignments.
Exhibit leadership behaviors consistent with the profession in meeting the global health challenge by participating in community service and school governance.
Demonstrate cultural competence in applying the nursing process through the effective use of a cultural assessment tool, in working with individuals from various cultural backgrounds without prejudice or stereotyping, in demonstrating an appreciation for cultural diversity and the uniqueness of all human beings. This competency is measured by satisfactory completion of relevant course requirements and clinical experiences.
Collaborate with clients, member of health team and others in order to maximize human health potential of clients demonstrated by satisfactory evaluations of clinical experiences.
Provide holistic care that contributes to health, recovery and peaceful death using the concept of levels of prevention as demonstrated by satisfactory evaluations of clinical experiences.
Articulate and integrate a personal belief system that concerns human beings, environment, health and nursing as a process as evidenced by satisfactory evaluations for clinical experiences.
Gain the necessary preparation for graduate studies as shown by satisfactory completion of the undergraduate program.
MSN Nursing
As a graduate of the MSN program, students will be able to:
Demonstrate advanced knowledge and skill in your specialty area.
Implement an advanced practice role which incorporates the values of holistic caring and cultural competence.
Use conceptual frameworks to guide the implementation and evaluation of advanced practice.
Effectively use information technology, to support teaching/coaching/counseling strategies in advanced practice roles with diverse global communities.
Advance nursing science and practice through scholarly pursuits, collaboration, and the exercise of leadership in health care and higher education.
Critically evaluate research findings for application to advanced practice roles. Demonstrate competence in the evaluation of practice and program outcomes to ensure quality.
Demonstrate competence in the evaluation of practice and program outcomes to ensure quality by satisfactory completion of clinical courses.
Interpret the impact of global, historical, political, legal, bioethical, economic, and organizational factors on health care/educational environment.
Gain the necessary preparation for doctoral study.
Doctor of Nursing
At the end of the DNP program, the  graduate you will be able to:
Integrate nursing science with knowledge from biophysical, psychosocial, analytical and organizational sciences as the basis for the highest level of nursing practice. Indicators/measures: Successful completion of the D.N.P. curriculum, peer reviewed publications of clinical research and practice related to the prevention of disease, health promotion and expert practice.
Design programs or initiatives that will ensure patient safety, improved patient outcomes that demonstrate professional accountability. Indicators/measures: Patient outcomes data, completion of residency requirements and individually directed CQI (continuous quality improvement) project.
Provide intra- and interprofessional leadership in accomplishing change in health care and complex health care delivery systems. Indicators/measures: Completion of evidence-based project, residency requirements, evaluation of healthcare outcomes, presentations of clinical research and indicators of expert practice in professional meetings and conferences.
Apply information technology and research methods to establish evidence-based outcomes as the best support for practice. Indicators/measures: Completion of courses in Management of Information Systems, Analytical Methods, Clinical Research, Evaluation of Healthcare Outcomes.
Demonstrate leadership in the development of institutional, local, federal and/or international health policy. Indicators/measures: Completion of courses in Advanced Practice, Health Systems and Policy, Social, Legal and Ethical Issues in Healthcare, and Residence; editorial activities such as serving as peer reviewer of journal articles and books, or serving as editor for nursing journals; collaboration in the development of interdisciplinary standards for patient care.
Synthesize concepts related to clinical prevention in developing and evaluating interventions to address health promotion/disease prevention. Indicators/measures: Completion of courses in Evaluation of Health Care Outcomes, Human Genetics, Epidemiological Management of Populations, Health Systems and Policy; state, regional, national and/or international recognition or awards for expert practice and initiatives.
Demonstrate an advanced level of clinical judgment, cultural sensitivity and system knowledge in designing and delivering care of improve the health outcomes of individuals, aggregates and populations. Indicators/measures: Data on patient outcomes, completion of the evidence-based project and residency requirements, evidence of influence on health policy and practice throughout the field.