MLB Network's Al Leiter gives keynote address at inaugural FDU Devils basketball banquet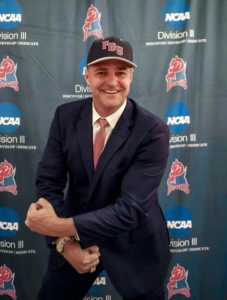 By Julie Kayzerman
Video and photos by Patrick Maloney
February 5, 2019 — MLB Network studio analyst and three-time World Series Champion Al Leiter addressed the Fairleigh Dickinson University Florham baseball team at its inaugural "Swing By" banquet on Saturday, Feb. 2 at the Madison Hotel in Morristown, N.J.
The banquet celebrated the start of the 2019 season under a new coaching staff led by head coach Jamie Quinn.
Leiter, who became a two-time Major League Baseball All-Star and a Roberto Clemente Award winner during his 19-year career in the MLB, gave the keynote speech.
"We have sincere appreciation to Al Leiter for taking the time to be our keynote speaker," said Quinn. "His energy, positive message, and willingness to connect with our players and their families, will have a profound impact on our program."
Leiter spoke directly to the student-athletes in the room, encouraging them to say yes to new opportunities and always be positive, regardless of what obstacles come their way on and off the field.
"If there's one thing [to take away] … say yes, and I'm talking about in life," Leiter said. "When you're given opportunities and people ask you to do things, there's possibilities… say yes. The more you open your net of friendships and circles, you never know what'll happen."
"Al said it best, 'there is no substitute for work.' This simple message resonates with our student-athletes in the classroom and on the ball field," Quinn said.
Devils baseball opens its season on Sunday, Feb.24 against Kean University at noon in Union, N.J.
Al Leiter enjoyed a 19-year career with the New York Yankees, Toronto Blue Jays, Florida Marlins and the New York Mets. A three-time World Series Champion and two-time MLB All-Star, Leiter recorded 169 wins and 1,974 strikeouts during his career. His most memorable moment came on May 11, 1996 when he threw the first no-hitter in Marlins history. He is currently a studio analyst for MLB Network and a color commentator for the YES Network.