Five questions with Super Bowl Champion and FDU alumnus Roman Oben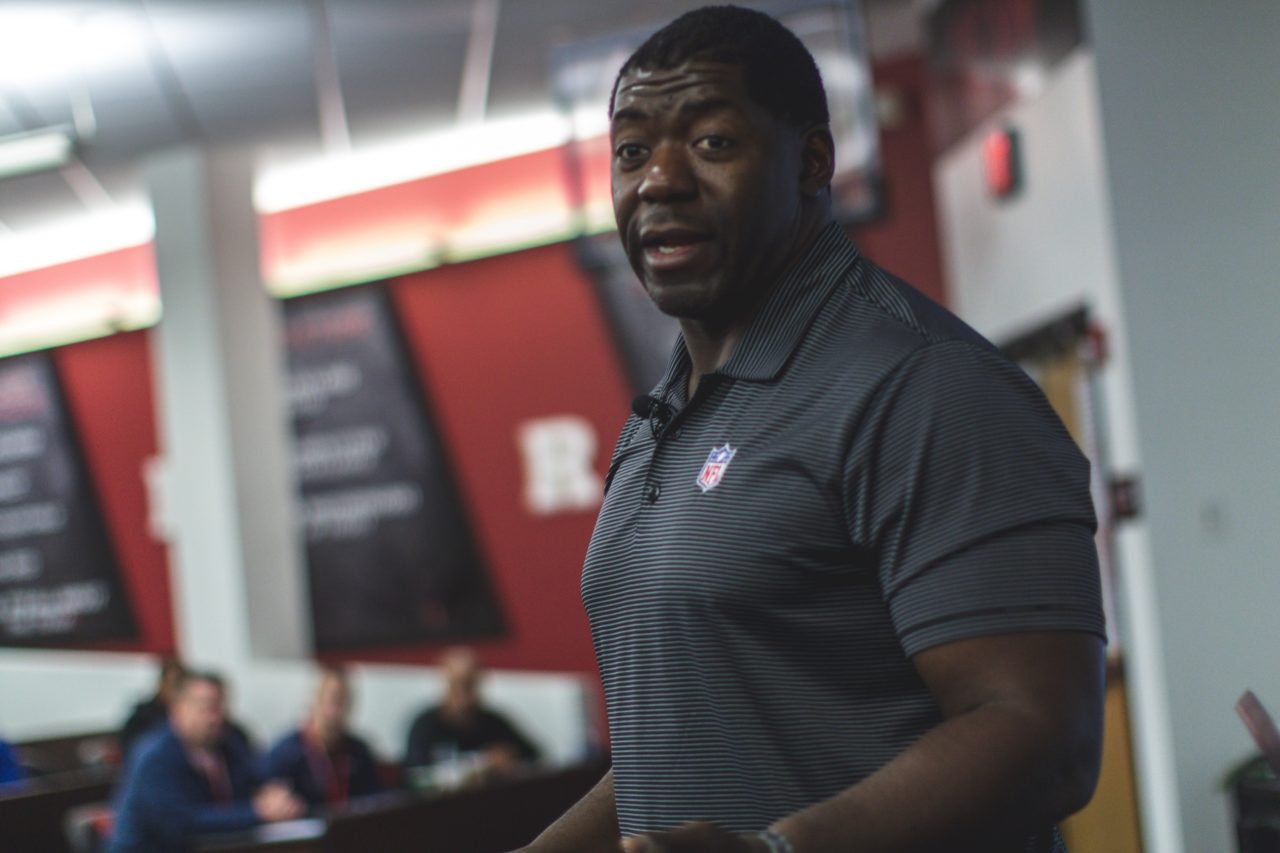 Interview by Julie Kayzerman
August 22, 2019 — Roman Oben, MPA'01 (Metro), was already pursuing a master's degree when he got drafted by the New York Giants in 1996. While he had to take some time off of classes to be in the National Football League (NFL), Oben later found a way to complete his degree through Fairleigh Dickinson University.
While playing pro football, Oben completed a Master of Public Administration through FDU's New York Giants degree-completion program, an effort spearheaded by the late Dean Emeritus Kenneth Vehrkens.
Oben played offensive tackle in the NFL for 12 years, winning Super Bowl XXXVII with the Tampa Bay Buccaneers in 2002. Upon his retirement from the NFL, Oben returned to FDU to teach sports administration classes as an adjunct professor.
We recently caught up with Oben, who now works as the vice president of Youth and High School Football Strategy for the NFL.
FDU: What do you do in your current role with the NFL?
RO: I work with all 32 NFL clubs and their markets, corporate partners and football stakeholders. I help develop programs, create standards and best practices that will ultimately drive youth football participation. I serve to cultivate a new culture, focused on placing a celebratory emphasis on current youth and high school players, coaches, parents and administrators who understand the values, ethics and commitment of football. This engages the younger demographic of players and fans, promotes player protection, and builds character and leadership principles at the youth and high school age levels.
FDU: Tell us about your experience getting your master's at FDU while playing in the NFL.
RO: I was enrolled in graduate school during the spring of my senior year at the University of Louisville. I had already completed my undergraduate studies in December 1995 with a bachelor's degree in economics and was committed to completing my master's in public administration once I got to the NFL. I took a year off when I got drafted by the Giants, but took a full load [of classes at FDU] during the spring of 1998, 1999 and 2000 and earned my Master of Public Administration in May 2001. I loved the classes, instructors and the people I met.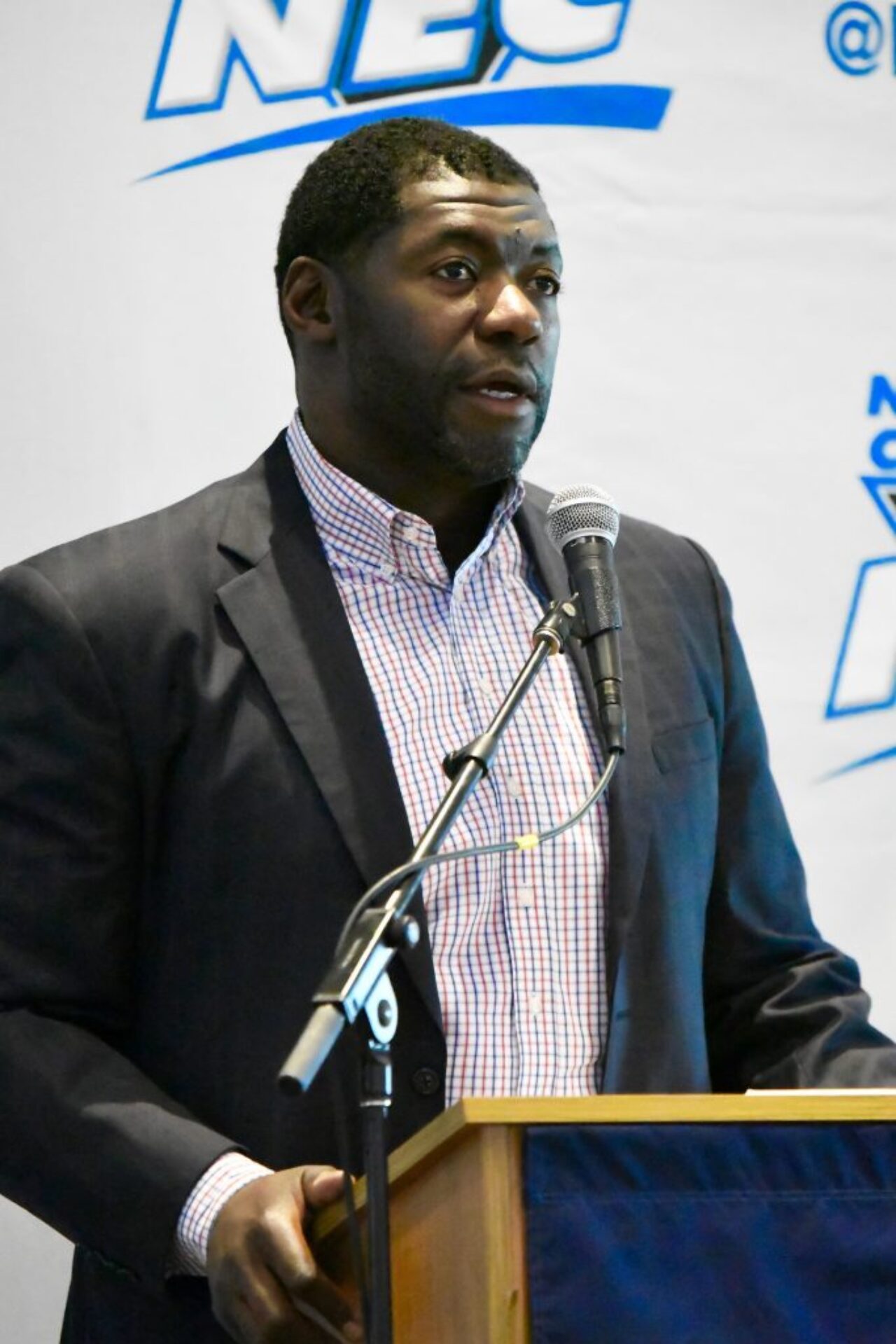 FDU: How has your master's from FDU propelled you forward in your career after football?
RO: In addition to the self-satisfaction of earning a post-secondary educational degree, completing my master's degree helped me prove to the marketplace that I was a critical thinker; at the time only two NFL players in a 10-year span had completed their master's degrees during their career. It gave me a leg up on preparing for life after football.
When I retired and moved back to northern New Jersey, I contacted Ken Vehrkens (then dean of Petrocelli College). We had lunch and he invited me to be an adjunct professor in the School of Administrative Science. I learned as much from the students as they did from me. The genesis of the skills I needed to succeed in a career in the business of sports was birthed when I took graduate courses at FDU.
FDU: Did you ever dream that you would be a Super Bowl Champion? What did that moment feel like for you?
RO: I think every kid dreams of playing in the NFL, and every NFL player dreams of holding the Lombardi Trophy on Super Bowl Sunday. It was a surreal moment and the culmination of many years of hard work. There are many players who don't get a chance to win a Super Bowl or play in the NFL, so I've never taken my unique experiences for granted.
FDU: What advice would you give to other adults thinking about going back to school for their master's degree?
RO: The job market has certainly changed over the last 18 years since I earned my master's degree, especially with the addition of online courses. It's more convenient to pursue a master's degree given the complexities of people's schedules with work and family. I say "go for it!" You will develop skills that help you meet and exceed the demands of an ever-changing workforce.