Burgundy and Blue standouts in 2018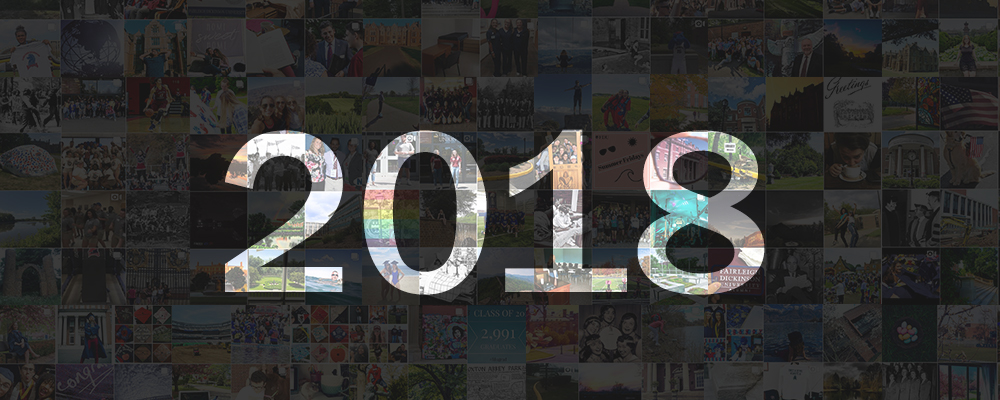 By Kenna Caprio
December 20, 2018 — It's been another banner year for Fairleigh Dickinson University. As 2018 draws to a close, let's look back at the people, milestones and moments that made FDU shine brightly this year.
FDU officially launched the public phase of its historic fundraising campaign, with a $100-million target. Priorities include increased funding for scholarships, capital projects, faculty positions, athletics and academic programs.
In the new academic model, creative writing, film and animation, graphic design, fine arts and theater arts degrees fall under the School of the Arts. Students in these disciplines will learn entrepreneurial and communication skills for use on the business side of the arts and culture industry.
FDU ranks No. 33 in Best Value Schools, No. 36 in Best Colleges for Veterans, No. 62 in Regional Universities North, No. 134 in Best Undergraduate Engineering Programs, and No. 235 in Business Programs, according to U.S. News & World Report's 2019 Best Colleges.
New Jersey Governor Phil Murphy delivered the keynote address at the Silberman College of Business golden anniversary gala. The event honored notable alumni and raised more than $600,000 to support student scholarships and academic programming.
The student center at the Florham Campus is now the Frank Santoloci Student Center, named in honor of alumnus Frank Santoloci, BS'61, MBA'65 (Ruth), and his wife Rosemary. Their generosity also initiated The Frank and Rosemary Santoloci Endowed Scholarship, which will support students with significant financial need.
In recognition of a long tradition of military support, FDU is now a Purple Heart University. The State of New Jersey Military Order of the Purple Heart bestowed the honor upon Fairleigh Dickinson University.
The Florham Campus received praise for its commitment to preserving green spaces and caring for more than 100 species of trees, with the 2018 Green Communities Achievement Award, presented by the New Jersey Forest Service, the New Jersey Community Forestry Council and the New Jersey Tree Foundation.
Foad Davani, BA'13, MAS'14 (Van), scaled Mount Kilimanjaro in Tanzania, climbing 19,341 feet in five days. After his adventure this year, he's eyeing Everest next, for a climb in 2020!
A tradition lives! The three-day Family Weekend extravaganza brought generations of families and friends to the Metropolitan Campus for Knights athletics games, a fall festival and barbecue, karaoke, and paint-and-snack sessions.
FDU's Petrocelli College of Continuing Studies is collaborating with Bergen County Technical Schools (BCTS), Teterboro, to develop an autonomous drone. The goal is to have the mini aircraft navigate a building.
To expand their cultural awareness and build international knowledge, students traveled the world, visiting Wroxton; Eastern Europe; Vancouver, Canada; Chengdu, China and beyond in 2018!
Metropolitan Campus students taking digital photography developed their visual style and upped their Instagram game through the 100-Picture Project. See their work on the semester-long project by searching hashtag #art1192.
On a Habitat for Humanity Build in Taos, N.M., over spring break, Florham Campus students mixed adobe bricks, stuccoed a house, framed a shed and poured a foundation.
Alumna Esther Wallace, BA'12 (Metro), is determined to get more young women into playing sports. She's launched her own sportswear company, and her bestselling T-shirt reads "Female athlete, judged by achievements not by gender." WNBA stars have even worn the shirts!
Alumna Priya Narang, PharmD, MS'17 (Flor), is a pediatric clinical pharmacist for Johns Hopkins Hospital, ranked No. 3 in the nation, according to U.S. News & World Report. She's training in neonatal intensive care, hematology and oncology as well as general pediatrics and pediatric ICU specialties.
Get to know Robert Denton, the groundskeeper at Wroxton College, and an avid wood carver. Denton, who has worked at Wroxton for more than 50 years, is especially known for carving ornate walking sticks. Prince Charles even owns one!
Senior citizens Elaine Hoffman and Neil Ullman met in FDU's program for lifelong learners, FILL [Florham Institute for Lifelong Learning], and fell in love. The two married on the Florham Campus this past summer.
For 18 years, Dennis Jarin, BA'12, MAS'17 (Metro), his daughter Frannie Jarin, BA'18 (Flor), and their family have brought smiles, happiness and presents to children in their community. Their nonprofit, the Toy Run Foundation, collects and distributes gifts to the needy at the holidays.