Business professor rallies FDU community to combat opioid epidemic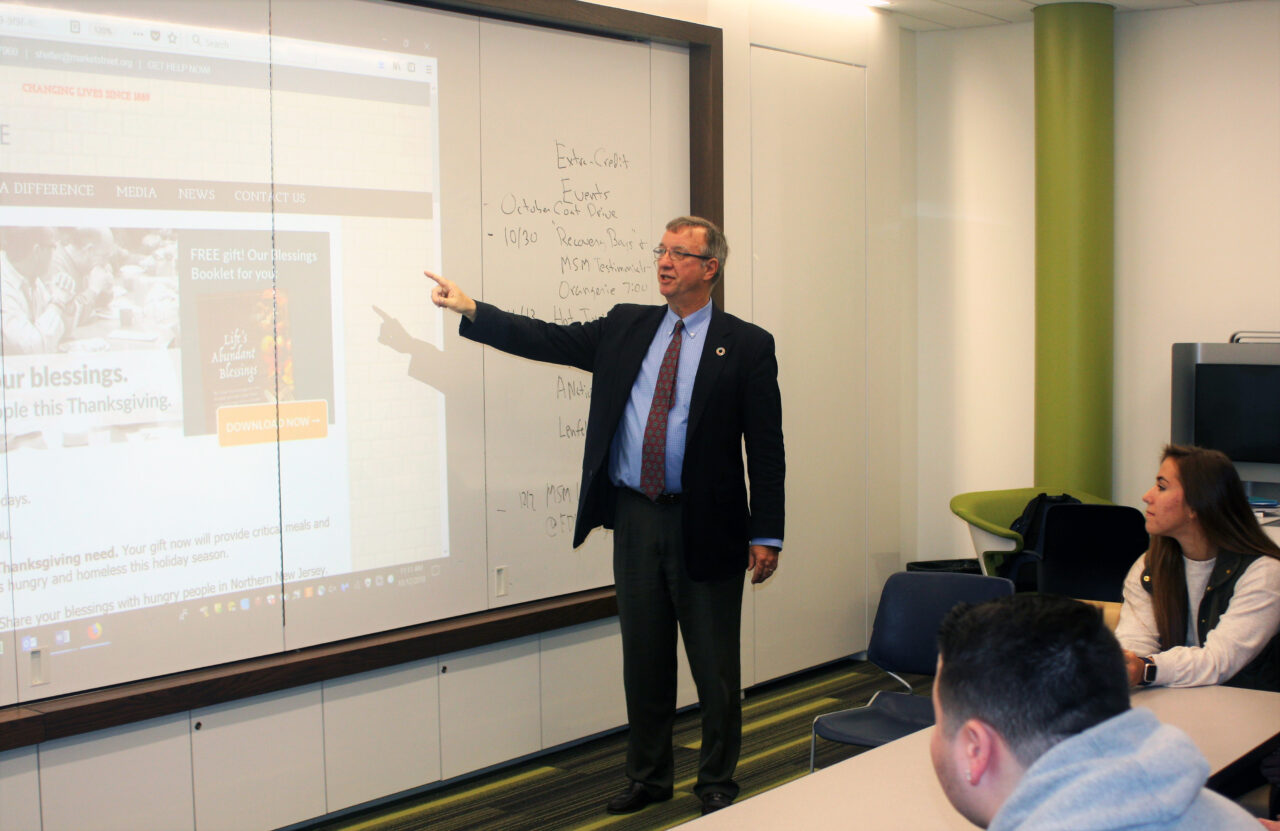 By James Neidhardt
Nov. 20, 2018— For 15 years, Gerry Cleaves worked as a professor at Fairleigh Dickinson University by day and as a local volunteer by night. Now, his two worlds are coming together as he strives to address New Jersey's growing opioid crisis.
Cleaves has seen the effects of the crisis firsthand as a board member of Morristown's Market Street Mission, a nonprofit that supports homeless alcohol and drug addicts. He's watched more and more young heroin addicts show up at the mission looking for help, over the years.
Wondering how the growing crisis might be affecting the FDU community, Cleaves, senior lecturer of management, began asking his students if they knew anyone who died of a drug overdose.
"Half the hands go up," he says. "Sometimes students are crying in class."
In fact, an average of more than eight people die of a drug overdose each day in the state of New Jersey, according to NJ.com.
Moved by the stories he heard at the mission and at FDU, Cleaves began organizing University efforts to aid the Market Street Mission and address the crisis.
For years, he's brought former addicts whose lives have been transformed by the Market Street Mission's Life Change Program to speak as guests in his classes. His students have toured and volunteered at the mission. Some have even worked on projects for the organization's thrift store and helped grow its social media presence.
"You don't really know until you see the effects," says Chris Bregna, MBA'18, PharmD'18 (Flor), a former student of Cleaves'. Now a pharmacist, Bregna handles opiates with serious care and responsibility. "I have the ability to prevent more statistics from happening."
On a final exam, Cleaves once asked his students what they learned from visiting the mission. One student wrote, "I learned there is hope. Coming from a family where drug use is prevalent, I thought being addicted was a helpless cause, but clearly not."
As the faculty advisor of Enactus, the University's award-winning social entrepreneurship student organization, Cleaves has helped students run coat drives and fundraisers for the mission.
This past October, he held a screening of the Netflix documentary "Recovery Boys" on the Florham Campus to raise awareness about drug addiction. Recently, he hosted a panel discussion on the opioid crisis alongside George Moussab, assistant executive director of Market Street Mission.
In April, men who completed the Life Change Program at the Mission took their graduation photos on the Florham Campus — a tradition that will continue. The program will hold its next graduation ceremony at the Ferguson Recreation Center on Sunday, Dec. 2.
"I thought I had a day job and a night job, but realized over time, the two jobs became God's purpose in my life," says Cleaves of his teaching and volunteering mission.