Coding her future: Sophomore Chariane Nkengfack interns at Microsoft HQ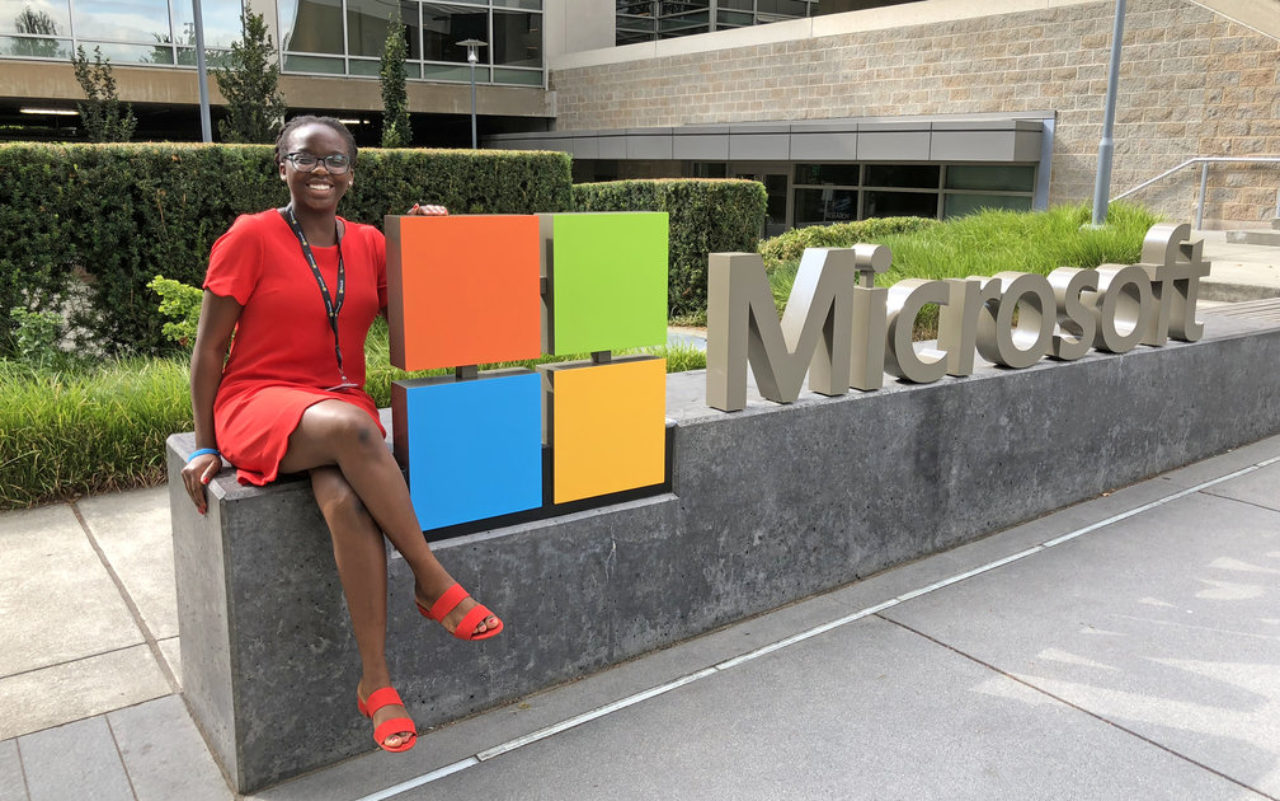 By Kenna Caprio
March 21, 2019 — Chariane Nkengfack has three goals for the summer: master Python, a computer programming language; become more acquainted with artificial intelligence technology; and explore the entire Seattle, Washington, area.
The sophomore heads back to Microsoft for a second internship in May, determined to leverage what she learned the first time around, and to launch herself firmly into the computer science and coding stratosphere.
"You don't have to know everything. You just have to be willing to know more," says Nkengfack, a Florham Campus computer science major and honors student.
The prestigious New Technologist program introduces interns to coding and networking, emphasizing presentation, communication, team building and interview skills.
"You have to adapt really quickly," she says. "You only have so much time to learn things before they move on to something new. I asked for help when I needed it and went into work early. I wanted to make a good impression."
Nkengfack was assigned to the Office365 team last year. In 2019, she'll be an Explore Intern, in a more intensive program.
"Microsoft has been around for so long. Everyone loves at least one of its products, like Xbox [a videogame system]. The company provides us with the toolkits for modern-day productivity: PowerPoint, Word and Excel as essentials," she says.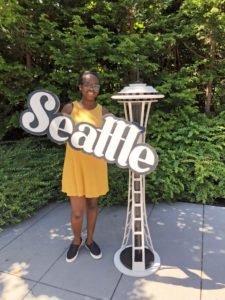 During a typical workday last summer, Nkengfack attended software development classes, completed project work, and sat in program management sessions.
Under the supervision of software development coaches, interns built practice apps to familiarize themselves with new platforms, including Swift and Xcode. Using Apple MacBooks to code iOS apps, they developed practice calculator and game apps.
Early on, supervisors divided the larger intern class into smaller groups of three to four people. Each group had to brainstorm a concept and craft a pitch to give to their mentors and supervisors at the end of the program. Nkengfack can't go into too much detail about her group's final project, because it's an idea that Microsoft now owns, but she does say it's an app aimed at college students.
"I find it so fascinating that you start with nothing and can build anything with a few lines of code. There's nothing stopping you. You can make any single thing you can think of, just by starting to type," she says.
Another important element of the internship was networking. Interns are empowered to reach out to practically any Microsoft employee to engage and ask questions. The program is also structured to allow the interns to take maximum advantage of networking; Microsoft hosted social events and seminars designed to facilitate interaction and professional development.
"The experience was invaluable; it definitely opened a lot of doors for me." Nkengfack used her networking opportunities to learn more about other teams she's interested in — specifically, augmented reality, artificial intelligence, facial recognition and machine learning.
Arriving at FDU, Nkengfack already had a working knowledge of "computer architecture and infrastructure." In high school, at the Academy for Information Technology, part of the Union County Vocational-Technical School, she broke down and rebuilt computers, put together wiring and learned multiple program languages, like HTML, Java, CSS and Python. Her father, a part-time computer specialist from Cameroon, encouraged her path in technology.
Her FDU professors — Kiron Sharma, professor of computer science, and Laila Khreisat, professor of computer science and chair of the mathematics, computer science and physics department at the Florham Campus — proved to be a valuable support system as Nkengfack navigated Microsoft. They prepped Nkengfack before the internship and provided check-ins and guidance along the way. 
With the intention to graduate early, Nkengfack is eyeing up her thesis, which she plans to write on the health benefits of facial recognition. The idea is that a user can open an app on their phone, allow it to scan their face and then receive health information and alerts, based on their appearance. Nkengfack says she'll use her Microsoft connections to meet more employees working on artificial intelligence and facial recognition this summer, with the expectation that new relationships and conversations will inform her work.
"I set goals and once I achieve them, I'm creating new goals. I'm too much of a go-getter to just be content," she says.