Commencement, a crowning achievement for the Class of 2021 and the Class of 2020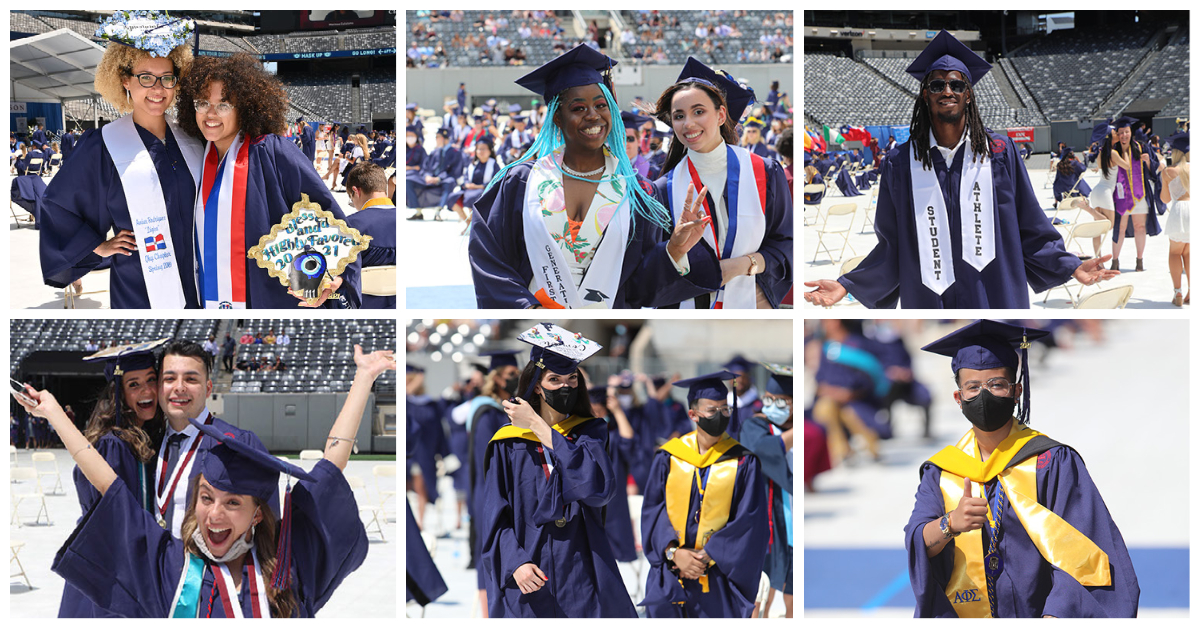 May 19, 2021 — Double the celebrations, double the graduates, double the pride! 
Fairleigh Dickinson University celebrated the Class of 2021 and the Class of 2020 at the University's annual Commencement. Ceremonies were held at MetLife Stadium in East Rutherford, N.J., over two days — Tuesday, May 18 and Wednesday, May 19.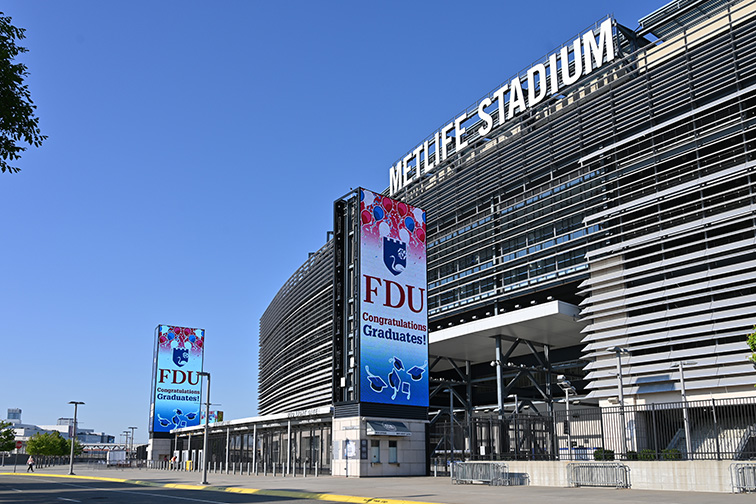 The four ceremonies — broken down by class year and also college — were broadcast live on the web, allowing family and friends around the world to share in the occasion with their graduates.
Student Pinnacle Award recipients Lillian Maltese, representing the Metropolitan Campus; and Emmaline Stoddard, representing the Florham Campus, addressed the graduates, offering best wishes and well-earned praise.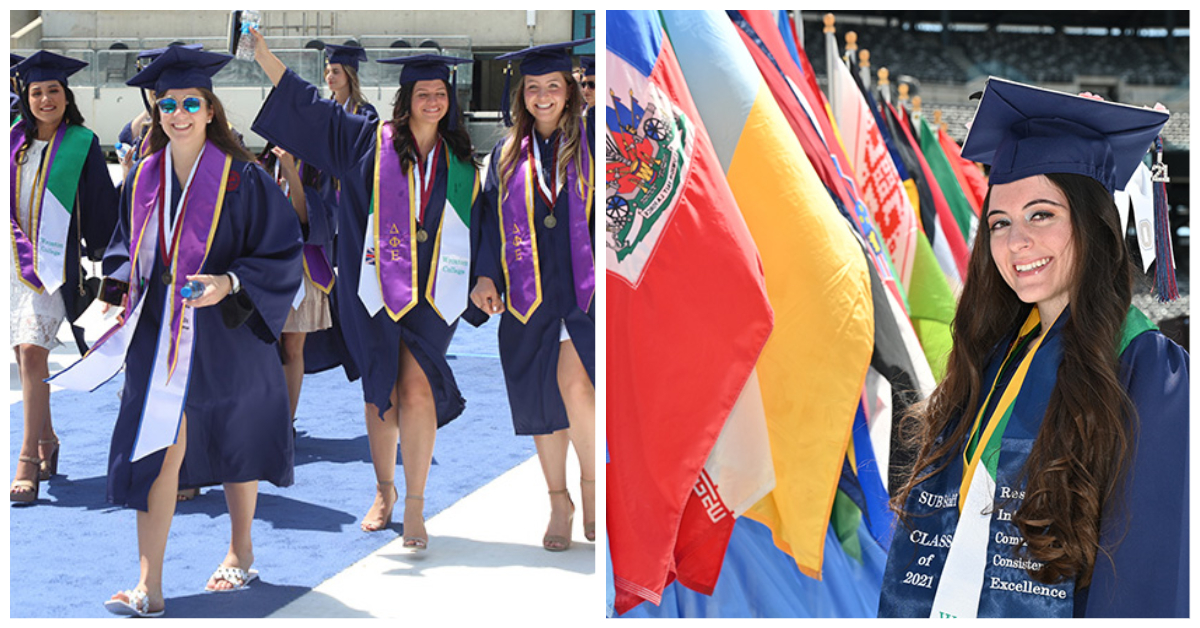 "I am thankful that FDU has pushed me to grow, to mature, and to change, both personally and professionally; to become a better version of myself. To the Class of 2021 and my fellow Knights and Devils … I wish you all lifelong success and continued growth. Take advantage of the opportunities that come your way and know that you can always lean on the community that you have here at FDU," said Maltese.
"I know all of you are going to do amazing things and I can't wait to see what they are. Congratulations, Class of 2021. You got this!" said Stoddard.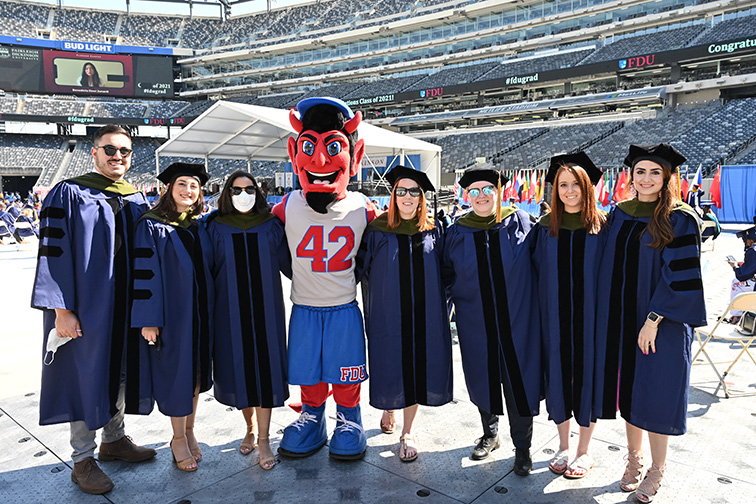 Ces Anthony Torillo Plaras, the Vancouver Campus graduate honored with the Student Pinnacle Award, spoke earlier at that campus's virtual ceremony on May 6.
Sarah Kearsley, the graduate speaker, reminded her fellow grads of all their hard work in the face of uncertain times.
"Whether we are still living with our parents or whether we have children of our own — one thing we all share is the determination to keep moving forward and to not let anything, not even a global pandemic, get in the way of achieving our goals," said Kearsley.
Two of last year's Student Pinnacle Award recipients Joshua Germain, BS'20 (Metro), and Alisa Whitmore, BA'20 (Flor), also spoke at their ceremony.
Hollywood producer Richard Baratta (executive producer Joker, The Irishman) delivered a Commencement address at each ceremony, and received an honorary Doctor of Fine Arts. A talented jazz musician as well, Baratta now focuses heavily on his musical career.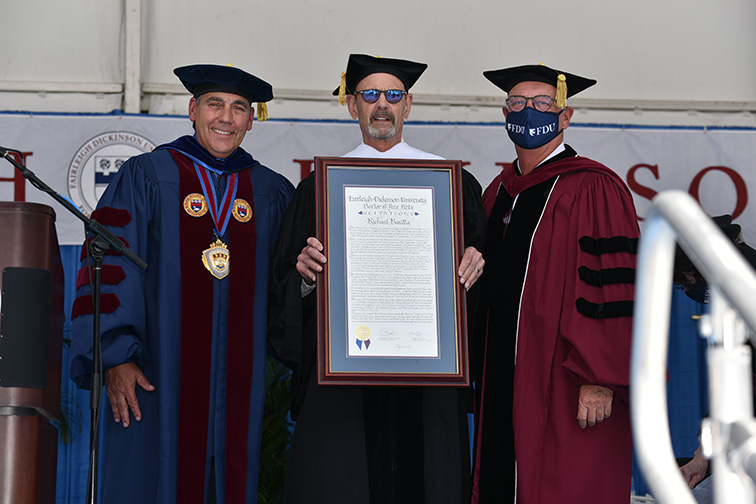 "Your generation has lofty goals to attain. Use your FDU education to the fullest. Fight for a seat at the head of the table. There's almost nothing that you can't do if you just commit to it. Don't do things solely for money, fame or status, do something because you love it. The best job doesn't feel like a job, it feels like a calling," advised Baratta. "You have the power to change the world. Now get to work."
University President Christopher Capuano concluded the historic in-person celebrations with words of wisdom, inspiration and congratulations.
"May you always display patience and fortitude. May you learn from the past, may you live enthusiastically in the present, and may you enjoy a wonderful future," he said.
Commencement Videos: Click here to access videos for each commencement ceremony.