September 15, 2022 — Convocation, an annual event, heralds the start of a new school year, and formally recognizes faculty and staff achievements while welcoming new faculty to the University community.
This year, 37 new faculty members joined FDU. College deans and school directors introduced their respective new additions to the University community. The event also recognized newly tenured faculty.
Michael Avaltroni, University provost and senior vice president for academic affairs, delivered the keynote speech and presided over the ceremony.
Keynote address
Avaltroni went "Back to Basics" in his speech, addressing the serious challenges that higher education faces today, and how FDU can cope and adapt to better serve today's students. He told the audience that FDU needs to continue "to provide opportunity by meeting learners where they are, transform their lives with personalized experiences and provide them the opportunity to see and experience a world beyond their own, opening doors to opportunities for upward social mobility…"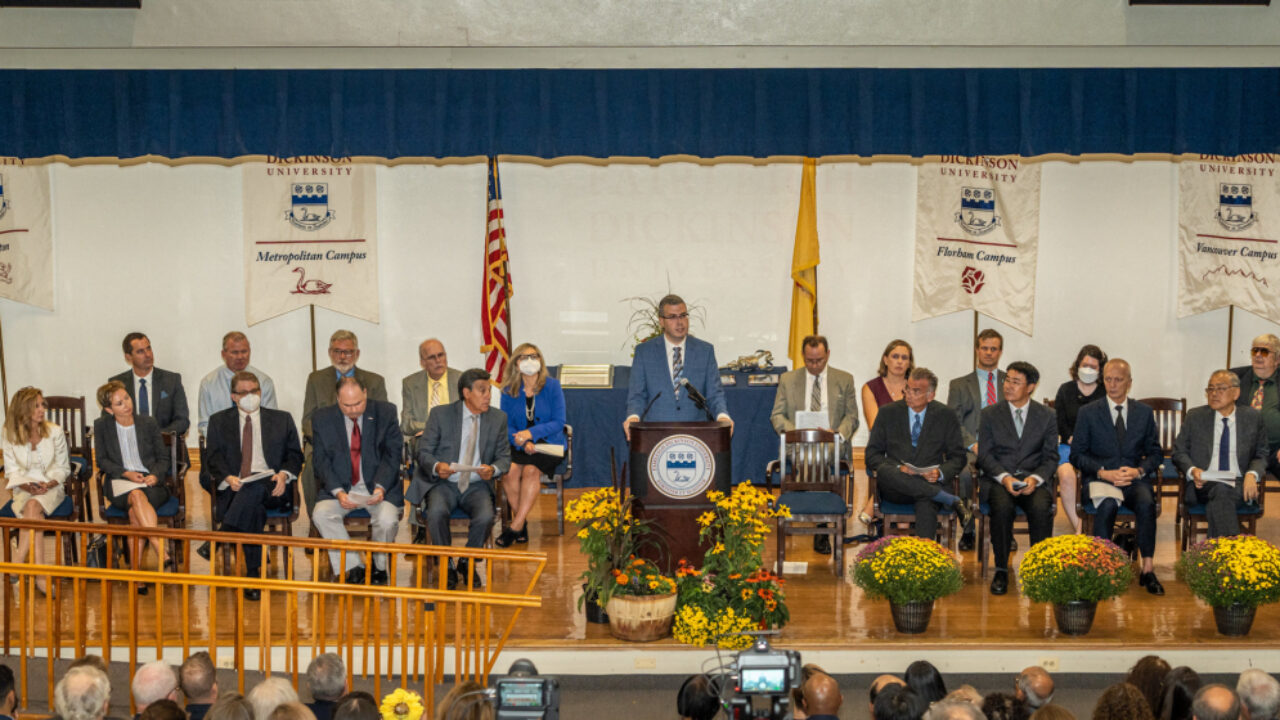 Convocation Keynote
Some of the higher-education hurdles Avaltroni mentioned include: declining enrollment, shifting demographics and continued debate over the value of a college degree. He also said the impact of COVID-19 has hampered the development of college-age students and affected their mental health.
As students face these challenges he said, "they will need academic, social and emotional support to keep them on path when everything seems too big to overcome. This is where we shine. This is what we do, because it's what we've always done. It is our institution's legacy, and it will be our greatest asset, and it will be the very story we tell students that says, 'you belong at FDU.' At a time when everything is changing, the need for support, guidance and an educational mentor willing to take students on an academic journey is alive, well and more needed than ever. And it is the core of our institutional history."
Distinguished Faculty
Every year three faculty members are honored for their contributions in the areas of research and scholarship, teaching, and service. 
This year's honorees were Judy Moonelis, professor of fine arts and studio arts, Distinguished Faculty Award for Research and Scholarship; Shreya Patel, professor of pharmacy practice, Distinguished Faculty Award for Teaching; and, Kalyan Mondal, professor of electrical engineering, Distinguished Faculty Award for Service.
Benjamin Rifkin, dean of the Maxwell Becton College of Arts and Sciences; Anastasia Rivkin, dean of the School of Pharmacy and Health Sciences; and Alfredo Tan, director of the Lee Gildart and Oswald Haase School of Computer Sciences and Engineering; presented the faculty awards.
Pillars of FDU
The University also honored two staff members for their outstanding contributions to FDU, and in recognition of their years of service.
Robert Pignatello, senior vice president for University operations, presented the Pillar Awards to Dawn Grasso, assistant director of financial aid at the Metropolitan Campus, and Louise Wilbon, a senior enrollment services clerk at the Florham Campus.