Design contest celebrates 'Pets By the Sea' in Asbury Park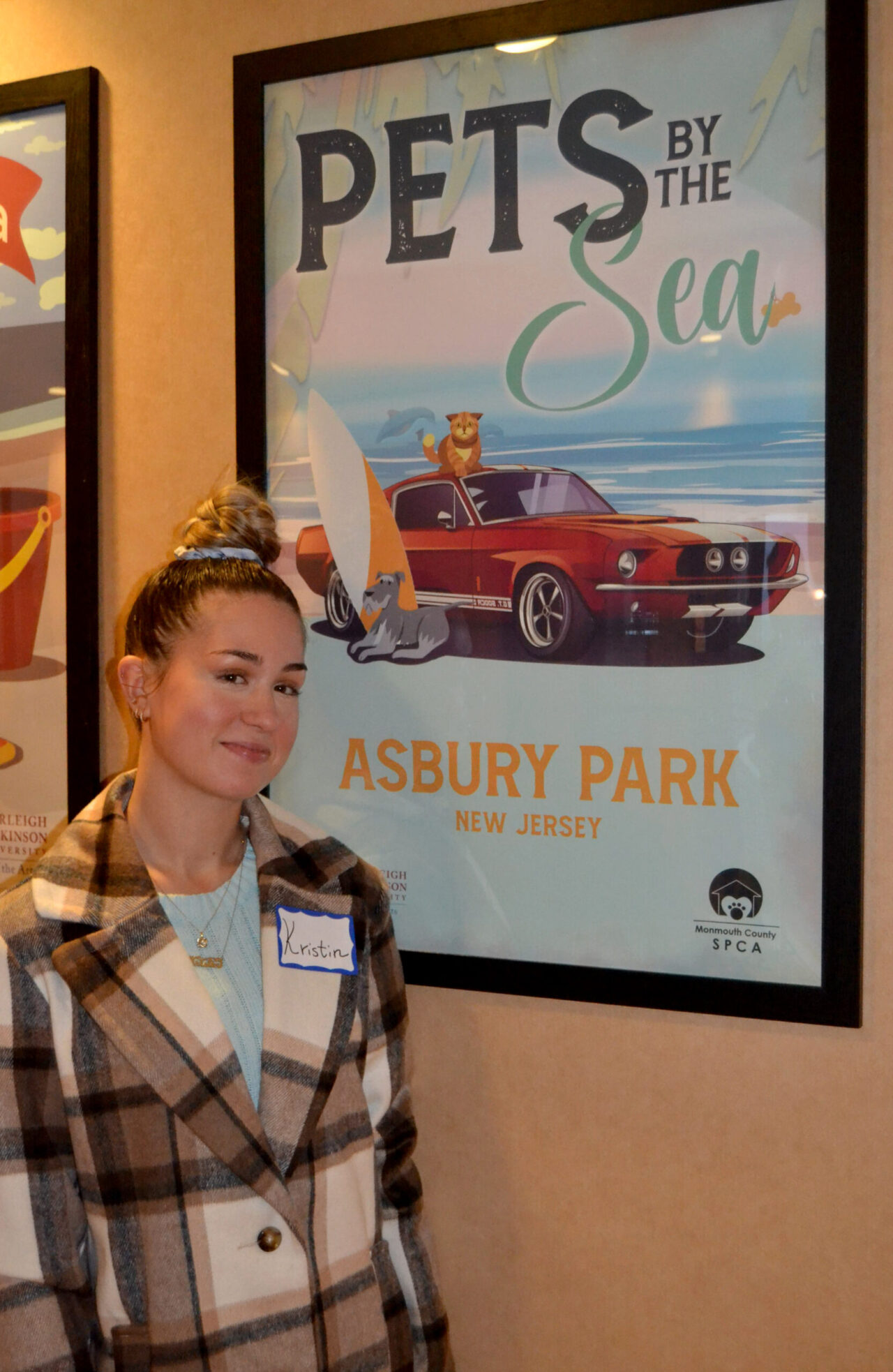 By Rebecca Maxon
December 9, 2022 — Fairleigh Dickinson University's School of the Arts; the North Beach Condominium Association in Asbury Park, N.J.; and the Monmouth County SPCA (MCSPCA) sponsored an art exhibit by FDU students based on the theme "Pets By the Sea."
"In the spirit of the FDU School of the Arts' motto, 'training grounded in a real-world framework,' our students simultaneously helped promote tourism in the Asbury Park region and raise awareness and funding animal welfare," said Todd Rosen, director of the School of the Arts. "Their artistic work truly captured the special qualities that make Asbury Park so special for residents, visitors and their pets."
The first-place winner, Kristin Martins, was displayed at Asbury Park's world-famous Wonder Bar, while runner-up Gina Vaccaro received a $100 gift card for the FDU bookstore. All participating artists received FDU School of the Arts T-shirts.
"This was a very successful collaboration that gave our talented students an opportunity to be creative and support an important community need," said Robert Pignatello, senior vice president for University operations, who helped organize the event. "They really did some incredible work."
A committee representing FDU, residents of the North Beach Condominium Association and the MCSPCA judged the contest. Out of 23 entries, the top 15 were selected for display in a busy common area of the North Beach Condominium complex.
"Thank you to the FDU art students for choosing the MCSPCA to benefit from this fundraiser," said Barbara Lovell, associate executive director of the organization.
Reprints of the exhibited posters are available to support the MCSPCA. View the posters at https://fdudesign.com/PETS/index.html to choose a reprint. A $100 gift qualifies for a 24 x 36-inch poster, and a $50 donation qualifies for a 12 x 18-inch poster. Go here to donate, then email arts@fdu.edu with your full name, mailing address, donation receipt and poster selection.