Former FDU Knights bowler makes mark on professional tour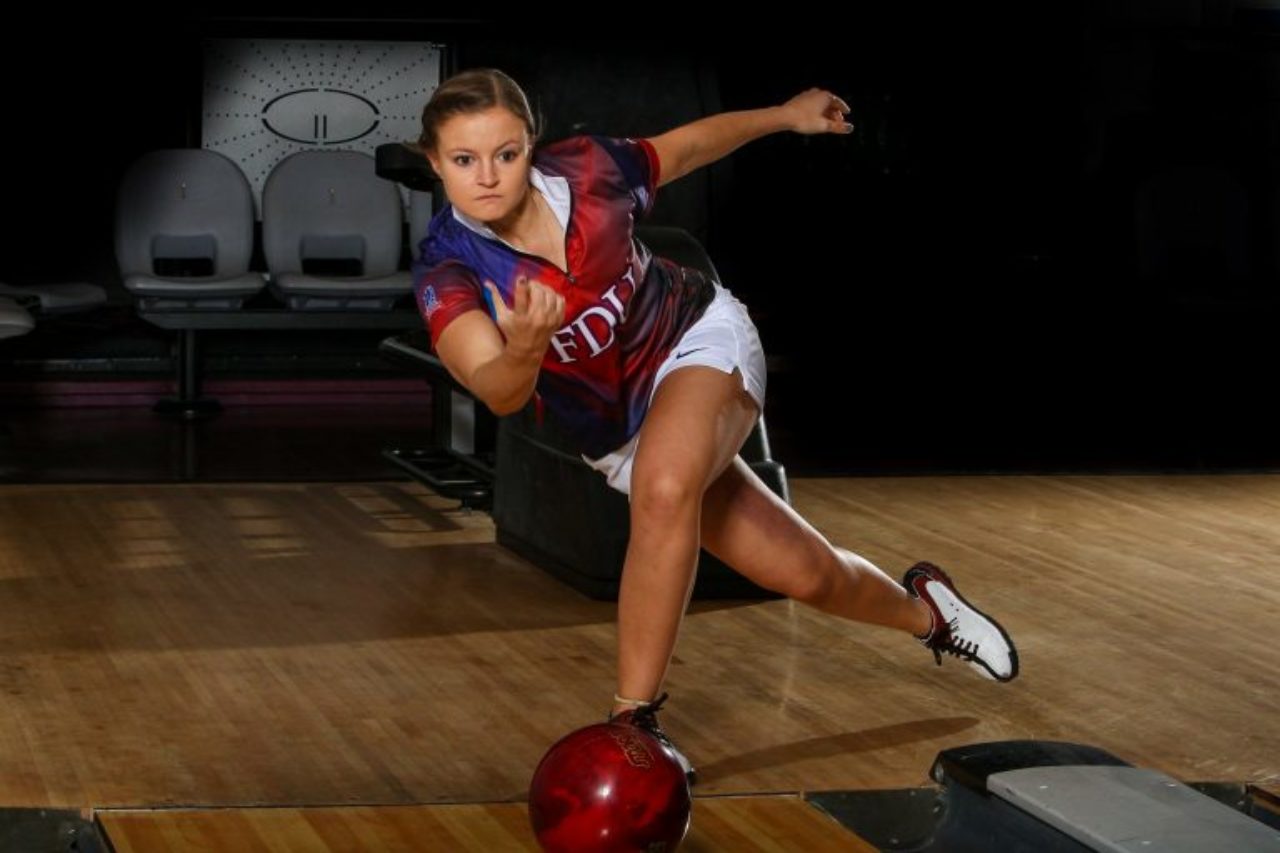 July 6, 2018 — For graduate student Karsyn Lukosius, bowling runs in her blood.
With two parents heavily involved in the sport, she started playing in local leagues at age eight.
Now the Brick, N.J., native finds herself on the Professional Women's Bowling Association Tour (PWBA) following a decorated career in the Division I program at Fairleigh Dickinson University's Metropolitan Campus.
"The PWBA experience is truly amazing," Lukosius says. "I have learned so much that is going to mentally and physically prepare me for the possibility of becoming a full-time member, starting next year after graduate school."
Lukosius graduated with a bachelor's degree in sports administration from FDU this past May and will return for her master's in the same subject this fall.
In just her second-ever appearance on the PWBA Tour, Lukosius advanced through to the Cashers Round — which took the top 32 bowlers of the 110 competing at the Greater Harrisburg Open in June.
"The constant practices and workouts (at FDU) helped to develop a work ethic within me that I can use from here on out," she says. "Especially bowling on the Division I level, the training has helped shape me into becoming more invested in the sport. Two NEC championship titles and two NCAA championship appearances have helped me understand the importance of winning and what it feels like to succeed."
Lukosius' success is no surprise to Knights head coach Mike LoPresti, who remains impressed by her undeniable discipline and determination. Having coached Lukosius to become one of the top NCAA bowlers in the country, LoPresti says the PWBA is a challenge that she is equipped to handle thanks to her hard work, sacrifice and preparedness.
"Above all, her passion to compete, eagerness to learn and her ability to handle adversity creates a foundation that will bring success," LoPresti says.
Lukosius had a standout career with the Knights, earning four NTCA All-American accolades. She became just the fourth bowler in FDU's program history to be named Northeast Conference Bowler of the Year and also picked up the NEC Scholar-Athlete of the Year award during her senior campaign. Lukosius was part of two NEC tournament championships and two NCAA appearances with the Knights during her freshman and junior seasons.
"I never realized how competitive this sport can be until my team and I won states during my freshman year of high school," she says. "From that moment on, I was invested in winning. I was even more determined to bring more success upon myself and the ones around me."
Bowling bonds her family together. Lukosius's mother coached her at Brick Township High School and she could rely on expertise from her father, a former professional bowler.
"I'm extremely grateful for the opportunity to have been coached by my mom throughout my four years of high school," Lukosius says. "Having your coach, mom and mentor all in one by your side is an experience I'll never forget."
After helping her high school win four-straight state titles, Lukosius took her talents to FDU where she stunned as an NTCA All-America Honorable Mention, an NEC All-Rookie Team Member and a seven-time NEC Rookie of the Week during her debut season.
Still, there was one thing missing — the PWBA ceased operations in 2003, leaving Lukosius with no opportunity for a professional run in the sport after her collegiate career.
But, as fate would have it, the PWBA re-launched in 2015, just after Lukosius' freshman year had concluded.
"I remember being extremely excited because I knew I would possibly have the opportunity to bowl professionally in the near future," she says.
Lukosius certainly didn't let the opportunity pass her by.
"The atmosphere, the different nationalities competing and the goal of winning is what makes me strive to be better," she says. "I never thought my success on tour would come so quick, but hard work and dedication to a sport you love can help tremendously."