From FDU to the White House: Alumnus interns in the nation's capital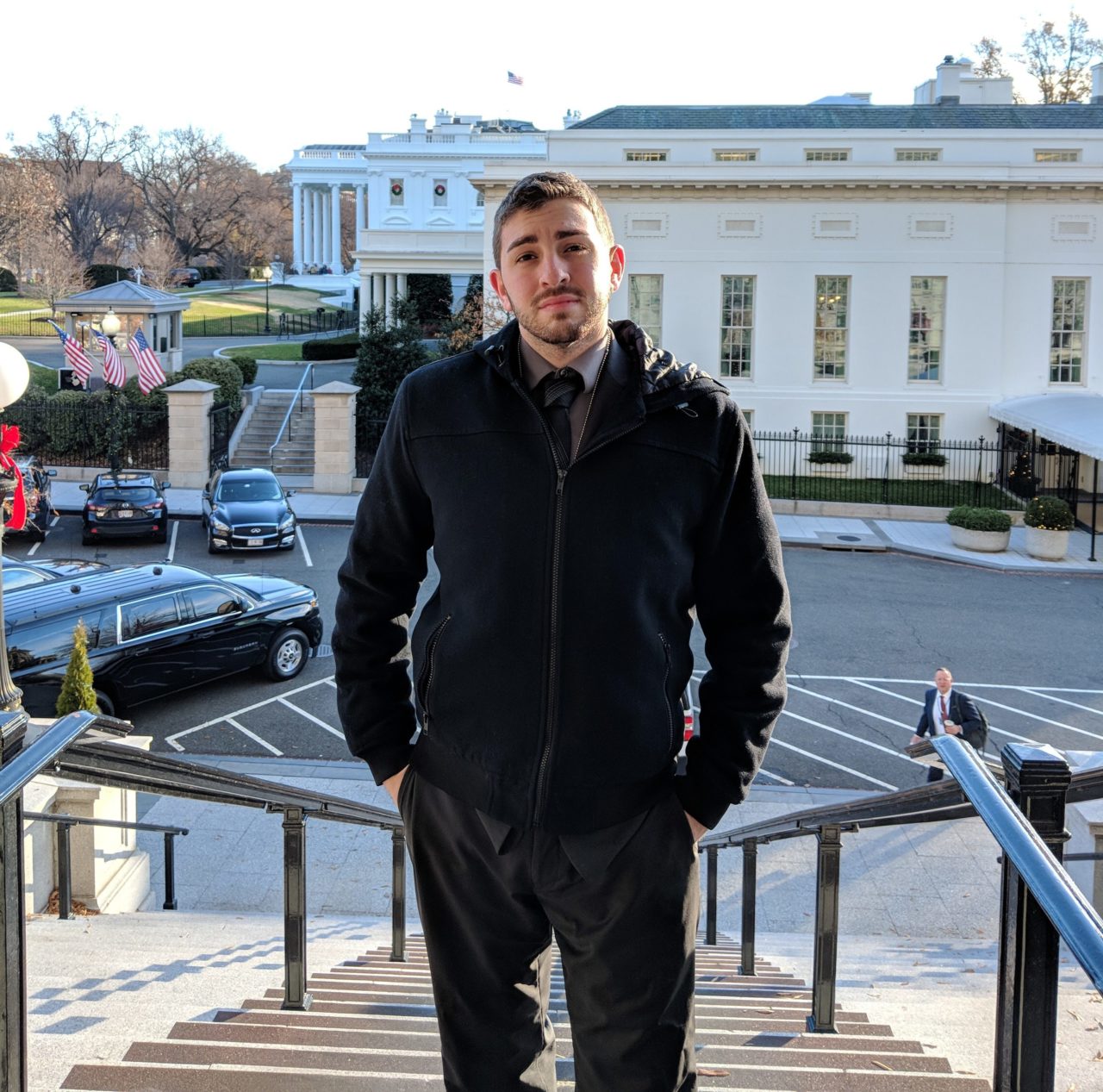 By Athena Zinn
April 26, 2019 — Not many college students can say that they once worked at the White House. But FDU alumnus Mark Myers, BA'17 (Flor), can since taking part in the White House Internship Program last fall.
Myers, who studied political science at FDU and is now pursuing a master's degree at Rider University in homeland security, was assigned to the Domestic Policy Council within the program. This council provides guidance to the president.
"An internship at the White House was the perfect opportunity to see how agencies interact with each other and how new guidelines are proposed," says Myers. "It was an ideal match for my career path, and it was a valuable learning experience."
Myers had a full schedule at his internship filled with meetings, presentations and project research. A lot of his research and projects revolved around important national concerns including immigration, veterans affairs and healthcare. Students in the internship program were also required to volunteer, which surprised Myers, who appreciated the "emphasis on giving back to the community and making a difference."
Bonding with fellow interns and working in groups allowed Myers to understand the decisions, tasks and processes that go on within the Domestic Policy Council every day.
"I got to see how the federal government interacts with state governments and reaches people in the community and how, overall, government is meant to improve people's lives," he says.
Back from his experience, Myers is finishing up his final semester in the master's program and is specifically interested in the field of emergency management, particularly at the federal level.
"My plans moving forward would be to work for the federal government and be able to utilize what I have learned to make a difference in America's public security and health. My goal would be to mitigate damages from disasters and aid in cleaning up afterwards. Whether that agency is the Federal Emergency Management Agency (FEMA), the United States Department of Homeland Security (DHS), the United States Department of Defense (DOD) and so forth remains to be seen," says Myers.
Myers credits his internship experience with allowing him to develop a better understanding of the way the United States government functions on a day-to-day basis in the nation's capital.
"I think the most important thing I've taken away from this internship is the idea that there's always something else to learn, and that one person can make a difference — we will never hold all the answers, and there are always new problems to be solved," says Myers. "The best way to ensure a brighter tomorrow is to learn all that we can today; the more we know, the better we can prepare for what comes next."
Myers feels like he contributed to history by interning at the White House and knows he'll value the opportunity for the rest of his life.
"If you get the chance to intern at the White House, I would highly encourage you to take it," says Myers. "It can seem a bit daunting at first, but it's a learning experience like no other."