From the classroom to the laboratory and back!
By Alex Molini
August 8, 2022 — Bushra Tahhan, BS'20 (Metro), is completing her master's degree in cosmetic science. Since April, she's been working a full-time position with Johnson & Johnson as a chemist in the Raw Material Center.
"I'd been applying to Johnson & Johnson since 2018. It's a really big company, so I knew it would be hard to get in, but I knew one day I would make it," she says. "I just kept applying and in February 2022, I saw they were looking for a chemist in formulation, so I sent out an application and got an interview. Not long after that, I was hired!"
Tahhan became interested in cosmetic sciences when she heard about FDU's combined degree program her junior year. "I always knew that I wanted to help people in some way," Tahhan says.
"When I found out about the cosmetic science program, I was interested because through working with cosmetics I can help people feel better about how they look and help give them the confidence they need."
Ever since she started the program, she's been impressed with all the faculty. "The professors who teach in the program are part of the field, just like I am. They're working in the morning and then they come teach at night. There are professors who work at Unilever, Revlon and Coty; it's amazing to see where this degree has taken them."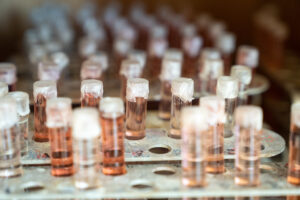 Working in the field while pursuing her degree puts Tahhan in an interesting position — she's using everything she learns right away.
"Everything that I'm learning in my master's program I'm actively using in my job," she explains. "I'm being taught about the different kinds of materials and then I get to handle them while at my job. Being able to create products that I use myself is a dream come true. I like using makeup and skincare products; now I get to see how it's all made. I get to see all of the ingredients come together and then see it on the shelf as a consumer, it's a really incredible experience."