'History, the Past, and Public Culture': A public-opinion survey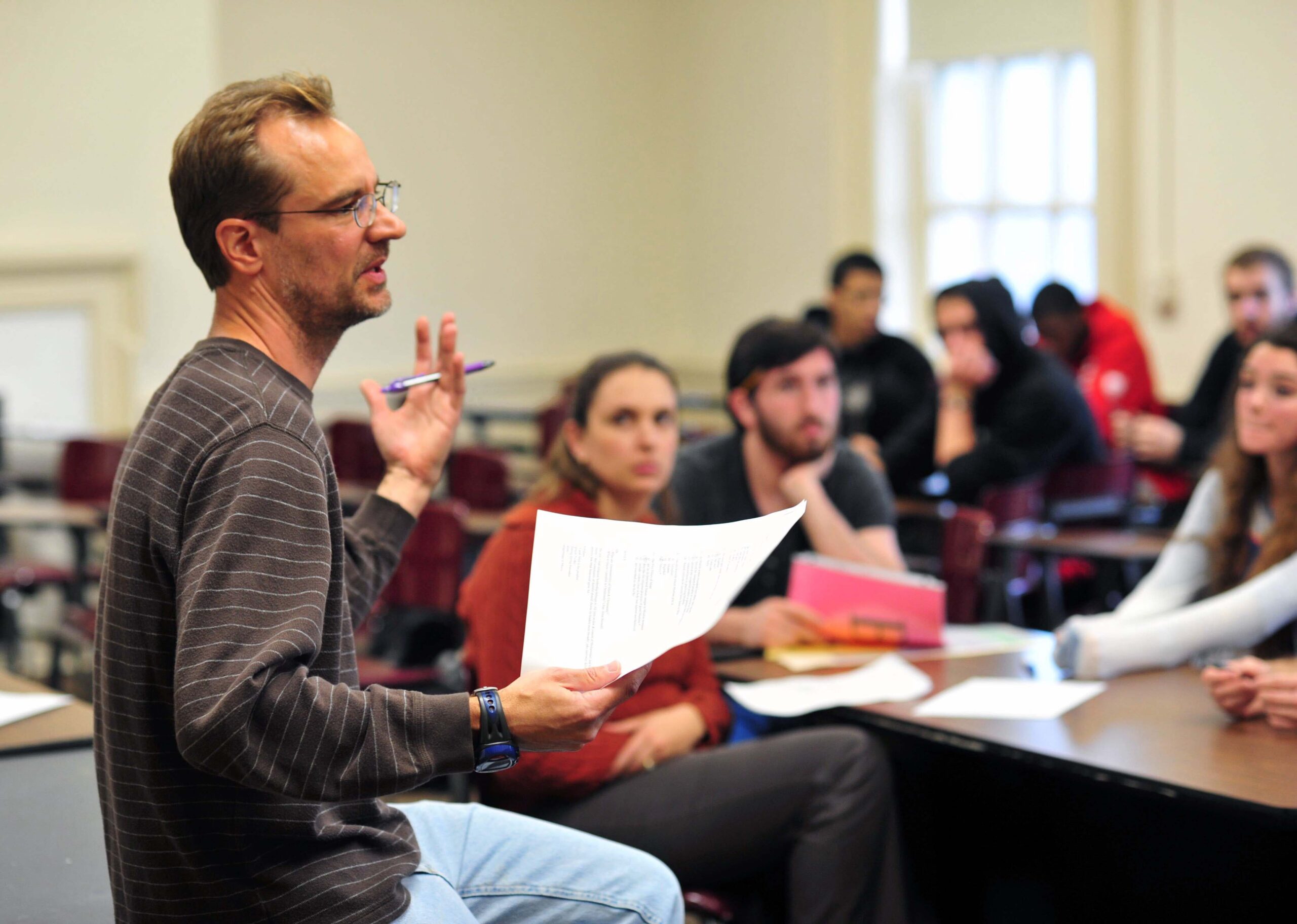 By Rebecca Maxon
February 15, 2022 — The results are in! After taking America's historical pulse for the first time since 1998, Professor of History Pete Burkholder found some surprising and not-so-surprising results on how the American public views teaching and learning history.
Burkholder is co-director of "History, the Past, and Public Culture," a national public-opinion survey on teaching and learning history — a collaboration between the American Historical Association (AHA) and Fairleigh Dickinson University, funded by a National Endowment for the Humanities (NEH) grant.
"Our recent national survey of people's understanding and uses of the past gives voice to the unheard masses," write Burkholder and his co-author Dana Schafer, deputy director of the AHA.
At a January 2018 conference in Washington, D.C., Krista Jenkins, former director of the FDU Poll, and Burkholder pitched the project to an NEH funding representative. Partnering with the AHA and acquiring seed money from the FDU Provost's Office showed support for the project, which helped lead to securing the NEH funding.
"The poll reveals the tensions of a nation riven by racist violence and political anxieties. Yet, those same results are reason for optimism, revealing commonality and paths forward for a divided nation."
— Pete Burkholder
The results of the national survey of 1,816 adults show that two-thirds of respondents consider history to be little more than an assemblage of names, dates and events. This is not surprising, based on how respondents remember their high school, and even college history classes, as rote memorization of facts and dates. This stands in contrast with how historians see the field — as offering explanations about the past. "The names and dates approach rarely moves students into historical thinking skills that are the basis for a deeper understanding of history," says Burkholder.
Instead of looking at history as facts, historians look to actually explain the past. And viewing history as inquiry is the preferred method among historians, even if the field often isn't taught that way. "At the college level, we need to be moving students away from just knowing things and toward truly understanding them," Burkholder says. "Our findings offer a possible path out of the history wars by changing the focus from what set of facts is taught to how the past is taught."
There was a relatively even split among all respondents on whether history should celebrate or question the nation's past, with 47 percent believing history should question America's past, while 53 percent think the field should celebrate it. A great consensus — more than 75 percent — think that it is acceptable to make learners uncomfortable by teaching about the harm some people have done to others.
Teaching students about the Holocaust is one example, but respondents believe other historical events and populations, including women, racial/ethnic minorities and the LGBTQ+ community need more inclusion and attention in history curricula.
"Let me point out that the survey asked for the public's perception of whether certain topics need more attention, which may or may not correlate with the actual attention they get from historians," cautions Burkholder. But when it comes to disputed or even painful history, he says, the polling data are clear. "Our findings point toward the public's appetite for embracing controversy as opposed to legislating it out of existence."
Another key finding concerns where the public gets its historical information, juxtaposed with the perceived trustworthiness of those sources, says Burkholder. Respondents reported that documentaries, fictional films and TV news are their main sources of historical information. Yet, these same people viewed fictional films and TV news with skepticism. The public thus admits turning most often to historical sources it perceives as untrustworthy.
When it comes to preferences for how to learn about the past, 64 percent of respondents indicate they want an unmediated experience, such as directly consulting historical documents and artifacts. Only 36 percent prefer obtaining information secondhand from an expert. And nearly three-fourths of those polled believe they learn better when history is presented as entertainment.
"But do respondents really want to struggle with the opacity of primary sources? Do they actually learn more in entertaining vs. non-entertaining environments?" Burkholder asks. "We'd have to directly observe and measure those things to know."
Spanning age groups, genders, education levels, races and ethnicities, political-party affiliations and regions of the country, 84 percent of respondents agree that history education is essential, relative to fields such as engineering and business. The study of history as understanding does provide universally transferrable skills such as "gauging the validity of information, reading sources for implicit bias, wrestling with conflicting explanations and expressing ideas clearly and fairly," Burkholder says.
"We need to teach history as a way of thinking about the past," he continues. "This involves asking good questions, embracing the ambiguity of primary sources and evaluating evidence-based interpretations of past events."
Pete Burkholder is professor of history in the Maxwell Becton College of Arts and Sciences. Trained as a pre-modernist, he has taught at FDU since 2005. He received FDU's Distinguished Faculty Award for Teaching in 2013, the Distinguished Faculty Award for Research and Scholarship in 2020 and the Becton College Teacher of the Year Award in 2009. In 2015, he was honored by the American Historical Association with the William and Edwyna Gilbert Award for the best article on teaching history.