Meet the new faculty in the Gildart Haase School of Computer Sciences and Engineering
This academic year, across multiple disciplines and schools, more than 20 new faculty members joined the University. A warm welcome to the new faculty member in the Gildart Haase School of Computer Sciences and Engineering!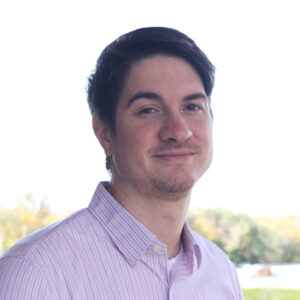 FDU: What does a typical day look like for you?
Christopher Stubbs: A typical day starts with an iced coffee and a short commute down River Road along the Hackensack River. Once I get to campus, I get started working in my office but always leave the door open so students can stop by with questions, concerns, or sometimes just to say "Hi!" Then I take a nice walk through campus to get to class in Becton Hall, either upstairs in the classrooms or down in the machine shop.
FDU: If you could go back in time and tell yourself one thing, what would it be?
CS: I would tell myself to get more involved in undergraduate student organizations! Engineering groups like ASME (the American Society of Mechanical Engineers) and MCAA (the Mechanical Contractors Association of America) are an excellent way to see what being a "real-world" engineer is like, and gives students an amazing opportunity to interact with professional engineers. It's great for getting a job right out of school.
FDU: What excites you most about your research?
CS: What excites me most about my research is that the same equations and engineering techniques that are used to design bridges, cars, spaceships, or submarines, can also be used to design stronger crops like corn and wheat! The idea of working with plant geneticists to actively design plants to be more resilient during storms is something that I don't think most students would think of as a typical engineering profession, but the skills engineers learn let us tackle a huge array of unique and interesting problems across so many disciplines.
FDU: What brought you to FDU?
CS: I think three things brought me here. First, the emphasis on personalized undergraduate education is something I'm really passionate about. The relatively small class sizes and the push for hands-on experience is really helpful in developing engineering intuition about what we learn in the classroom. Second, when I learned that the mechanical engineering program was relatively new, I was eager to get on board and help the great faculty here develop it further. Lastly, northern New Jersey is a great place to live, situated right between an amazing city and some of the most beautiful hiking, climbing, and fishing in the Northeast!