Meet the new faculty in the School of Pharmacy and Health Sciences
This academic year, across multiple disciplines and schools, more than 20 new faculty members joined the University. Let's welcome the seven new professors teaching in the School of Pharmacy and Health Sciences!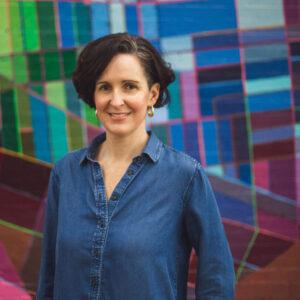 FDU: What's one thing on your bucket list?
Andrea Cole: I recently completed an Ancestry DNA test and found out I am nearly 50% Irish. While one side of my family identifies as Irish immigrants, I was nevertheless surprised to find so much of my DNA can be traced back to Ireland. I have never been to Ireland and would really like to visit at some point in the next few years. I would especially like to visit Munster, a southern province, where my extended family is from.
FDU: What has surprised you in your research?
AC: My research focuses broadly on youth and young adult mental health, and more specifically on young adult experiences with community violence and resulting trauma symptoms. One finding that surprised me is how resilient young people are in the face of significant trauma and how much they value and identify with the neighborhood they have grown up in. Many of the youth I've interviewed have reported appreciating the diversity and strength of their community despite experiencing moments of violence.
FDU: What do you hope to accomplish as a social worker?
AC: One of the main values that drives me is assuring that all individuals, regardless of insurance status or ability to pay, have access to high-quality and effective mental health services. Lack of access to mental health care has become even more of an issue for many folks since the pandemic began. Through my research and teaching, I hope to shed light on the factors that prevent young people from accessing mental health services, as well as train social work students to better engage clients from all backgrounds.
FDU: What brought you to FDU?
AC: I am excited and grateful to be joining FDU's brand-new Master of Social Work program as an assistant professor this year. I came to FDU in hopes that I can help shape the development of this new program, in partnership with my colleagues, so that we can offer students a high-quality education that prepares them to be successful social workers.
---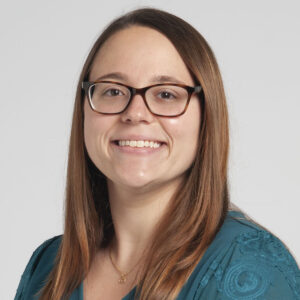 FDU: How do you define success?
Christina Inteso: I define success as doing your best, regardless of the outcome. I also think it can be defined as reaching your goals in both your personal and professional life — both of which are very important. A good measure of success is being satisfied with where you are in life or what you are working towards.
FDU: What was your dream job as a child?
CI: I had a few dream jobs including teacher, vet, and librarian! I really loved school, reading and learning, so wanted to be around that all the time. I also loved animals and wanted to take care of them and play with them all day.
FDU: When and why did you decide to become a pharmacist?
CI: I decided to be a pharmacist when I was in eighth grade. I started volunteering at a local hospital in the pharmacy department. I really enjoyed volunteering there every week. The pharmacists there told me that pharmacy was a great field for women, especially if I liked math and science. I didn't really know what the field of pharmacy entailed outside of my volunteer work, but since I liked math and science, I went for it!
FDU: What brought you to FDU?
CI: Based on my dream jobs as a child, I feel like being a clinical pharmacist in academia allows me to do all of that in one — continuously learn, teach others, read/stay up-to-date on medical literature, and take care of people. I'm originally from N.J., but lived out of state for years to pursue my clinical training and experiences. When I moved back to N.J. recently, I was excited to see that FDU was hiring so that I could combine my clinical and teaching knowledge/skills into one job. My dad is an FDU graduate, so I felt that was a good sign too!
---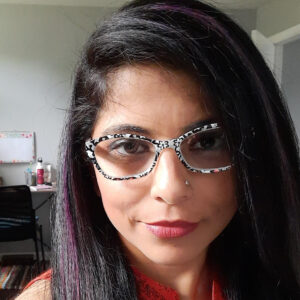 FDU: Who is one person — dead, alive or fictional — that you'd want to meet if you could? Why?
Elma Kaiser: First, I would like to meet my father who passed away when I was 16 years old, 10 years after my mom. In those 10 years, he became my best friend and I learned so much from him. He was very protective, yet also encouraged me to be independent. I learned to take care of household matters, in my mom's absence, at a very young age and was a responsible child. Gradually, I became very focused on my life goals. After my father passed away, my older siblings and extended family took care of me, but ultimately, the choices that I made in life were made by me. I feel it was because of what I learned from my father.
The other person is my father-in-law, who recently passed away from COVID-19 right before I joined FDU. The term "in- law" sounds distant. To me, he was my father. I feel that both of my fathers are actually one entity. My second father was the extension of the first. The love, support and respect that I got from both of them shaped my life immensely. They both were very respectful and extremely generous. I always wanted to be like them. It's probably because of them that I developed the passion to peruse my education in social work. I would love to see them if I could, and thank them for making me who I am.
FDU: How does social work benefit communities and society?
EK: Social workers are advocates and change agents. Social workers work with individuals, children, and families, also in healthcare and mental health — all of which are types of direct practice.
Social workers are also engaged in community and organizational development. At this level, they may be involved in analysis and implementation of policy, advocacy activities and administration. For an example, a social worker who deals with racial profiling issues may be involved in initiating or in joining a community-wide effort to create awareness and provide education on this issue, especially to local law enforcement agencies. A social worker might also develop a community task force to help legislation that would address racial profiling at the state level.
FDU: What is one lesson that you hope to teach your students?
EK: One lesson that I would hope to teach my students is to have an open mind and to try to accept and understand all the differences around them. It is hard to be content if you do not have an open mind. That doesn't mean you have to agree with everything, but at least acknowledge the fact that there are differences around the world and be respectful of those. Most importantly, I want them to be kind.
FDU: What brought you to FDU?
EK: The two things that attracted me to FDU are diversity and a global focus. I've lived and worked in different countries among diverse populations. I am interested in disadvantaged and displaced populations, gender-based violence, the mental health of women and adolescents, child protection, social development issues, diversity issues, macro, and international social work. I've also served in various local and international non-profit organizations. FDU is a place where I'll be able to contribute my knowledge and skills meaningfully. I also feel that my work will be acknowledged. So far, I feel very comfortable working in this environment!
---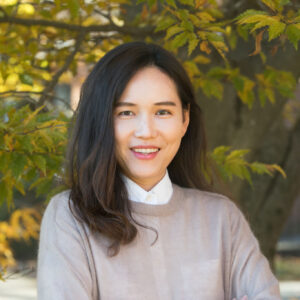 FDU: How do you like to spend a free day?
Eunsun Kwon: I enjoy reading and baking. I have three young children, so almost all of my free time is spent with them singing, reading, and dancing. My husband and I both love the outdoors, and we spend a lot of time with our kids hiking or having weekend getaways.
FDU: What kind of superpower would you want to have if you could? Why?
EK: If I could have any superpower, it would be teleportation. I love traveling to different countries and this will allow me to be in my motherland, South Korea, in the morning and be back on time at FDU for my afternoon meeting.
FDU: What research field would you like to explore further?
EK: Currently, I am leading several research projects. The first one is designed to detect multiple pathways linking early life disadvantages and health outcomes in middle age adulthood. The second project is mapping the availability and accessibility of health care services among low-income populations, using GIS (Geographic Information System) analysis. The last one is aimed at examining the effect of Affordable Care Act on uninsurance rates and financial burden of medical spending among low-income people.
In the future, after I identify the strongest factors that determine health and healthcare disparities among low-income people, I aim to expand into more intervention-based projects. That means I would like to collect primary data and meet with the survey respondents to gather qualitative information on the needs.
FDU: What brought you to FDU?
EK: From a social justice perspective, my research focuses on health issues where socioeconomic disparities have been striking and persistent. Consistent with the mission and vision of the School of Pharmacy and Health Sciences at FDU, I believe my long-term goal, which is building a balance of research, practice, and education, will be achieved.
---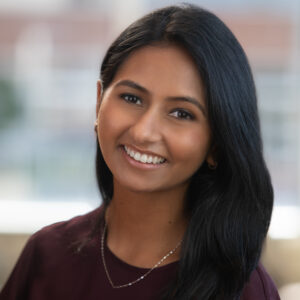 FDU: What are you currently reading?
Amisha Mehta: Growth Mindset by Carol Dweck. I've attended presentations in the recent past that referenced or discussed this book and perspective, especially from a teaching point of view and its use in mentoring students. I'm excited to utilize it in my own teaching.
FDU: How do you define success?
AM: Success is finding your purpose in life and following it wholeheartedly. I find that knowing my purpose allows me to enjoy the journey of following it, which in itself is success.
FDU: What drew you to pharmacy?
AM: Pharmacists are true advocates for patient safety. In a world where patients are often prescribed a medication for any condition they present with, a pharmacist is vital to determine what, if any, medication is both efficacious and safe for the patient. And this is done with solely the patient and evidence-based medicine in mind. Additionally, as pharmacy is constantly growing within scope of practice, I was enticed by the idea of contributing to the expansion of clinical pharmacy, especially in the outpatient setting.
FDU: What brought you to FDU?
AM: I'm thrilled to be part of the FDU faculty at a pharmacy school that allows students the opportunity to learn how to best treat patients in a variety of career settings. This brings a varied and valuable perspective to my practice and to the general FDU community. I also appreciate the time that clinical faculty spend in direct patient care service. This supports and enriches the experiences we provide our students on rotation.
---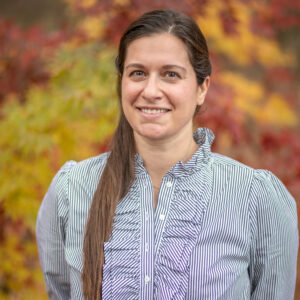 FDU: What's one thing on your bucket list?
Christine Mueller: Something on my bucket list is completing the Big Sur Marathon. I am hopeful the views from the route might cancel out the long miles!
FDU: When you were a student, who was your favorite teacher? Why?
CM: As a student, I was fortunate enough to be inspired by many of my professors for a variety of reasons. The professor whom I most often reflect on is Signean McGeary. She taught anatomy and kinesiology with such respect for the body and movement. Professor McGeary could hold your attention in class while infusing her love for service and community into lectures. It is a unique skill to be able shift from discussing scapula humeral rhythm to the struggles of women in Bangladesh, where she spent much of her time volunteering outside the classroom. I admire Professor McGeary's ability to truly demonstrate both the art and science of occupational therapy.
FDU: What made you want to become an occupational therapist?
CM: As an undecided health science major, I met with a variety of department chairs to explore potential majors. This led to meeting with an OT professor who was filling in for the chair who was out on medical leave. Her specialty was mental health, and I was drawn to the profession's focus independence from both a mental and physical perspective.
FDU: What brought you to FDU?
CM: My passion for my profession and the development of relevant doctoral occupational therapy programs brought me to FDU.
---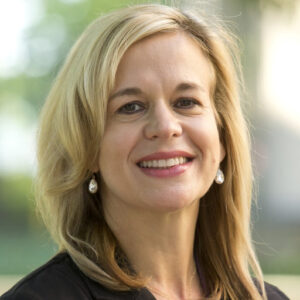 FDU: How do you start the day? How do you end it?
Susan Santalucia: I start my day with a large cup of milk with coffee! It is a ritual that seems to wake me up. The next thing I do is let our family's new puppy outside, and we walk around the yard a bit while I drink my coffee.
I end my day by reviewing the next day's schedule for events (work, family, personal). I try to name and frame the day's accomplishments. I select at least one thing from the day that I am grateful for. Then I listen to a podcast, audiobook, or relaxation audio.
FDU: What makes you smile?
SS: Many, many things make me smile. Watching the dogs jump, run and play at the dog park. Nature! I have planted many gardens outside my home. Over the summer, new butterflies and bees were in the pollinator garden, and a praying mantis made a home on the back of a giant sunflower! When something new grows from a seed that I have planted, or I find a new insect or animal, I smile.
FDU: Why is interprofessional healthcare education important to you?
SS: In today's health care delivery, there is a greater need for interprofessional practice to provide comprehensive, client-centered, safe and quality care. Health care is complicated and often delivered in silos by professionals who do not have the skills to work on teams and are lacking the knowledge regarding the roles and scope of practice of other health professionals. Students need to obtain the knowledge, skills, and practice during their educational years in order to change how healthcare is provided.
FDU: What brought you to FDU?
SS: The opportunity to contribute to the design of an occupational therapy program focused on community practice, built on a strong foundation in mental health. My passion in occupational therapy practice has been in providing client/group/population-centered services in the community. I believe in a holistic approach that includes the physical, cognitive, and psychosocial aspects of an individual, as well as the impact of culture, social determinants, and the physical, social environment.