MFA alumni collaborate in publishing industry
February 14, 2019 — The bond between students at Fairleigh Dickinson University can truly go beyond graduation and into the workforce.
That's the case for writer Briana McDonald, MFA'17 (Flor) and editor Amanda Ramirez, BA'15, MFA'17 (Flor).
Briana McDonald, MFA'17 (Flor) is working with Ramirez on publishing her debut novel, "Pepper Blouse and the Wicked Will." (Photo courtesy of Briana McDonald)
Two years after graduating from the University, the women are teaming up in the publishing world to edit and produce McDonald's debut novel, "Pepper Blouse and the Wicked Will." Ramirez, an assistant editor for Simon & Schuster, a major publishing company, acquired the novel in the fall of 2018.
McDonald's debut novel is geared towards middle grade readers and centers around Pepper Blouse, a young detective investigating the mysterious death of her aunt. The "own voices" novel — a writing approach in which the author and the main character are both members of the same marginalized group — also focuses on Blouse's romantic feelings for girls throughout the story.
"Especially for the debut, I wanted to be able to contribute to the shift taking place in publishing right now. I think it's important to represent the diversity of the world around us in fiction. It felt particularly important for the middle grade market so that kids can see themselves as heroes and saving the day at a young age," says McDonald.
That angle really appealed to Ramirez.
"When her agent approached me about considering her middle grade adventure, I was really excited," says Ramirez. "Largely because I thought it would be so cool to work with a close friend on her debut, but also because Pepper is so earnest and spunky. The fact that Briana is LGBTQ, and depicting LGBTQ characters for children, was really just the cherry on top."
McDonald says that she was thrilled when she heard Simon & Schuster was interested in her novel and revealed that the inspiration for this work came to her while studying in FDU's creative writing graduate program.
"I was working on a different young adult piece for my thesis and through that, kind of learning the craft and how to write," says McDonald. "After that, I felt that I had better skills to be able to play around with and write the story of my heart."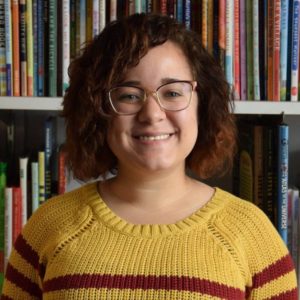 As someone who grew up loving mystery books, McDonald wanted to modernize those elements and also include a personal mystery with emotion.
Starting at an entry-level position in 2016, Ramirez now assists other editors, acquires novels and aids in carrying a book from submission to publication at Simon & Schuster. Ramirez and McDonald knew each other prior to the book acquisition when they both attended FDU.
"Since Briana and I met in our MFA [residency] and had a few workshops together, I was well acquainted with her style of writing and I always loved her voice," says Ramirez.
The MFA program at the Florham Campus also offers concentrations like fiction, creative nonfiction, writing for young adults and children, poetry and literary translation. Students participate in workshops where they critique and provide advice to one another on their writing.
"I like that it [the program] was low residency, and I had more interaction from faculty and get more feedback from them throughout the term," says McDonald. "It really connected me with a lot of fellow writers who are writing at the same level as me, and who I could exchange work with and now, have become lifelong critique partners."
McDonald and Ramirez advise current MFA students to ask a lot of questions about their work and the publishing industry. They also note the importance of keeping up-to-date with new releases and to read as much as possible.
Over the course of the next year and a half, McDonald's debut novel will go through the editing process at Simon & Schuster, which includes cover and interior design, layouts, and copy and line edits.
"Pepper Blouse and the Wicked Will" is scheduled for publication in fall 2020.