Becton College students present research findings to Novo Nordisk scientists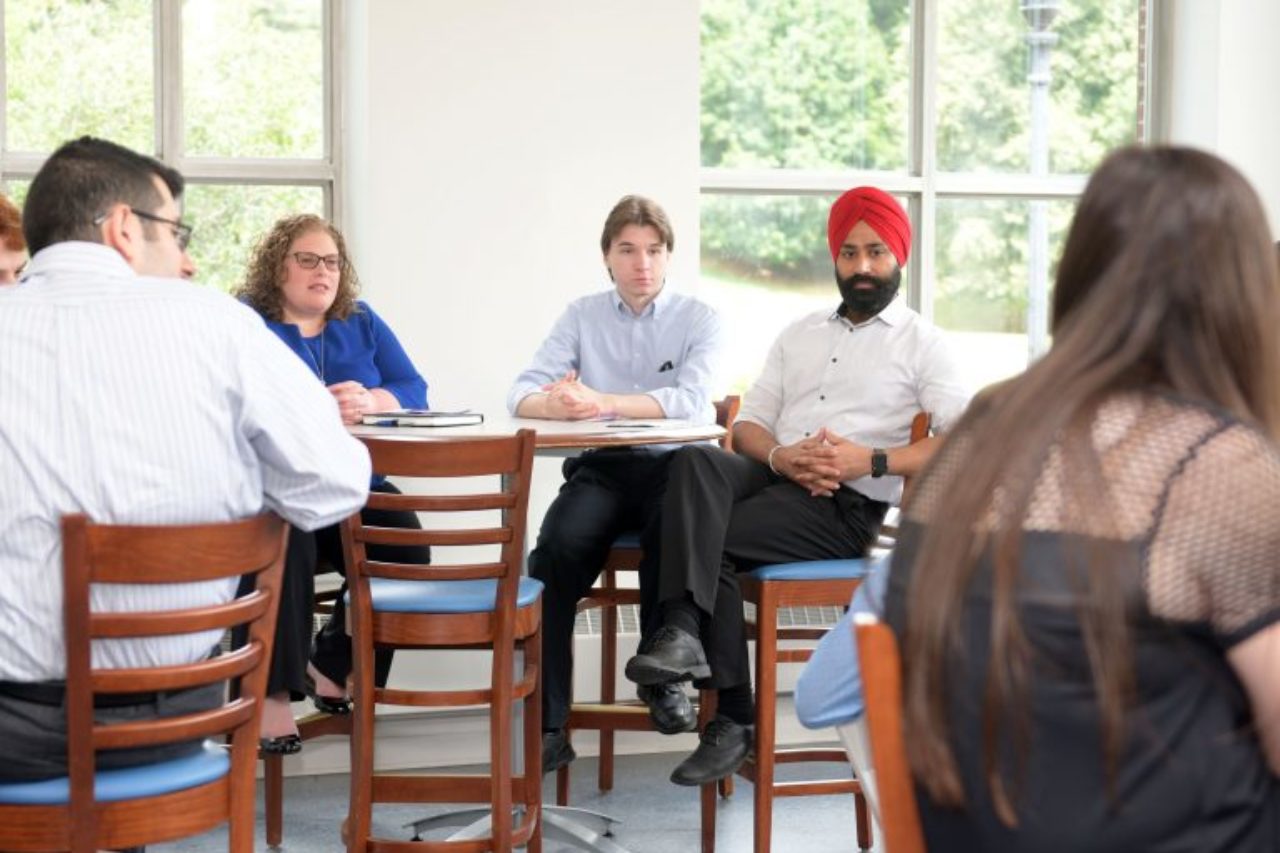 By Julie Kayzerman
August 2, 2018 — For 10 weeks this summer, eight FDU students in Becton College of Arts and Sciences, all studying science, worked side-by-side with faculty mentors, conducting research in the Florham Campus labs as part of the 2018 Novo Nordisk summer mentored research program.
Fully-funded through a $25,000 grant from Novo Nordisk, students in the program pursue their own research projects from start to finish and experience the real-world opportunities and challenges of working in research labs.
At the culmination of the 10-week summer program, each student presented their research project ideas, current findings and future visions to local scientists from Novo Nordisk on Thursday, July 26 in the Orangerie at the Florham Campus.
The students will now continue working on their research projects alongside their respective mentors throughout the upcoming academic year. They will present final results and findings at a relevant academic event upon graduation from the program.
"Working on research with a mentor teaches these students skills that you couldn't teach in the classroom," says Gloria Anderle, program director and associate professor in the Department of Chemistry and Biochemistry.
Computer science graduate student Paul Jerchafie, BA'18 (Flor), worked on creating a set of data mining tools that can analyze hydrogen bonding patterns.
"I've learned a lot and I feel a lot more independent," Jerchafie says. "In school, the professor tells you what to do and now, I'm given an open-ended problem and I have to figure out a way to solve it. It's just your own critical thinking skills that you have to apply."
Anderle is especially excited about Jerchafie's project and hopes to eventually make the tool that he's developing available to other researchers outside of the institution.
Junior biochemistry major Kaylee Fish presented her research on creating a synthetic method for the preparation of 2H indazoles alongside her mentor, Assistant Professor of Chemistry Edward Salaski.
"It's definitely been really interesting to work in a lab with a professor I had for a lecture," Fish says. "I didn't really realize how much there was to it. I knew the organic chemistry in the class, but then when you're actually hands-on, it's definitely a lot more. I've really enjoyed my time in the lab and thinking like a scientist."
Fish aspires to attend medical school after graduating from FDU and now, after completing the summer program, hopes to pursue medical research in some capacity as well.
"At first, I was really overwhelmed with everything we were learning, but now I feel like I can actually do everything myself and be independent in the lab and make decisions," says Fish. "This is kind of where you get to expand and let go."
Senior biology major Peerapol Chiaranunt views the program as a precursor to his long-term goal of attending a doctorate program in the field of plant or soil ecology.
Chiaranunt's research focuses on the role of allelopathy and mycorrhizae on mitigating salt-induced plant stress by assessing the effects of garlic mustard, an invasive plant.
"My time spent in the program has been mostly developing the methodology for our project, so that involves a lot of primary literature research as well as experimenting on the seed," Chiaranunt says. "I think this gives me the independence to develop my research project. I chose this topic because it helps expose me to techniques that might be used in graduate school."
Other presentations included: junior computer science major Marcus Topel on integrating digital assistants into a "smart" herb garden; junior biology major Joel Kellam on the evaluation of antimicrobial activity (the killing or inhibiting of disease-causing microbes) of porphyrin compounds; senior computer science major Brandon Humienny, who is exploring the potential of virtual reality as a learning tool; senior biology major Danielle Boyle on the relationship of vegetation structure and animal diversity in northern New Jersey and chemistry graduate student James Mizvesky, who is researching polyethyleneimine (PEI) as a drug delivery and gene vector treatment.
By the numbers: Where are they now?
Now in its seventh year, the Novo Nordisk mentored research program has doubled its number of participants and graduates who have gone on to be highly successful in their respective fields.
Thirty-two students who have completed the Novo Nordisk mentored research program have graduated from FDU. Of those 32 graduates, 23 percent went directly into their professional fields with a Bachelor of Science.
Ten percent of the program's alumni have earned or have been accepted into a master's program for the fall of 2018 and 16 percent have earned, are currently students or have been accepted into Ph.D programs for the fall of 2018.
Melissa Orlando, BS'17, MS'18 (Flor), completed the Novo Nordisk program in 2015 and now works as a scientist at Pfizer.
Computer science alumni Zachary Stolz, BS'15 (Flor), and Heather Post, BS'18 (Flor), are now a web developer and a software developer, respectively.
School of Pharmacy alumna Meghan Vallejo, PharmD'17 (Flor), participated in the program in 2012 and is now a pharmacy resident at Florida Hospital in East Orlando, ranked No. 4 in the state by U.S. News and World Report.
Now in its seventh year, the Novo Nordisk summer mentored research has continued to teach students problem-solving strategies when experiments fail, how to properly record their findings and the ins-and-outs of running a research project.
"I think all of those together really lead to success," Anderle says.