Alumnus Charles Waters writes poetry for a better world
On race, kindness and humanity
By Kenna Caprio
August 28, 2020 — Charles Waters started out as an actor, not a writer. On stage, he discovered his voice as he recited poetry and acted out verse.
More than anything, he says, "I hope my poetry sparks conversations. I didn't get into poetry until I was about 29, and I'm 46 now, so I've been playing catch up," says Waters. "As a young person, I was intimidated by books because I had a hard time with comprehension. My mind goes in about a trillion directions at once, so it can be tough to harness that energy."
Fairleigh Dickinson University delivered the confidence Waters, AA'93, BA'96 (Metro), needed to succeed. He found support in FDU's Regional Center for Learning Disabilities, and Mary Farrell, the center's founder, University director and professor of learning disabilities education. Picking up a copy of Judith Guest's Ordinary People in the center one day, he read a few pages, got hooked, borrowed the book and never stopped reading for pleasure.
After graduating, Waters appeared in commercials for Verizon, Friendly's, Home Depot and the Florida Lottery, and worked for Walt Disney World. He participated in Unified Professional Theatre Auditions, allowing him to perform in front of representatives and casting professionals from theaters across the country.
And there was Poetry Alive! — the bridging of poetry and performance — and staging of productions for audiences pre-K to high school. Waters toured with the company for three years. "I performed about 225 poems in 37 or 38 states. Sometimes we performed at a private school where the kids would go to France for spring break, and sometimes we'd perform at schools where 99 percent of students received free or reduced-rate lunches," he says. He started to write his own poetry, as a result, and eventually published work in a number of anthologies.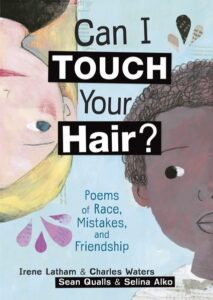 Then came the collaboration of a lifetime. Carol Hinz, executive director at Lerner Publishing Group, wanted to do a project about systemic racism, something to make the topic approachable for children, educators and families. Writer Irene Latham, who was already attached, thought of Waters, and off they went. The two worked virtually, sending one another poems, and writing response verse. That manuscript became Can I Touch Your Hair? Poems of Race, Mistakes, and Friendship, published in 2018.
The characters in the book, named Charles and Irene, one Black, one white, are children in the fifth grade, assigned to work on a poetry project together. "We're both Generation X, so we took our 1980s childhood experiences and put them into the present day," says Waters. As the two explore their differences and similarities, they ultimately forge a friendship.
Through poetry about hair, hobbies and family dinners, Waters and Latham delve into race.
"We started getting riskier and riskier, writing about police brutality. And there's a poem in the book where the word is never mentioned, but it's called The N-Bomb, about the n-word," Waters says.
One of his favorite poems in the book, Waters says, is called "News." Latham wrote it in the shadow of Trayvon Martin's untimely death in 2012 and the Black Lives Matter protests in Ferguson, Mo., following the death of unarmed Black teenager Michael Brown at the hands of police, in 2014.
"That poem is timeless," says Waters. "You could take out the name Trayvon and replace it with 'Breonna Taylor' or 'George Floyd' or 'Ahmaud Arbery.' It hits on a soul level."
His response poem, "Officer Brassard," about the dichotomy of brutal police tactics and the memory of a kind neighborhood cop, includes the lines:
"Yet, when the police officers on TV are pale as a cloud, just like Officer Brassard, it makes my heart twist without any hope of being disentangled"
— Charles Waters, 'Officer Brassard'
In their newest collaboration, Dictionary For a Better World: Poems, Quotes and Anecdotes from A-Z, which debuted in January 2020, the coauthors continue to impress upon young readers their impact. It's a resource that asks its audience, "How can we make the world a better place?" Structured with an entry for each letter, the book covers allyship, empathy, respect, diversity and inclusiveness.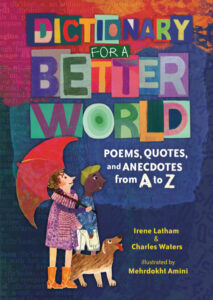 Both Dictionary and Hair, published by Carolrhoda Books, a division of Lerner Publishing Group, appeal to a middle-grade audience.
To come, a young adult book called African Town, is a novel in verse. "Chronicling the story of the last Africans brought illegally to America aboard the slave ship Clotilda in 1860, the book follows their struggle to maintain their lives, humanity, and culture while enduring capture, the Middle Passage, enslavement, and Emancipation—leading them to build their own community called Africa Town, which exists to this day," writes Publishers Weekly. Putnam, an imprint of Penguin, is slated to publish the project.
"It's a super humbling story of perseverance and heart," says Waters. "What they faced seemed insurmountable."
With these three books, Latham and Waters are building a multi-grade and multi-age level reading list to develop young readers into bright and aware citizens, conscious of their own power, their own stories and their own lives.
"The books are my activism. I hope they spark conversations. I've done protests and marches, but what feels best to me is the books. That's where my voice is amplified," he says.
Waters first learned to raise his voice at FDU, through The Equinox student newspaper, WFDU radio, theater and a semester at Wroxton College.
Now he brings that energy to writing and to poetry workshops, aiming to instill confidence, knowledge and joy in younger generations.
"I talk about the senses and show students my writing process," Waters says. "No poem is written once — you have to revise it and put in the work. There's no magic trick. You have to be a sculptor with words." His presentations focus on the practical aspects of writing, to make poetry approachable. Waters invites students to write their own work, and often, they "come up with real gems," he says. "Poetry in the most accessible of all the genres. Get it into their hands early. An eight-line poem can sometimes tell you as much as a 250-page novel."