Silberman graduates convene virtually for pizza
On Wednesday evening, May 20, Silberman College of Business hosted a Domino's Pizza party, sponsored by MassMutual. Special guests University Provost and Senior Vice President for Academic Affairs Gillian Small; Interim Dean of Silberman College James Almeida; and Robert Zatta, chair, Silberman College Board of Advisors, and vice chair, Fairleigh Dickinson University Board of Trustees addressed the graduates.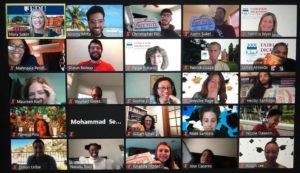 Faculty, staff, friends and family Zoomed in to celebrate this milestone. Almeida recognized Dean's Award Recipients Shaun Bishop as Outstanding Senior, Florham Campus, Amanda Fitzgerald for Outstanding Service, Metropolitan Campus and Simon Uribe for Academic Excellence, Metropolitan Campus.  
"Obviously we don't have a pandemic but once every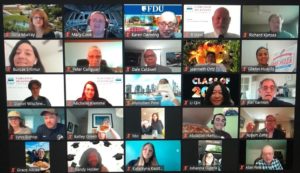 100 years perhaps but it does reflect the challenges that life will throw at you through the course of your careers," said Small. "Life is not always smooth sailing. Things get thrown at us all the time. It's the people that can pivot and work through the challenges and show resilience that will succeed in life."
Almeida also reflected on the state of the world during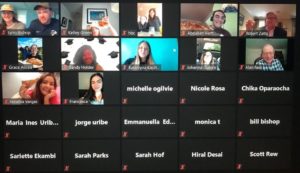 the COVID-19 outbreak and the effect it is having on the Class of 2020.
"We are very proud of our graduates! They have accomplished much, not losing sight of their goal while graduating during one of the most challenging periods of human history," he said. "The current pandemic will undoubtedly reshape our society in the years ahead. I am confident that the Silberman College faculty and staff have equipped these graduates with a moral compass and the skill-sets required to influence this societal change and contribute to its improvement."