Six questions with 2021 Florham Campus Pinnacle Award recipient Emmaline Stoddard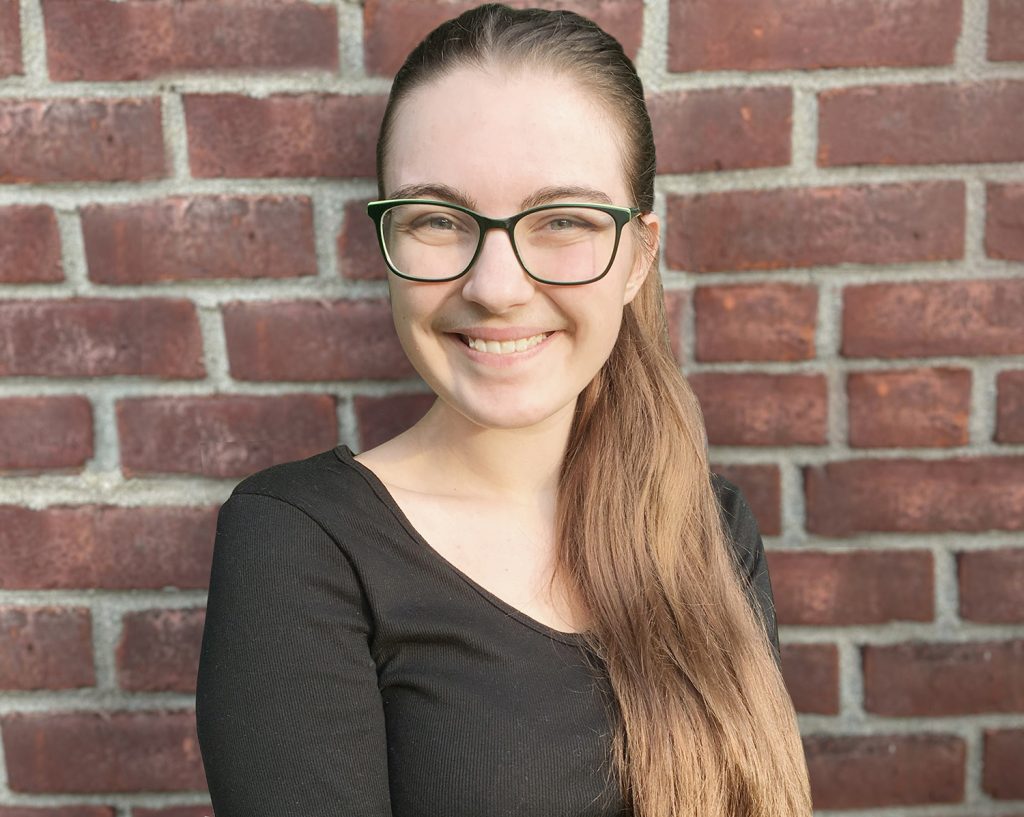 Interview by Kenna Caprio
May 6, 2021 — Emmaline Stoddard believes in the power of stories. It's why she majored in creative writing, and why she wants to publish a novel and become a screenwriter. She's writing her own next chapter now as she represents the Florham Campus and the Class of 2021 at Commencement.
FDU: Why is FDU special?
Emmaline Stoddard: It's the value that the University places on global learning and education, and the international campuses in Wroxton, Oxfordshire, England, and Vancouver, British Columbia, Canada. I studied abroad at Wroxton College twice (first, taking a summer class with Gary Darden [associate professor of U.S. history] and second, studying abroad for a semester). Study abroad has instilled in me a love of travel and a deeper appreciation for the wider world. Unfortunately, because of the pandemic, my class had to leave our Wroxton semester early; I would love to go back and visit again. My Wroxton memories will always remain close to my heart — especially the day I fulfilled my dream of visiting the Palace of Versailles!
FDU: What originally sparked your interest in creative writing?
ES: I think it comes from a desire to create. In first grade, I wrote a story about the baby chicks in our classroom and what would happen if they escaped! Since then, I've continued to foster a love of reading and of stories. When I came into college, I was undecided, but leaning towards creative writing and I'm so glad that I decided to go with it. My love of stories connects my major and minors in history, screenwriting and dramatic writing, British studies, and government and law.
I look to history for inspiration, for examples of courage and defeat, heroes and villains, hope and loss. Screenwriting and dramatic writing come alive in a different way than a short story or novel can. British studies represents the stories of other cultures and recognizing their importance. Government and law are important for understanding society.
FDU: What's your best study tip? Where is your favorite place to study on campus?
ES: Don't be afraid to ask professors for help and go to office hours. They're there to assist you! After talking with my professors when I was confused, the material made more sense to me. My favorite place to study is the periodicals room in the John and Joan Monninger Center for Learning and Research. Since it's so quiet, I work there when I really need to concentrate.
FDU: What energizes you?
ES: Reading a good book makes me really excited! I love getting pulled into stories and losing track of time as I follow the characters' journeys.
FDU: What gives your life meaning?
ES: Creating — making people laugh, or think about something in a new way, or escape their troubles, that can all result from something I produce. There is so much power in that.