Six questions with 2021 graduate speaker Sarah Kearsley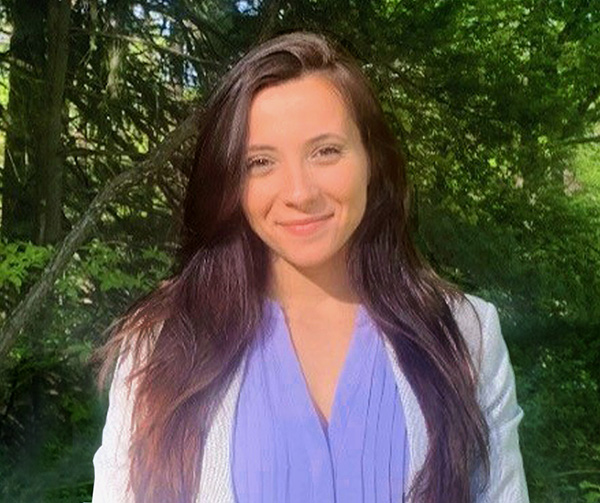 Interview by Kenna Caprio
May 17, 2021 — Sarah Kearsley has the commitment and the drive to shine — in graduate school, in the criminal justice field, and on stage as a speaker at graduation. "Currently, I am working in the intelligence field as a strategic intelligence analyst for the New York/New Jersey High Intensity Drug Trafficking Area program, but I have aspirations of becoming a law-enforcement officer," says Kearsley.
FDU: What originally sparked your interest in criminal justice?
Sarah Kearsley: It was really a culmination of things. My incredible stepfather is a police officer in my hometown. Seeing his hard work and dedication to bettering our community made me consider criminal justice.
During undergrad at Rutgers University, I took Introduction to Criminal Justice and was very inspired by my professor, a retired chief of police who shared stories of his experiences in the field. His passion for policing furthered my drive.
Then, interning with the Passaic County Prosecutor's Office in 2016 exposed me even further to the field. That experience confirmed for me that I want to work as a law-enforcement officer.
FDU: Why is FDU special?  
SK: There is a true sense of community among the faculty, staff, and students.
All of my professors and advisers truly want me to succeed, and they went out of their way to assist me in any way they could. Before a job interview, Elizabeth Panuccio, assistant professor of criminal justice, helped me prepare. Stephen Dembowski, director of the BCC Scholars Program, has always gone out of his way to provide me with career advice and to answer my questions. James Kenny, professor of criminal justice, advised me, making sure that I took all of the right classes and assisting me in finding a great internship.
Those are just a few examples of the amazing FDU faculty and staff, and how hard they will work to ensure student success. 
FDU: What's your best study tip? Where is your favorite place to study on campus?  
SK: Figure out what works best for you. While some students might like making note cards to study from, others might prefer to read back over notes. Everyone is different! Avoid any distractions while you are in the zone. For example, I get very easily distracted when there is a lot of noise around me. Therefore, I try to find very quiet places to work so I'm studying efficiently.
My favorite place to study on Metropolitan Campus is the library. Not only do I appreciate the quiet, but I also enjoy the environment as a whole. Looking at the shelves of books around me inspires me to keep going and reminded me of how lucky I am to have this amazing education.
FDU: What energizes you?  
SK: Literally speaking, coffee! But metaphorically, my family is what energizes me and what gives me the push I need to keep moving forward. I have an extremely supportive family. Whenever I feel tired or overwhelmed, they are always there to encourage me, and I am very thankful for them!
FDU: What gives your life meaning?
SK: My family, my friends, my boyfriend, and my fur babies (dogs) give my life meaning. Making them proud is the best feeling and I would be lost without them.