Storyteller seeks to dispel disability stigma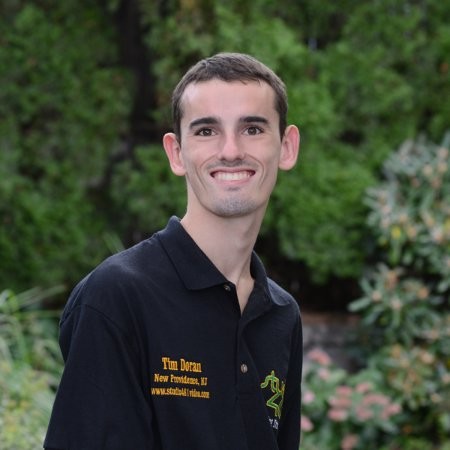 By Rebecca Maxon
Tim Doran, BA'17 (Flor), is a filmmaker; owner and founder of Studio461, a video conversion and editing company; and a disability educator and advocate.
He also has ataxic cerebral palsy, which affects balance and includes shakiness and loss of fine motor coordination.
The capstone of his FDU undergraduate degree in film and animation with a concentration in post-production — his senior thesis film — depicted what it's like to live with a disability on a college campus. "In My Eyes — The Movie, " inspired by his own experiences, is about the fictional Mike Doran, a young man with cerebral palsy, who finds that his anxiety is a bigger obstacle to college success than his physical disability. The film was accepted into 11 film festivals and has won five awards.
In 2012, Doran became an entrepreneur when he opened Studio461, a converting and editing business that he runs from home.
Besides transferring video and photos from old technology (VHS and CDs) to newer technologies such as DVDs and flash drives files, Studio461 has provided him experience working for nonprofits and small businesses. "I enjoy editing the most," says Doran.
Doran also is the founder and director of a nonprofit startup, Bachelor's in Disability, which focuses on breaking down disability stigma in the workforce and at home.
"Our purpose is to educate employers, as well as the general public, on the proper treatment of people who have disabilities," Doran says. He does so with the help of a Board of Directors, most of whom also have disabilities.
"We are Bachelor's in Disability, and as storytellers living our lives, we are building a more authentic, rich and inclusive experience for us all."
The organization provides engaging and entertaining "lessons" through articles and brief videos shared in the organization's blog as well as on social media. "We show people tearing down the walls of exclusion," he says. "We also help clients tell their stories, and we build portfolios of stories that collectively educate."
The Bachelor's in Disabilities website encourages people to submit questions (bachelorsindisability.org/ask-a-question), which are answered on the Bachelor's in Disabilities blog (bachelorsindisability.org/blog).
In his spare time, Doran enjoys long bike rides (on his three-wheel, recumbent bike to aid in his balance) and spending time outdoors. He even skis!— R.M.
To support Bachelor's in Disabilities, go to www.bachelorsindisability.org/donate.