Secretary and students speak on college affordability and student success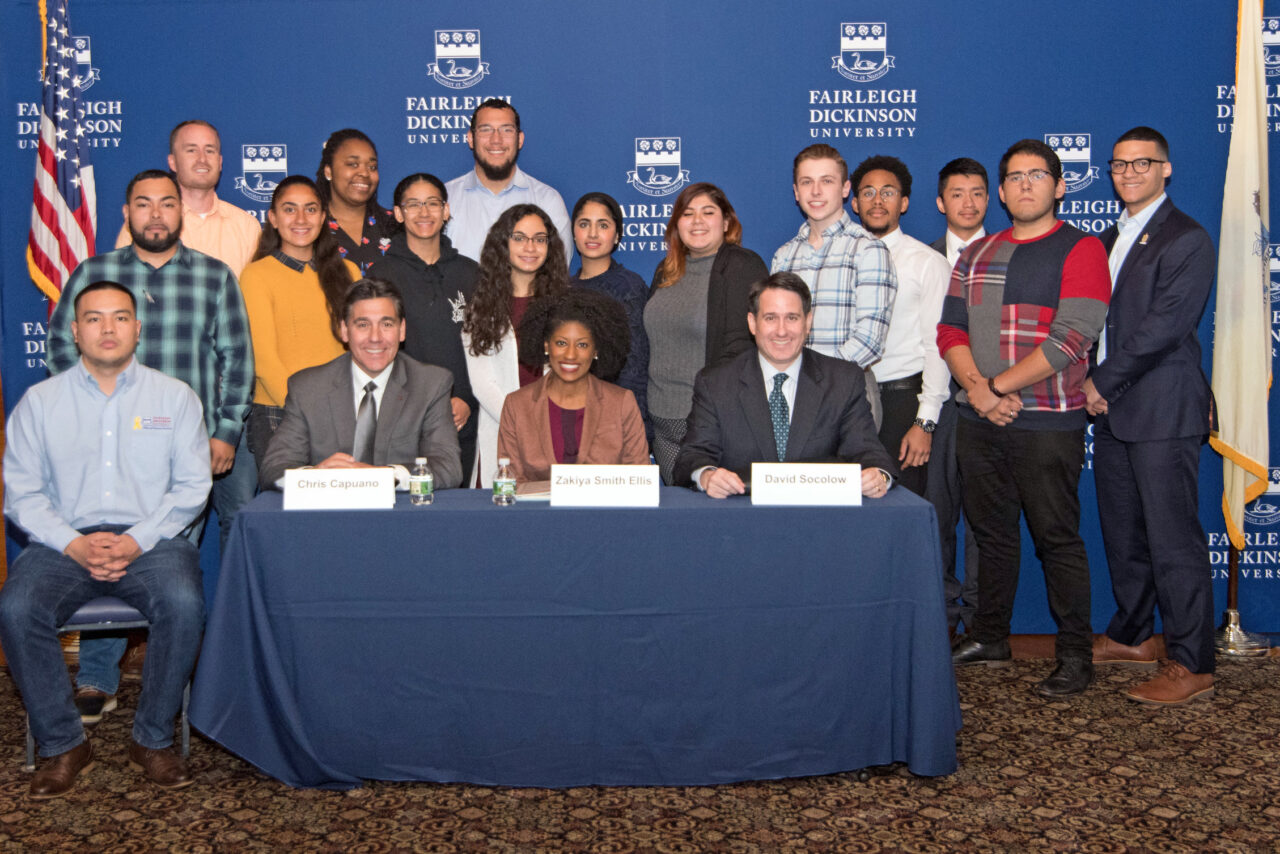 By Kenna Caprio
May 13, 2019 — "One of the biggest challenges [in higher education] is affordability, not just for some but increasingly for all," said Zakiya Smith Ellis, the New Jersey secretary of higher education. "The cost of loans and repaying them is something that we haven't grappled with as a nation."
She presided, in cooperation with Christopher Capuano, the president of Fairleigh Dickinson University, and David Socolow, executive director of the Higher Education Student Assistance Authority, over an hour-long chat on college affordability and student success at FDU's Florham Campus.
"We need to protect choices for students," said Capuano. "Next academic year, FDU will provide close to $113 million in institutional aid — both merit and need-based aid — to its students. And because of the additional financial aid students are able to receive through the New Jersey Tuition Aid Grant (TAG) program, students are able to attend a college or university in New Jersey of their choice — private or public."
In the wide-ranging discussion, FDU students voiced their concerns about loans, scholarships, financial literacy, veterans services and tuition rates. First-generation students spoke about trying to make sense of complicated financial aid applications alongside parents unfamiliar with the process. Some students said high school guidance counselors showed them the way, while others shared that they did all the financial aid research themselves.
"We don't want people to spend brainpower [on forms]," said Smith Ellis. "People shouldn't have to be experts on higher education finance to go to college."
Florham Campus junior finance major Chris Fiorenza picked FDU for its small class size, determined to build personal relationships with faculty. "I took out the loans, paying for everything myself, knowing they wouldn't be subsidized. I work two jobs and worked four last summer," said Fiorenza. He knew choosing a private university over a public one would cost more, but decided the benefits outweighed cost. He saw the "importance of a private university."
Students offered suggestions to Capuano, Smith Ellis and Socolow on how to better communicate financial aid information, including an app that would help students navigate available scholarships. Socolow also noted that universities need to establish clear pricing models that are transparent and simple, so students know the exact cost of tuition and fees.
"We are keenly aware of the issues concerning affordability," said Capuano. "Moreover, at FDU, we're very focused on improving affordability and student success. It's very important that you not only get into college, but also that you finish college. You can't make a better investment in your future than going to college."