University veteran services take off with Luke Schultheis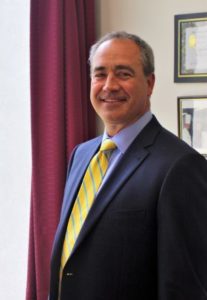 By James Neidhardt
October 29, 2018 — Luke Schultheis' great-uncle lost a leg storming the beaches of Normandy, France. His grandfather, too, was a World War II veteran. Two of his uncles served in the U.S. Air Force, and his brother on a Los Angeles-class nuclear submarine.
"I've got a family of veterans in all branches," says Schultheis, vice president for enrollment, planning and effectiveness at Fairleigh Dickinson University.
Schultheis continued the family tradition by marrying a veteran. His wife was a paratrooper in the army, and his mother-in-law is a U.S. Navy veteran. Schultheis himself, however, never served in the military. Instead, he pursued a professional and academic career, taking his talents to the University in December of 2017.
But now, it's Schultheis' turn to get involved.
He will serve the 2nd Air Refueling Squadron of the U.S. Air Force for the next year as a Joint Base McGuire-Dix-Lakehurst Honorary Commander
FDU's Office of Veterans Services nominated Schultheis for his commitment and service to veterans.
As an honorary commander, Schultheis will serve as a military ambassador for FDU and the local higher education community. "We're really striving to advance each other through [the] development of a close working relationship," he says.
Schultheis will also train with his unit, attend an abbreviated boot camp and participate in exercises. In addition, he will work closely with Lt. Col. Nathan Higgins, the official commander of the unit, on relevant issues. He hopes to use his military training to benefit the University.
Schultheis believes that it is important for FDU "to recognize all the training and education that soldiers and sailors have undergone through their career, and to be able to award appropriate academic credit relative to that."
He also notes the importance of training faculty and staff on how to interact appropriately with veteran students and provide them with a supportive environment. Schultheis helped support the creation of a new veteran's lounge at the Florham Campus. He wants students to feel at home on campus.
"They've got comrades there, they've got access to resources there, it's a safe place, there's like-minded people there with shared experiences," he says. "A big part of what I'm trying to do is give back."