Welcome to the Fall 2022 Semester!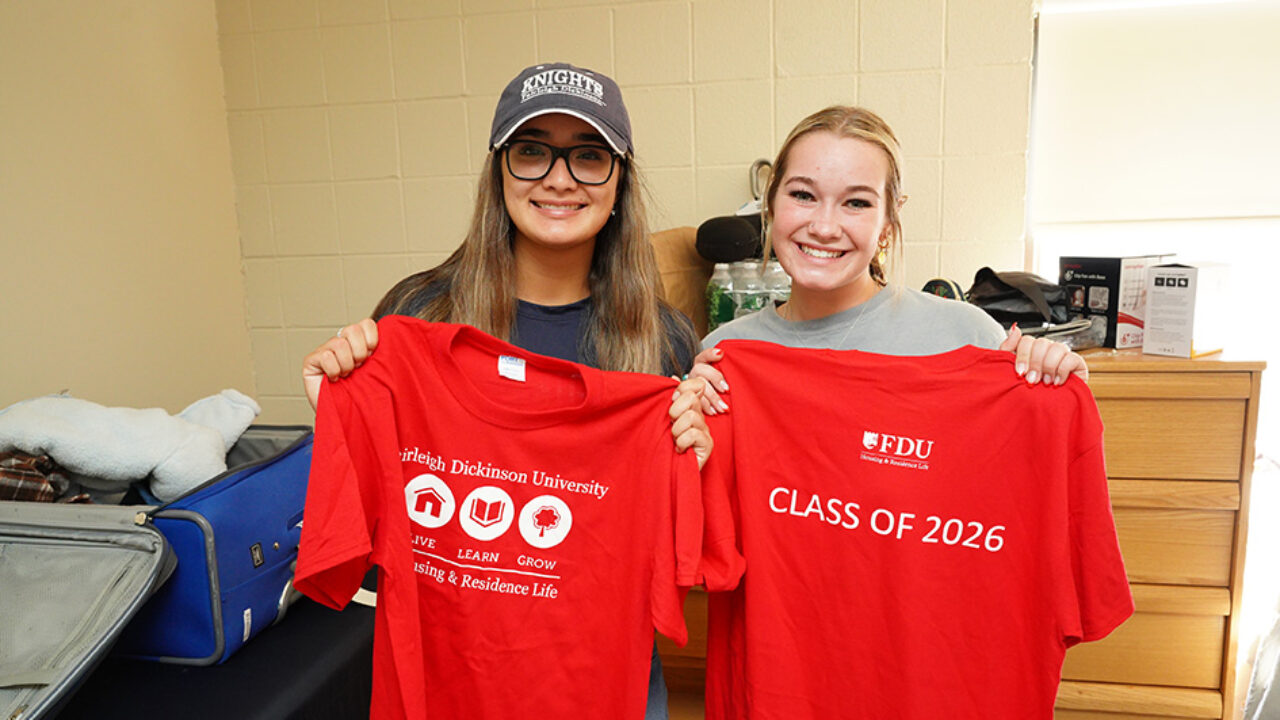 Class of 2026
Photos: Brian Lewis, Jayden Diamond and Bill Blanchard
August 29, 2022 — A new semester is here, and Fairleigh Dickinson University is excited to welcome the Class of 2026, our new transfer students and all returning students back to the New Jersey campuses.
On the Florham Campus, the entering class of first-year students and our new transfer students represent eight different countries and 18 states. In addition, 143 new student-athletes are joining our 23 Division III teams.
On the Metropolitan Campus, the class of 2026 represents students from 30 different countries and 30 states. Also, 140 new student-athletes are joining our 21 Division I teams.
First-year students arrived on the New Jersey campuses on August 25.
As is tradition, the new students participated in the annual Illumination Ceremonies at the Florham and Metropolitan campuses.
Fairleigh Dickinson University President Christopher Capuano welcomed students and guests at the Florham Campus ceremony. Alongside him was Robert Pignatello, Senior Vice President of University Operations; Uchenna Baker, Vice President for Student Affairs and Dean of Students; Father Jun Vizcara, Campus Minister; Kenneth Schneider, Assistant Vice President and Dean of Undergraduate Admissions; Patricia Melloy, Professor of Biology; and Michelle Schultheis, Student Government Association President, Florham Campus.
"As you settle in and learn more about FDU, you will learn FDU is many things and provides many opportunities, which I encourage all of you to take advantage of around campus, in the classroom and with your classmates," said President Christopher Capuano. "Seize the opportunities that FDU provides, and your lives will be changed forever!"
Craig Mourton, Assistant Vice President for Student Affairs, greeted students and families at the Metropolitan Campus along with University Provost and Senior Vice President for Academic Affairs Michael Avaltroni. Joining them on the stage were Jim Om, Director of Campus Ministries; Alexa Perez, Associate Director of Admissions; Dr. Xin Tan, Faculty Senate President; and Suleima Mestanza, SGA President.
"I have been fortunate to have started my University journey in the same exact position that each of you are in now, as a student at the Florham Campus Class of 1999," Provost Avaltroni told the crowd. "When I talk of the transformational experience that Fairleigh Dickinson University provides, I speak not only from my experience as a faculty member or administrator but as someone who benefitted firsthand from our institution's legacy of taking students with great potential and providing them with a personalized experience that assures their success and provides open doors for their future." 
"Since I have been a student here, I have learned to come out of my shell," said Suleima Mestanza, Metropolitan Campus SGA President. " I took advantage of being virtual my first year to get to know what organizations FDU has to offer. I made the time to attend different virtual events. From these events, I have made several connections with people in my major. That is why I emphasize the importance of getting involved! I myself am a part of SGA, Greek Life, and several other organizations on campus. College is the best time to make personal and professional connections."
On Saturday, August 27 new students from both New Jersey campuses were invited to sign up for one of five different experiences in New York City, including the Bronx Zoo, the Metropolitan Museum of Art, The 9/11 Memorial and Museum, the American Museum of Natural History, or the New York Botanical Garden.
Move-in continued over the weekend with upperclassmen returning to campus on Sunday, August 28 and classes began on Monday, August 29.
Welcome to the Class of 2026!