The School of Pharmacy and Health Sciences hosts white coat and doctoral hooding ceremonies
May 25, 2021 — On Friday, May 14, the School of Pharmacy and Health Sciences held its annual white coat ceremony, an official welcome to the Class of 2024, and also celebrated the Class of 2021 with a doctoral hooding ceremony.
The white coat ceremony welcomes each new cohort of students to the School of Pharmacy and Health Sciences. Traditionally held at the beginning of the fall semester, this year because of the COVID-19 pandemic, students celebrated safely in person at the end of their first academic year.
During this ceremony, student-pharmacists receive their white coats, to symbolize the beginning of their professional pharmacy journey; the desire to do right by their patients; and the acceptance of the expectations and guidelines set forth by pharmacy professional standards. The ceremony culminates with a reciting of the Oath of a Pharmacist.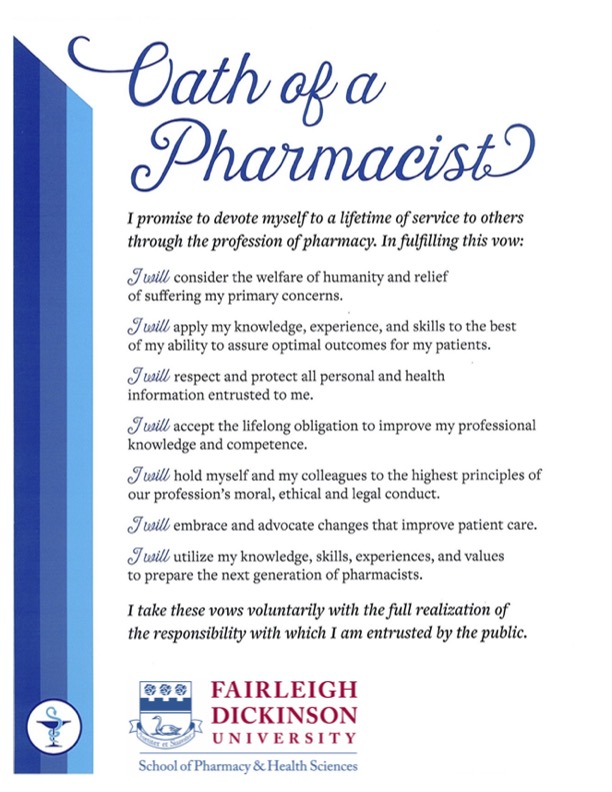 The doctoral hooding ceremony commemorated the official graduation of the Class of 2021, as well as celebrated the returning members of the Class of 2020. Ioannis Serris, Class of 2021, served as the student speaker and delivered a powerful speech. Debra Schimpf, from Generation Pharmacy, received the the honor of Preceptor of the Year from Michael Avaltroni, dean of the School of Pharmacy and Health Sciences.